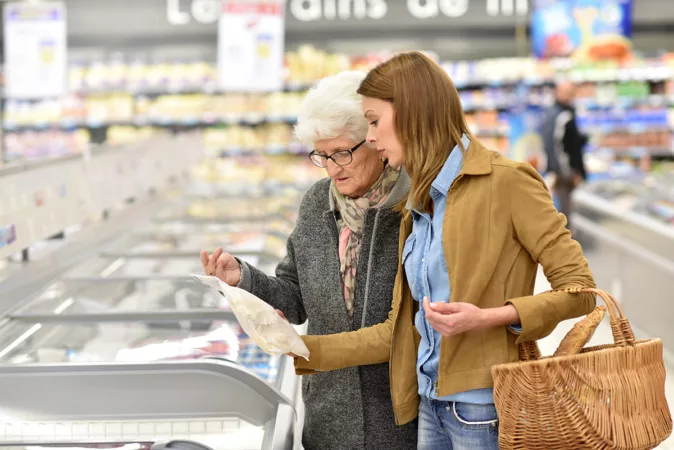 Blog
COVID-19 Impacts Each Generation Differently
As the COVID-19 outbreak continues to wreak havoc across the country, it is becoming clear that each generation is dealing with different concerns and pressures. Generation Z is likely missing out on once-in-a-lifetime events, like graduations and first jobs. Millennials, hit by the 2008 stock market crash at the start of their careers, are now being hit by the economy once again. Gen Xers are most likely to be caring for aging parents and children, so they have a whole different set of pressures and concerns. And Baby Boomers worry less about themselves and more about the health and well-being of their children and grandkids.
Our recent consumer survey* sheds light on how each generation is being impacted, and provides clues as to how brands should approach them during this time of uncertainty.
Is your brand ready for recovery? Emerge stronger with more insights.
Millennials are the Most Concerned and Most Likely to Alter Behaviors

Millennials reported they were the most concerned of all demographics and the most likely to change their routines, with 61% expressing high levels of concern around contracting COVID-19 and 74% saying they have "greatly changed" their routines during COVID-19. This generation is also the least likely to return to brick-and-mortar businesses after COVID-19 concerns subside, indicating they may be worried about their financial situation as well.

The millennial generation has always been a hard demographic to market to; in these uncertain times, it may be even more challenging for brands to reach and engage them.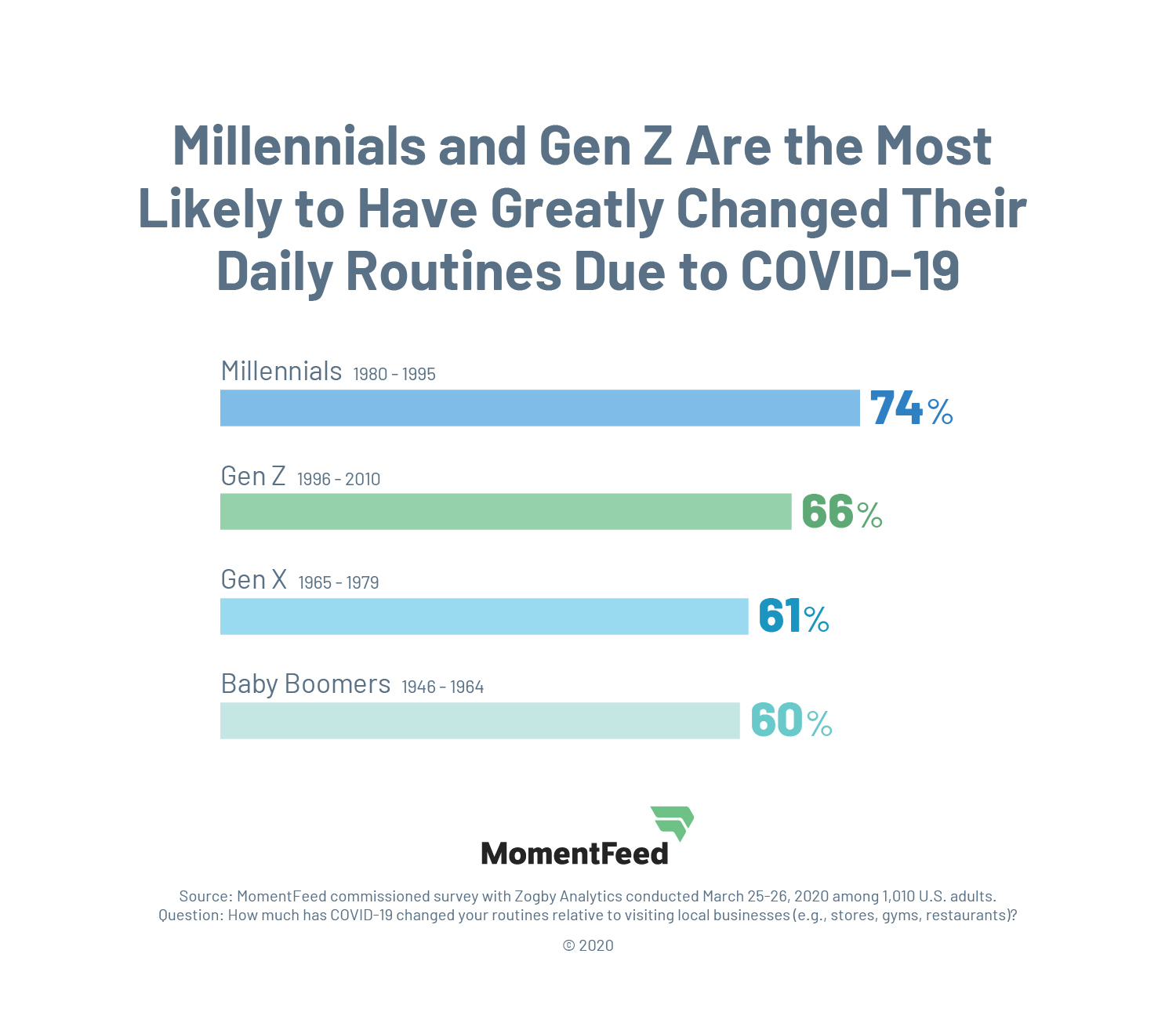 Gen Z is Most Likely to be Suffering Cabin Fever
The Gen Z respondents are adults ages 18 to 24, meaning most are either in college or early in their careers. This generation was the least concerned about their own health, but likely feeling more isolated from the social activities they have grown accustomed to. In fact, Gen Z was the most likely to feel they are "experiencing cabin fever and can't wait to get back to their regular routine," with 68% agreeing with this statement.
For brands looking to engage Gen Zers during COVID-19, research shows that fun, entertaining ads might help this generation feel less boarded and isolated. Creating connections now, will help you earn this generation's loyalty when things open back up.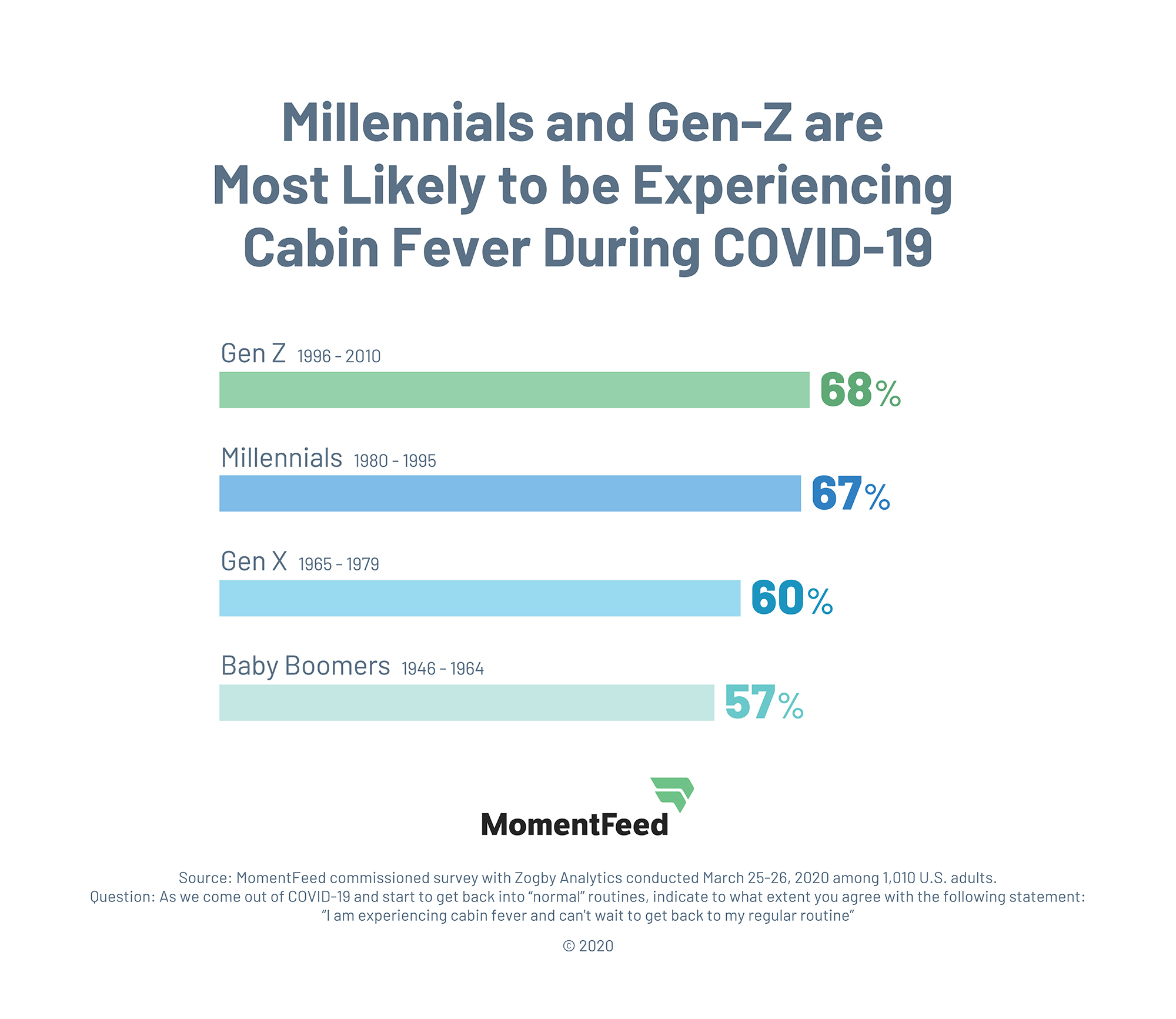 Gen X is Most Likely to Do Business Online
Although still concerned about COVID-19, Gen Xers seem to be the most open to trying new ways of interacting with businesses online. Generation Xers were 19% more likely to say they were visiting online businesses more than they did before COVID-19 (compared to those who said they were visiting less). The survey also indicates that online preference may be lasting among this generation. Even when concern around COVID-19 subsides, Gen Xers are 13% more likely to visit online businesses more than they did before COVID-19.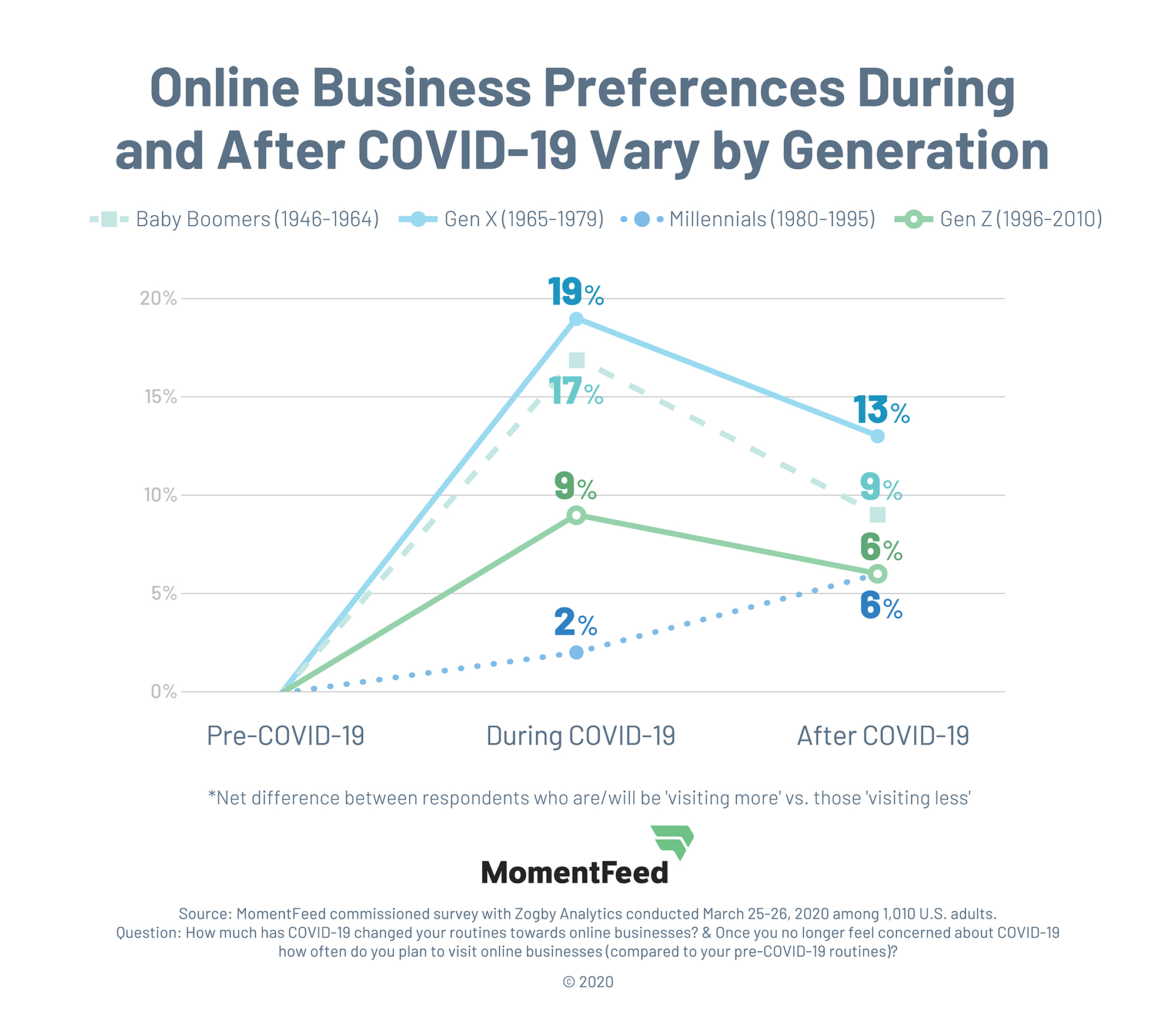 Baby Boomers are Less Concerned, More Likely to Support Brick-and-Mortar Post COVID-19
Born in post-war times, between 1948-1964, Baby Boomers were 15% less likely than millennials to be highly concerned about Contracting COVID-19. While Baby Boomers are in a high-risk category, this response suggests, given the stage Baby Boomers are at in their life, they may be less worried about themselves and more concerned about the health and well-being of loved ones.
This generation is also the most likely to lead the resurgence back to brick-and-mortar businesses when concerns around COVID-19 subside.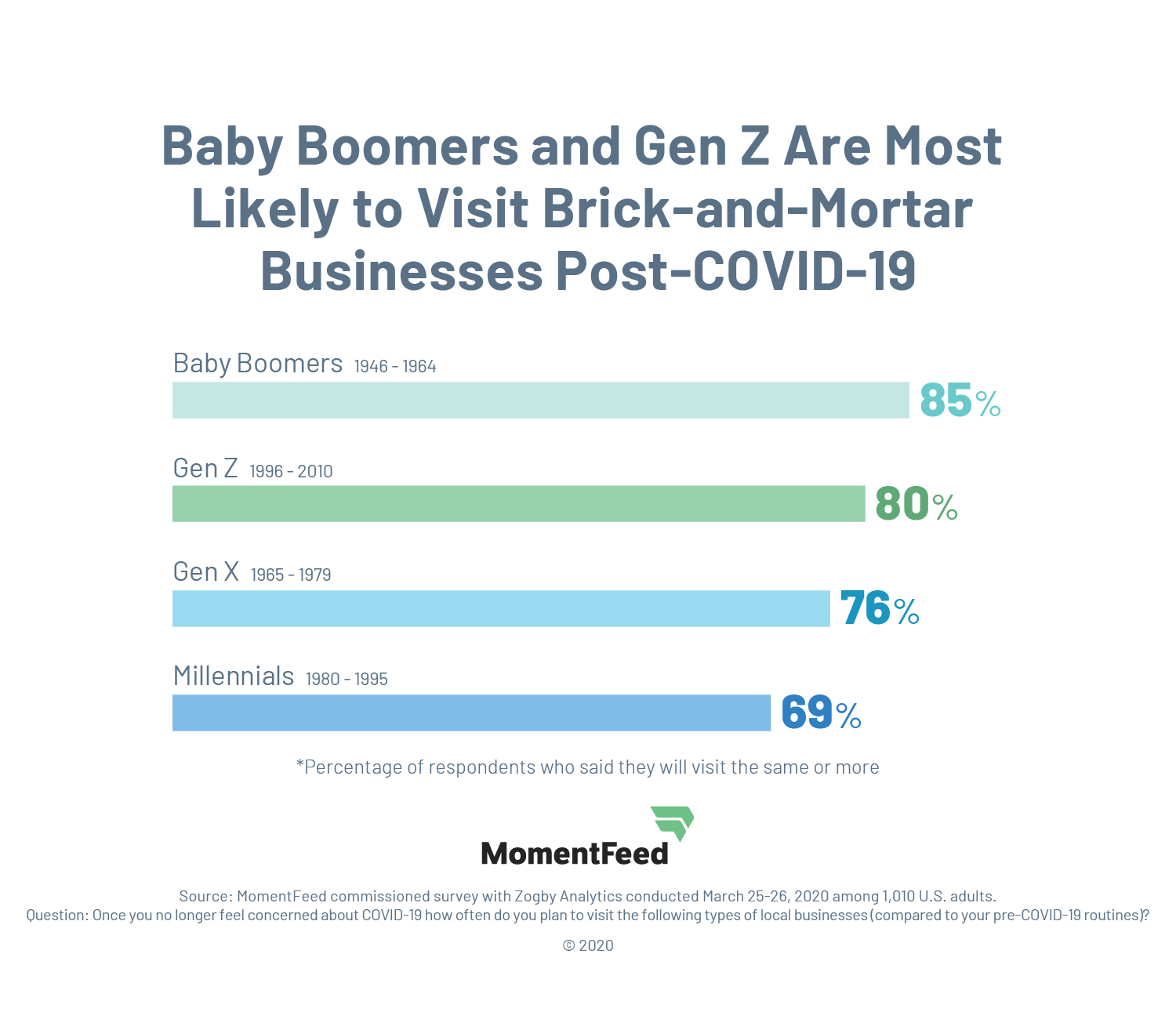 Baby Boomers and Gen Z Will Be the Biggest Supporters Across Industries
Across all but a few industries Baby Boomers and Gen Z are the biggest supporters.
In the banking industry, Baby Boomers are the biggest supporters by a wide margin, but Gen Xers also plan to visit banks in-person after COVID-19, with 90% of Baby Boomers and 80% of Gen Xers suggesting they will visit the same or more.
Quick-serve restaurants see Gen Xers slightly edge out Gen Z in terms of visiting the same or more.
Gyms are expected to see the greatest support from Gen Z, with Baby Boomers less likely to visit gyms but still coming in second of all generations. This finding could indicate that millennials and Gen Xers are in more of a cost-saving mindset and comfortable with at-home gym options.
Across all categories, millennials were the least likely to visit brick-and-mortar businesses once concerns subside about contracting COVID-19.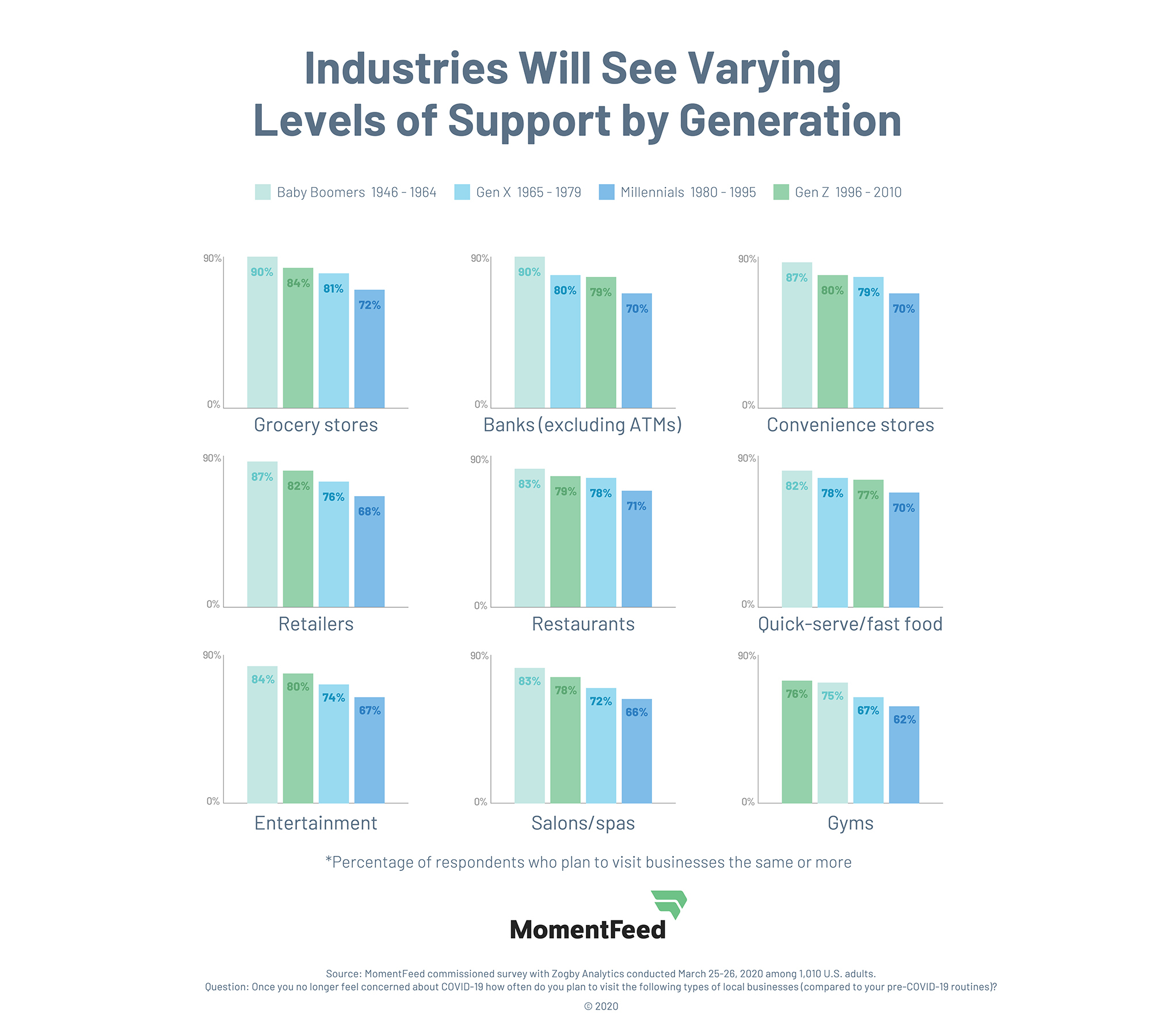 This blog is a part of our COVID-19 Insights series. Visit our COVID-19 Resource Library for more in-depth analysis on the overall state of consumer behavior, preferences, and expectations before, during, and after COVID-19. As your marketing team prepares for the reopening of the economy, make sure you have the tools to succeed.
MomentFeed's platform makes it easy to execute hyperlocal marketing campaigns at scale, and win the battle of Proximity Search. Speak to one of our marketing experts today to see how your business might benefit from MomentFeed.

Looking for more ideas to experience a quick recovery + return to growth?
*About the data: To better understand consumer buying behavior amid COVID-19, MomentFeed commissioned a survey with Zogby Analytics. The survey was conducted March 25-26, 2020 among 1,010 U.S. adults ages 18 and older. The survey respondents were equitably located throughout the country and represented a diverse sample of ages, genders, ethnicities, education levels, income levels, and number of children.