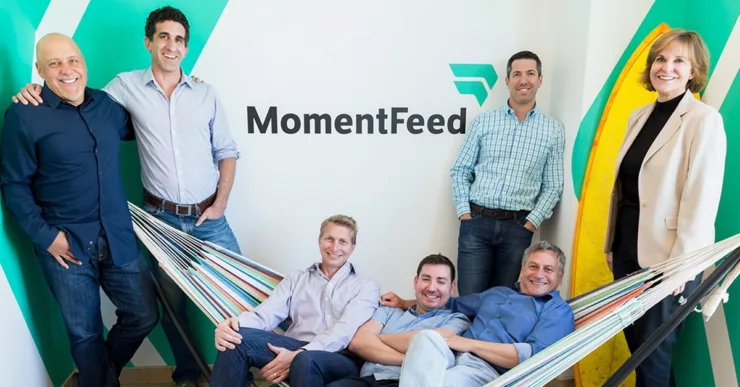 Blog
Best Places to Work 2017
When was the last time you heard someone say "Geez' I love working here!"?
MomentFeed's mission, company culture and benefits has all of its employees sharing this sentiment.
Just this week, the Los Angeles Business Journal recognized this in their "Best Places to Work" award. MomentFeed competed against hundreds of innovative and exciting companies and received recognition as the 15th Best Medium Sized company in Los Angeles!
Employees were assessed on 78 metrics as well as overall participation. This covered benefits, policies, engagement and satisfaction metrics. Robert Blatt, MomentFeed's CEO, is dedicated to creating a company culture of excellence and company pride, today this was confirmed.
"It's our employees who determine what standing you get so winning this award is a true representation that they feel this truly is the best place they've worked."

Work Culture
Simply put, you have the opportunity to make an impact. From the leadership to the newest employee, MomentFeed truly embodies its core values of authenticity, partnership, excellence, and innovation.
The leadership expects their teams to work hard, drive excellence in everything they do, build cohesiveness across departments and in return they invest deeply in their employees. They understand that driving success starts with a culture of autonomy, motivation and room for growth.
"What I love most about working at MomentFeed is the people and the caliber of the work; it truly is a team with a very strong work ethic and everybody strives for excellence, always pushing themselves to see what they are capable of. It's a great environment" Bentley Chang - Revenue Operations

Perks & Benefits
Starting with the location, MomentFeed offers an unprecedented experience of Silicon Beach. The offices are on 2nd street in Santa Monica, featuring an incredible view of the Pier and a mere 5 minute walk to the beach. The office has a bright, open work environment that's dog friendly. You might be lucky enough to see our Sr. Software Engineer, Sam Choi's, baby corgi running around and being adorable.
"We have a lot of outdoor spaces. My favorite patio overlooks the Santa Monica Ferris Wheel and ocean. I love bringing my computer out there to work; nothing like fresh air and sunshine!" Meghan Greene - Client Success Manager
In terms of perks, MomentFeed offers free gourmet lunches on Thursday's, monthly events, unlimited PTO, and reimbursements for your gym membership and commuting to work. There's also the usual health, dental, vision, FSA, stock options, maternity/paternity leave and more.
"I love that our office has so much natural light. The openness really creates more collaboration throughout our teams and keeps everyone energized during the day." Ashley Baxter - Client Success Manage



Mission
MomentFeed's mission is to empower multi-location brands to capture more sales through mobile and be the best partner major networks such as Google, Facebook, Apple, Yelp and Bing have ever relied on. It's to provide the most outstanding growth environment for its employees.
But simpler than that, MomentFeed's mission is to be a great company.
"Too many companies are focused on their exit via acquisition or on having an initial public offering (IPO). While these future events are important, we just basically focus on building a great company. We aspire to be the best company anyone has ever worked for, and the best partner that our clients have. If we really stick to that, the financial reward or our market position will be a result of being a great company" Robert Blatt - CEO

If you'd like to know more about working for MomentFeed check out our Careers page. You can also read more reviews on our Glassdoor page.