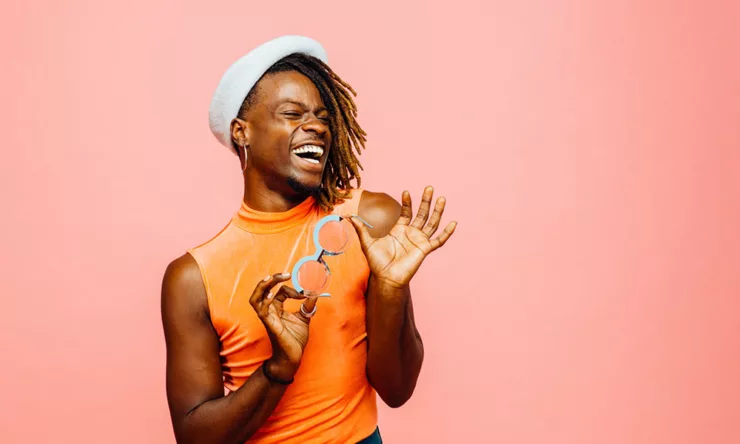 Blog
8 Ways to Gain Customer Trust Online and Win Business Offline
For a brick-and-mortar business, building customer trust online is absolutely crucial in today's climate. While friendly staff and word-of-mouth campaigns may have been enough to ensure success in the past, the current internet-driven business landscape is a completely different ballgame.
In fact, the vast majority of consumers (96%) reported they start their research online regardless of where they ultimately decide to buy. But creating a real connection without face-to-face interactions can be quite challenging.
To gain customer trust online, businesses need to provide proof of their high-quality products or services and excellent customer service. Developing this "virtual" confidence in your business earns you favor with potential customers, improves search engine rankings, and ultimately drives sales.

Scenario: Gain Customer Trust with the Soccer Mom
Let's consider a real-world scenario to understand how to gain customer trust and confidence online and boost sales offline.
Amanda's son is starting on a new soccer team and she needs to buy him new cleats and shin guards before the first practice tomorrow. To explore her shopping options, she picks up her phone and searches for "kids soccer cleats near me." She is instantly presented with some ads to order online, but Amanda wants to buy locally so that her son can try them on today. She scans down the page to the local pack results and sees three highlighted options — (1) "Kick Sports" (2)" Have a Ball Sports" and (3) "Just for Kicks". Let's take a closer look at what goes into Amanda's decision-making process and how a retailer can gain customer trust throughout the process.
1. Be visible
First things first, make sure you have a proper online presence. Amanda zeroed in on the three organic search results that were recommended to her first. Buyers are much more likely to pick your store over others if it appears in the top three organic search results, known as the Google 3 Pack or Google Local Pack. Securing a coveted spot on Google is based on your businesses proximity to the searcher, the relevance of your business to the searcher's query, and local prominence. There are several things you can do to improve your odds of appearing in the Google 3-Pack including ensuring your Google My Business (GMB) profile is complete and accurate, your reviews are well managed, and your local listings are up-to-date. For more information, read our recent blog "The Most Important Local Search Ranking Factors."

Get Found, Be Chosen and Drive loyalty both online and offline by optimizing these 14 factors
2. Build a reputation
The second and perhaps the most important aspect to help gain customer trust online are reviews from your customers. Here, Amanda sees three notable results but immediately eliminates the "Kick Sports" store because of negative ratings and reviews. Customer reviews act as electronic word of mouth (eWOM) marketing that helps you acquire new customers and strengthen your brand name. Encourage your best customers to leave ratings/reviews and possibly recommend your product or services to friends and family. You might also consider running a contest between local shops to see which store is able to get the highest number of new, five star reviews by the end of the quarter.

3. Respond to questions, inquiries, and reviews
The next step to building credibility online is to regularly respond to questions and reviews. Amanda decides to analyze her two choices further and finds that the owner of "Have a Ball Sports" takes the time to reply to comments and queries from customers. This simple communication provides proof of your engagement with the community. It instantly humanizes your business and gives your interactions a personal touch. Customers know that they'll be buying from a warm, helpful person, rather than a cold, distant enterprise.

4. Leverage local offers
While scanning Facebook later that day, Amanada sees a promoted post for a "Just for Kicks'" soccer season kickoff sale at her nearest location. The promotion includes a free pair of shin guards with every purchase of new soccer cleats. This promotion is well timed and gives Amanada more trust and confidence in the brand, they clearly understand that it is the peak soccer season and are sure to have extra inventory in stock. Plus the free shin guards that Amanda needs are a nice bonus!
Good ad copy not only gives a customer an incentive to buy, it also shows a deep understanding of the customer's needs to help gain customer trust and confidence.

5. Capture images of everything
Amanda sees that in addition to engaging with customers online, "Just for Kicks'' also has lots of owner- and user-generated photos on their listing. They have an extensive online inventory, complete with photos, of kids cleats that Amanada is able to browse through. They also have several pictures of kids in the store testing the performance of their cleats on the mini pitch and goal. This instantly connects her with the lively atmosphere in the store and makes her eager to check out the extensive collection of cleats in person.
Photos of your store, products, and services give potential customers a closer look into your business. They let the buyers know exactly what to expect and help showcase your brand personality. If possible, you should also add videos of special deals and decorations, sponsored events, or testimonials. All these strategies work to create an immediate, genuine familiarity with your brand.

6. Provide locally-relevant information
Amanda, being a savvy and skeptical shopper, reviews all available information about the remaining two stores. She finds that "Just for Kicks" has detailed inventory information on their local page. She browses through their stock and sees the exact pair of Messi Adidas cleats her son has his heart set on! Amanda verifies that her son's size is available and makes up her mind to visit "Just for Kicks" as soon as possible.
To really step up your online presence, offer locally relevant information such as inventory, menus, types of services provided, and amenities in your store. This gives customers accurate, real-time information that they may want to check before making a decision.

7. Use a clear, direct call-to-action
Amanad pulls up the "Just for Kicks" local web page on her mobile phone and sees a "Click for Directions" button that opens a navigation map to take her to the nearest location. She taps on it for directions and she and her son are on their way!
An effective call-to-action (CTA) can significantly boost your overall conversion rates. Strategic CTAs not only draw the audience's attention but also guide them toward becoming paying customers. Whether it is a quick reminder about your special deals or a call to explore your store, make sure your customers know how to take the next step.

8. Deliver a great in-store experience
The final step to gain consumer trust happens to be good old customer service. After investing in building your online presence, it's time to follow through with an amazing in-store experience. Amanda finally arrives at "Just for Kicks" and finds just the cleats her son was looking for. Even beyond the product, she is impressed by how good the staff is with kids. Her son gets to practice shooting on a small goal and the staff make every effort to ensure the whole experience is fun.
Needless to say, she leaves a glowing review to share her wonderful experience with the community. The owner, of course, responds to her kind words and the circle of customer trust, loyalty, and advocacy continues!
"Just for Kicks" clearly won this round of attracting the customer and building trust. With the right digital engagement strategies, they were able to leverage their online presence to boost offline sales. "Have a Ball Sports" lost out by a small margin but still has a chance to win next time!
Here at Uberall, we specialize in helping businesses reach their full potential with optimal online visibility. Uberall drives online traffic to your brand so that new customers can easily find you and existing customers keep coming back. To learn more about the products and services we offer to help you gain customer trust online and win customers offline, browse through our extensive range of solutions or get in touch with us today!
Turn your customers into your fans with strategic efforts to earn their loyalty