Blog
50+ Mobile Local Search Stats You Need to Know (2021)
Over the past ten years, we've seen a dramatic shift towards a digital-first "near me" consumer experience, a trend that has accelerated amid Covid-19. Whether it's finding a place to eat in an unfamiliar part of town, or looking for a veterinarian for a new furry friend, the modern consumer starts their search online, usually using a mobile device.
In this environment, a strong mobile local search strategy is paramount. If you don't show up online, in a consumer's moment of need, you might as well be invisible. Take a look at these 50+ mobile local search statistics; they can be useful as you build a strategy to improve your local visibility.

Changing Consumer Search Behavior
Consumers increasingly use search to make in-the-moment decisions about where to shop, what to buy, or where to eat. As a result, local search has become one of the most important areas marketers need to focus on to grow sales.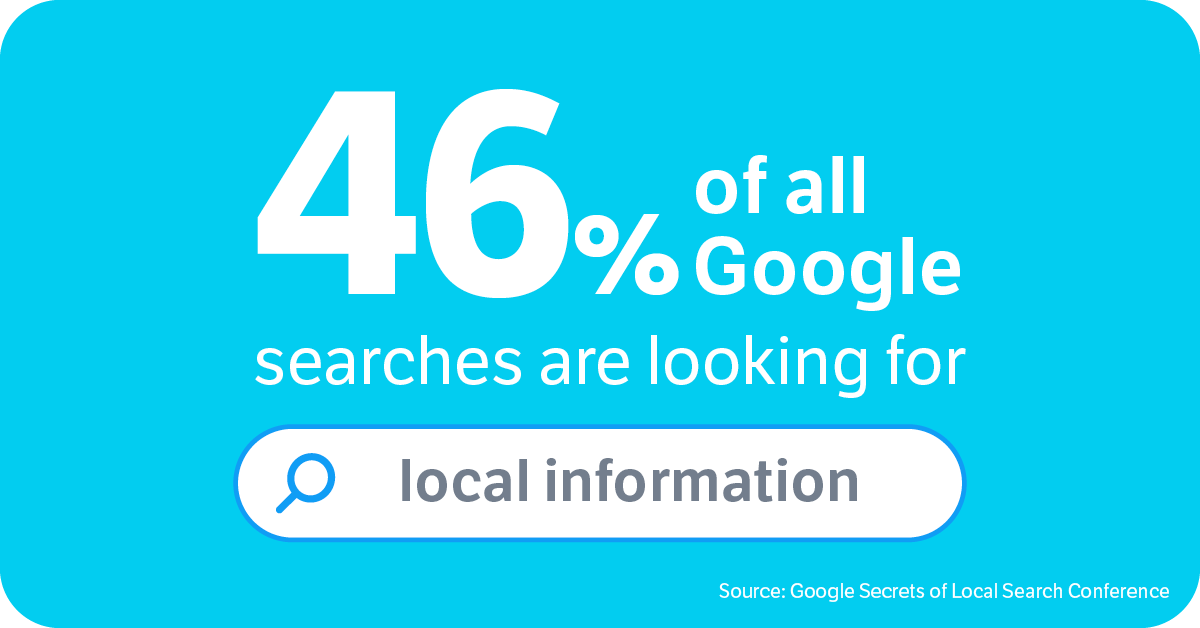 Searches that include "near me" and "open today or tonight" are up 900% in recent years (Source: Uberall)

46% of all Google searches are looking for local information (Source: Google Secrets of Local Search Conference)

36% of consumers have switched brands within the past year and 73% say they intend to incorporate new brands into their routine. (Source: McKinsey & Company)

97% of people make a purchase after visiting Yelp (Source: Yelp)

73% of consumers use proximity search to find business information, more than double the number who use any other medium (Source: Uberall)

Nearly a third of online consumers in the US use the internet to search for a local business daily; 60% of consumers do so at least once a week (Source: Statistica)

‌Google boasts an impressive 89% of core search engine market share and 94% mobile search share (Source: Statcounter)

‌Searches for "local" and "business(es)" have grown 80% year-over-year on Google (Source: Google)

Searches for "who has" + "in stock" have grown by more than 8000% year over (Source: Google)

Searches on Google Maps for "curbside pickup" have increased nearly 9000% year over year in the U.S. (Source: Google)

Google handles more than 91,000 search queries every second.

Mobile Local Search Statistics
You simply cannot overestimate the importance of mobile local search. A report by Forrester shows that more than half of all US retail sales are a result of mobile searches. The vast majority of restaurant choices are also impacted by mobile local search.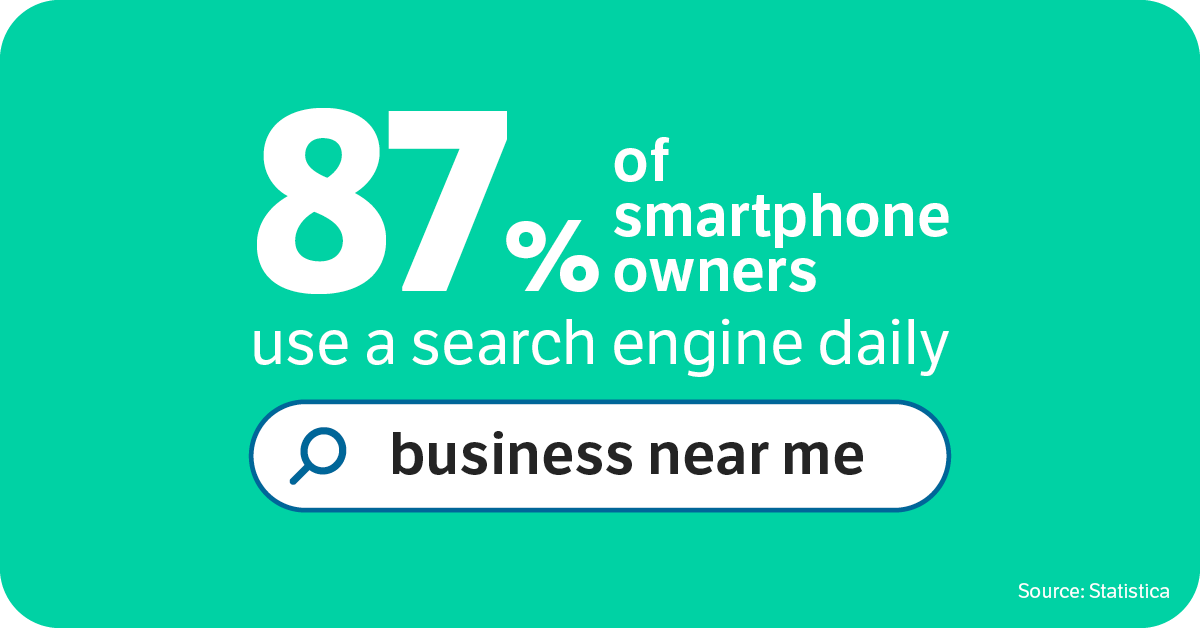 Google 3-Pack Statistics
The Google 3-pack (also known as the map pack) is prized real estate. It shows up at the top of search pages, above organic results. If you're one of the top companies featured in the 3-pack, your visibility and conversions can skyrocket.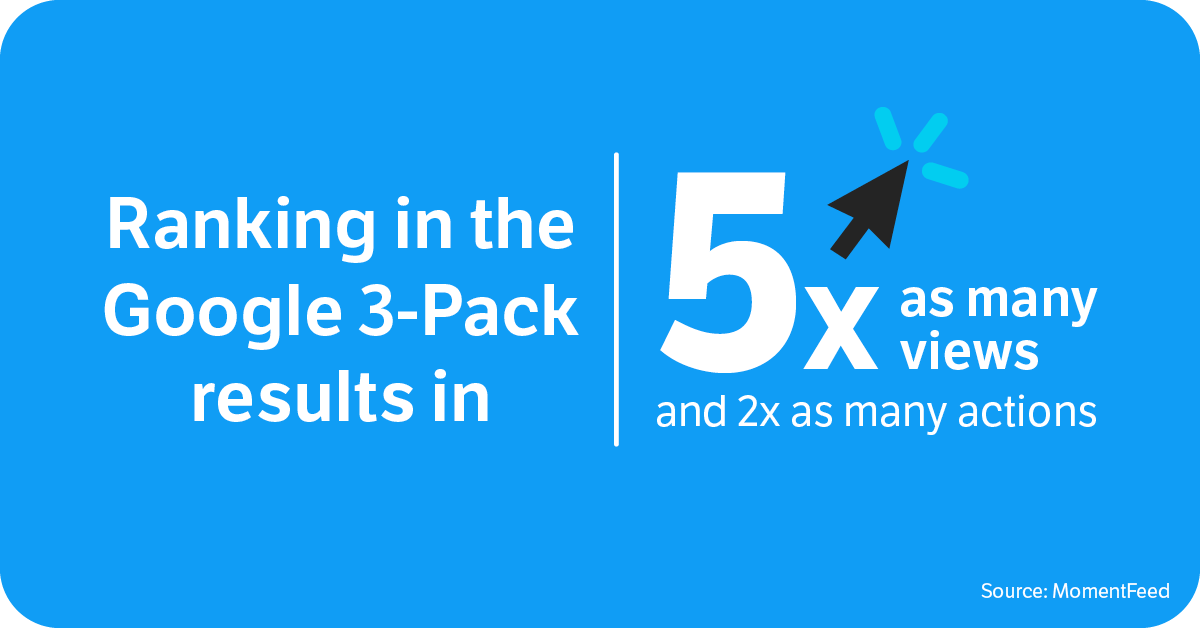 Local Listings Accuracy Statistics
Accuracy is essential with online listings. If a customer is presented with the wrong phone number, address, or hours, it can lead to frustration and ultimately drive them to your competitors. Besides shaping consumer opinions, inaccurate information also hurts search ranking.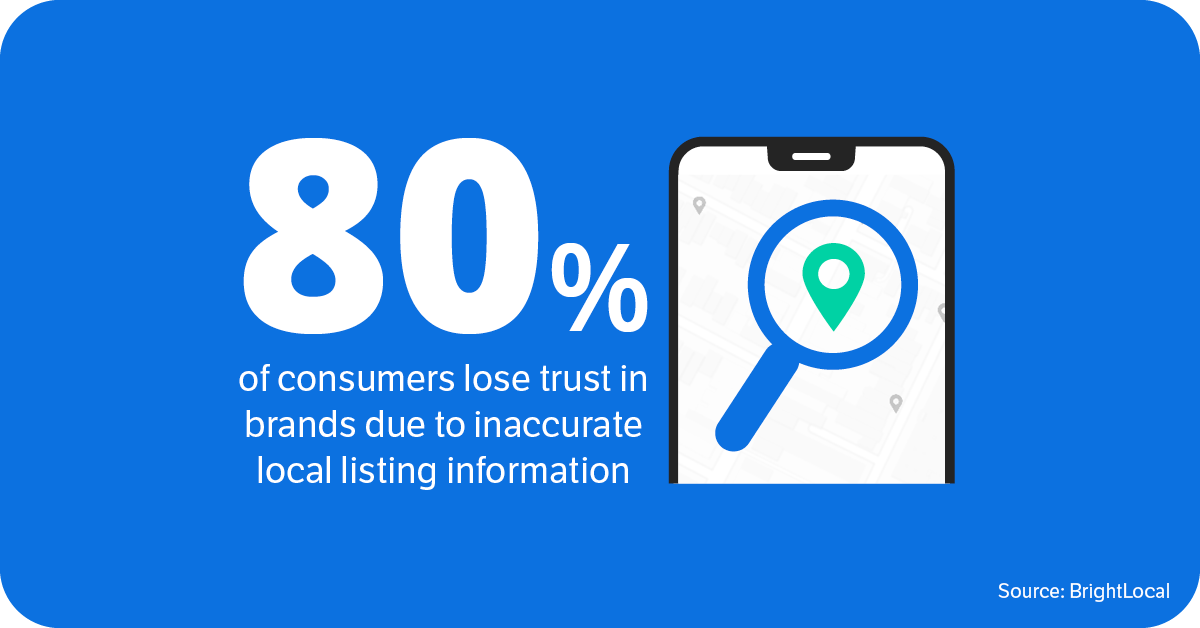 Online Reviews Statistics
Brand trust has never been more important. According to the Spiegel Research Center at Northwestern University, reviews have a significant and quantifiable impact on purchase decisions. Online reviews matter across every product and business category.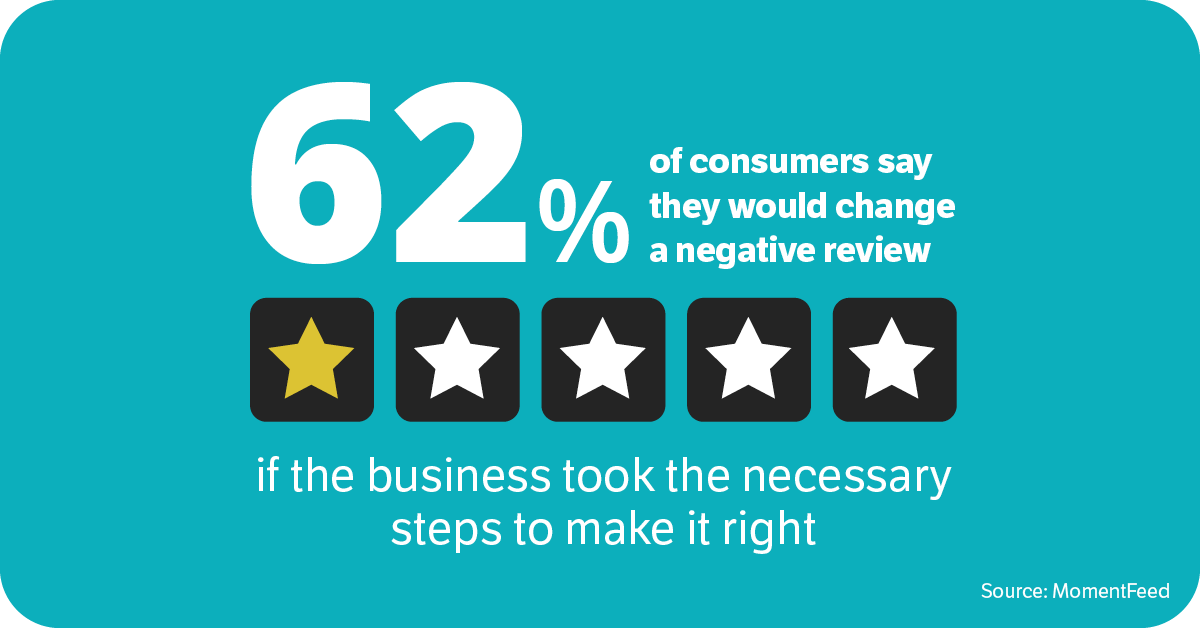 Online review signals have a 22% influence on local search rank (Source: Moz & Uberall)

95% of consumers read at least one review before making a decision to visit the business (Source: Uberall Survey*)

Negative reviews drive away customers. 94 percent say an online review has convinced them to avoid a business (Source: Qualtrics)

‌Consumers have steadily and consistently increased their use of "best" over the last 15 years while at the same time reducing their use of "cheap" (Source: Google)

84% of consumers say a business responding to other people's reviews is 'extremely,' 'very,' or 'moderately' influential on their selection process. (Source: Uberall Survey*)

‌Consumers spend four times as long on a site when they interact with negative reviews, with a 67% increase in conversion rate (Source: Northwestern University Spiegel Research Center)

‌62% of consumers say they would change a negative review if the business took the necessary steps to make it right (Source: Uberall Survey*)

‌On average, consumers require a business to have 40 online reviews before they believe its star rating (Source: Bright Local)

‌The likelihood of a product getting purchased increases by 270% when it gets at least five reviews (Source: Northwestern University Spiegel Research Center)

‌82% of shoppers won't choose a retailer with fewer than three stars (Source: Search Engine Journal)

‌Business with all five-star reviews are considered "too good to be true" (Source: Northwestern University Spiegel Research Center)

‌82% of shoppers specifically seek out negative reviews, which are seen as more credible (Source: Northwestern University Spiegel Research Center)

‌56% of consumers say they would revisit a business if the business responded to their reviews (Source: Uberall Survey*)

Hotels that respond to reviews enjoy higher average star ratings. Responding to positive reviews has the same benefit of responding to negative ones (Source: Harvard Business Review)

Small businesses that reply to at least 25% of their reviews average 35% more revenue (Source: Womply)

A half star increase on Yelp translates into a 19 percent greater likelihood that an eatery's seats will be full during peak dining times (Source: UC Berkeley)‌
Local Social Media Statistics
Social media has become increasingly important to local search and consumer choice. Search engines see local social activity as an indication of a locally engaged, relevant business when delivering results. With social content showing up in searches, consumers are increasingly using social content to make decisions about businesses.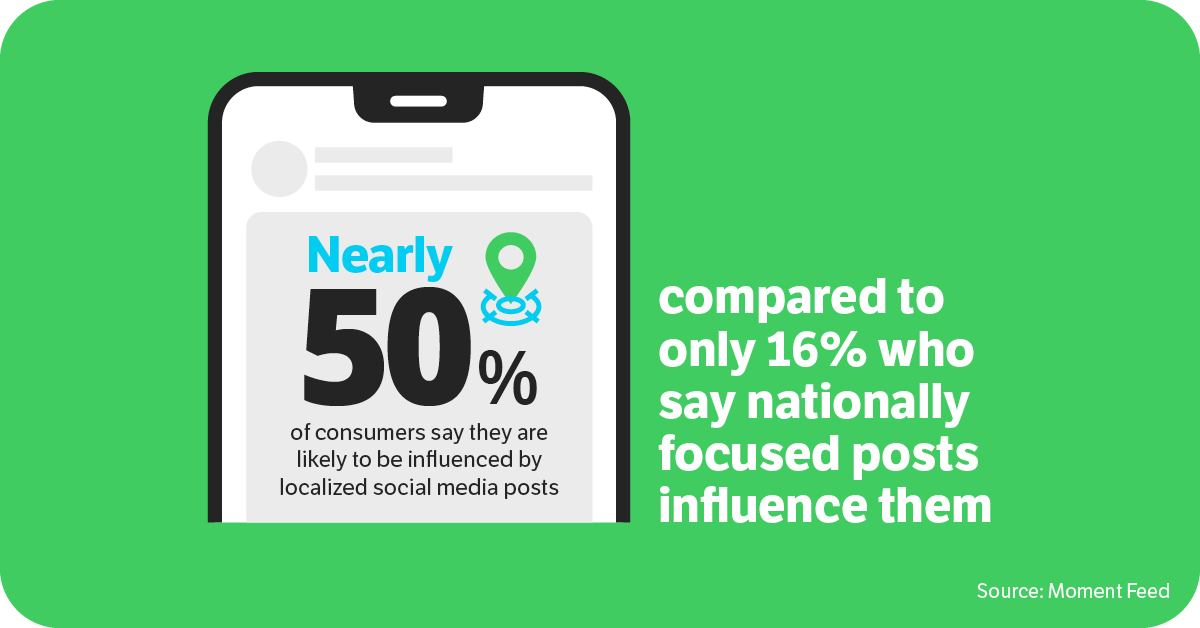 Local social signals have an 8% influence on local search rank (Source: Moz & Uberall)

83% of consumers discovered a new product or service on Instagram and 87% took an action after seeing a product or service on Instagram (Source: Facebook)

‌53% of consumers say they saw something on social media that influenced their decision to buy from a nearby business. Generation Z was the most influenced, with 70% saying content on social media influenced a purchase decision from a nearby business (Source: Uberall Survey*)

50% of consumers say they are likely to be influenced by localized social media posts, compared to only 16% who say nationally focused posts influence them (Source: Uberall Survey*)‌

36% of internet users say social networks have become as important as other information sources for product choices (Source: Business Insider)
Voice Search Statistics
Voice search has gone from a novelty item to mainstream. With the proliferation of digital assistants built into devices, and Apple Car Play and Android Auto becoming standard for automakers, look for continued use.
Voice search typically breaks down into one of three categories: (1) Discovery – Example: Find the best Mexican restaurantnear me (2) Direct – Example: Call [business name] or Make a reservation at [restaurant name] (3) ‌Queries — Example: Where is the nearest [business name or category]?
For businesses, making sure website content, Google My Business, and other listing sites have the information consumers are requesting in voice search is crucial to being found.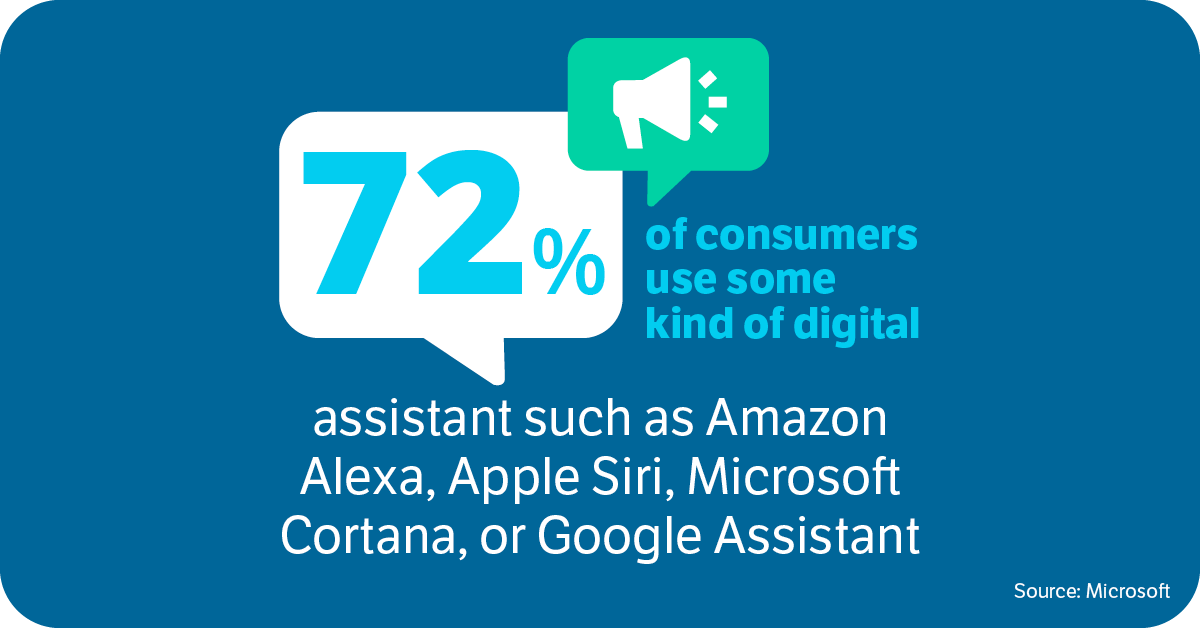 These mobile local search statistics confirm that in order for multi-location brands to stay competitive, they need to optimize their local digital presence. The brands that dominate mobile local search are likely to remain relevant for years to come.

Learn how your business can build a local mobile search strategy
‌*Based on September 2020 survey of more than 1,000 U.S. adults, who were a representative sample of the U.S. population