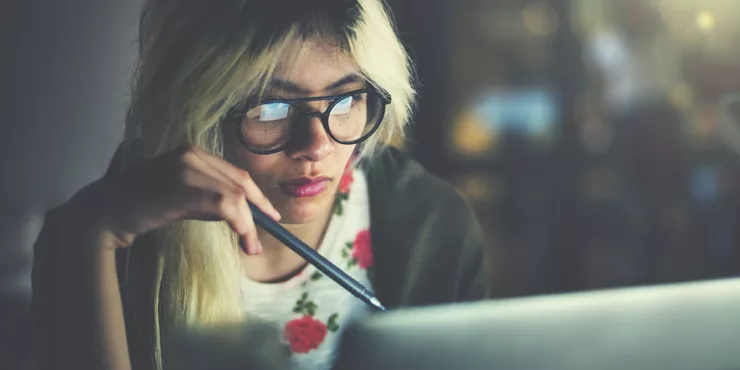 Blog
31% of Consumers Struggle to Find Reliable Local Business Information During COVID-19
With social distancing guidelines rolled out across the U.S. (and the world), it is more important than ever that local businesses provide their customers with accurate, easily accessible information on their locations.
Unfortunately, during the COVID-19 crisis, U.S. consumers struggle to find information about local businesses, and many do not trust the information they do find. This is according to a new consumer survey commissioned by MomentFeed that offers in-depth analysis on the overall state of consumer behavior, preferences, and expectations before, during, and after COVID-19.* We will be sharing insights from this survey over the next few weeks to help marketing leaders of multi-location brands manage their businesses through this crisis.

Local Business Information Difficult to Find
According to the survey, 31% of respondents are having trouble finding information about local businesses during COVID-19. This is particularly troubling as citizens rely on accurate information such as temporary closures, updated hours, in-stock items, and online options to limit trips and unnecessary exposure. They weigh the benefits and risks of ordering takeout or delivery against waiting in line at a crowded grocery store.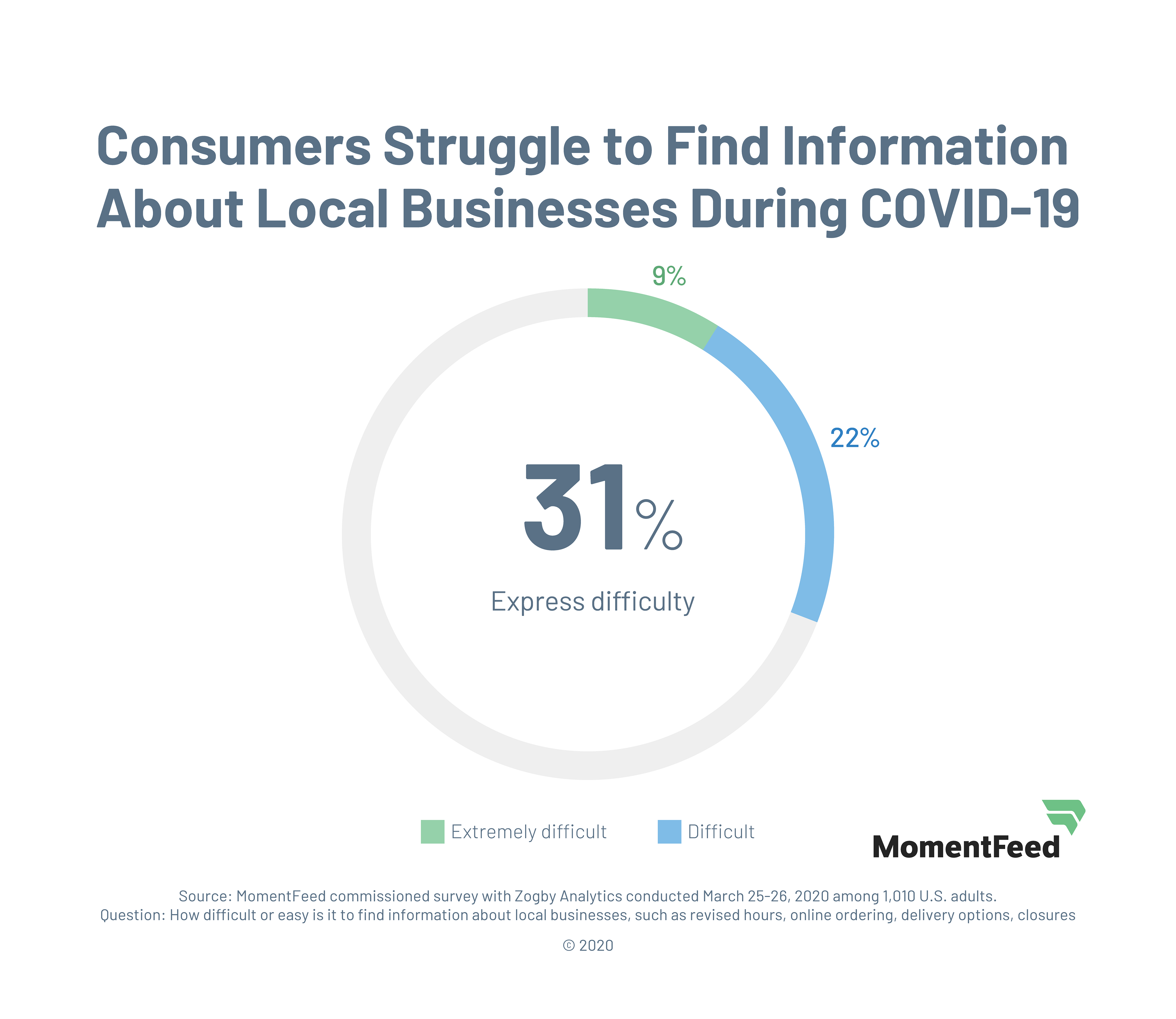 American's Distrust Local Business Info Online
According to the study, those who do find the information they are looking for about local businesses may not believe what they see. The study found that only 61% of people currently trust business information found online.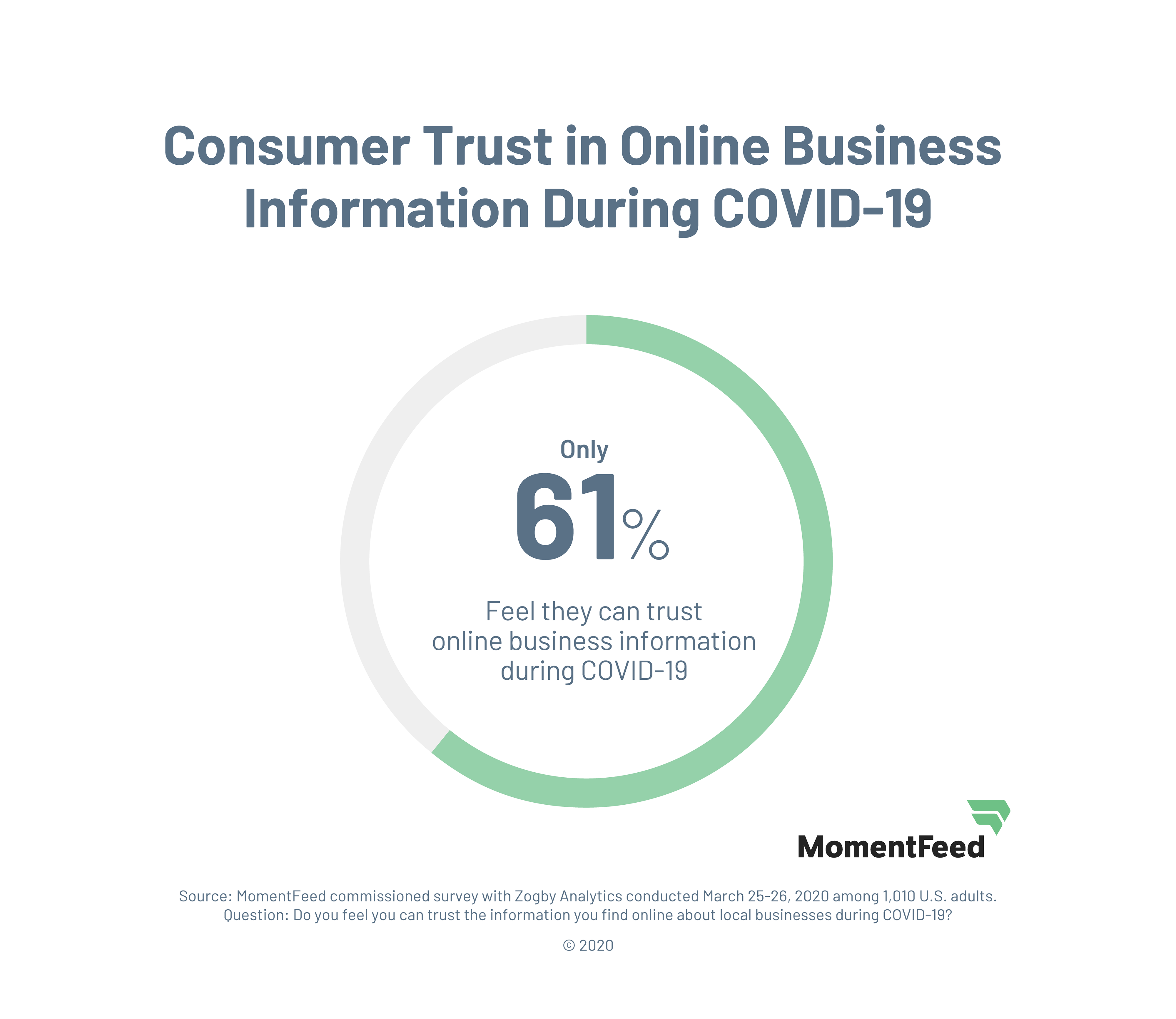 Younger Generations are Particularly Distrusting

Distrust is particularly high among younger generations: 18% of Generation Z and 14% of Millennials report they know they cannot trust information they find online about local businesses during COVID-19. In comparison, only 10% of Generation X and 8% of Baby Boomers reported distrust of online information about local businesses. This is particularly troubling when younger generations - who are generally more tech savvy and better suited to find what they need online - don't believe what they find.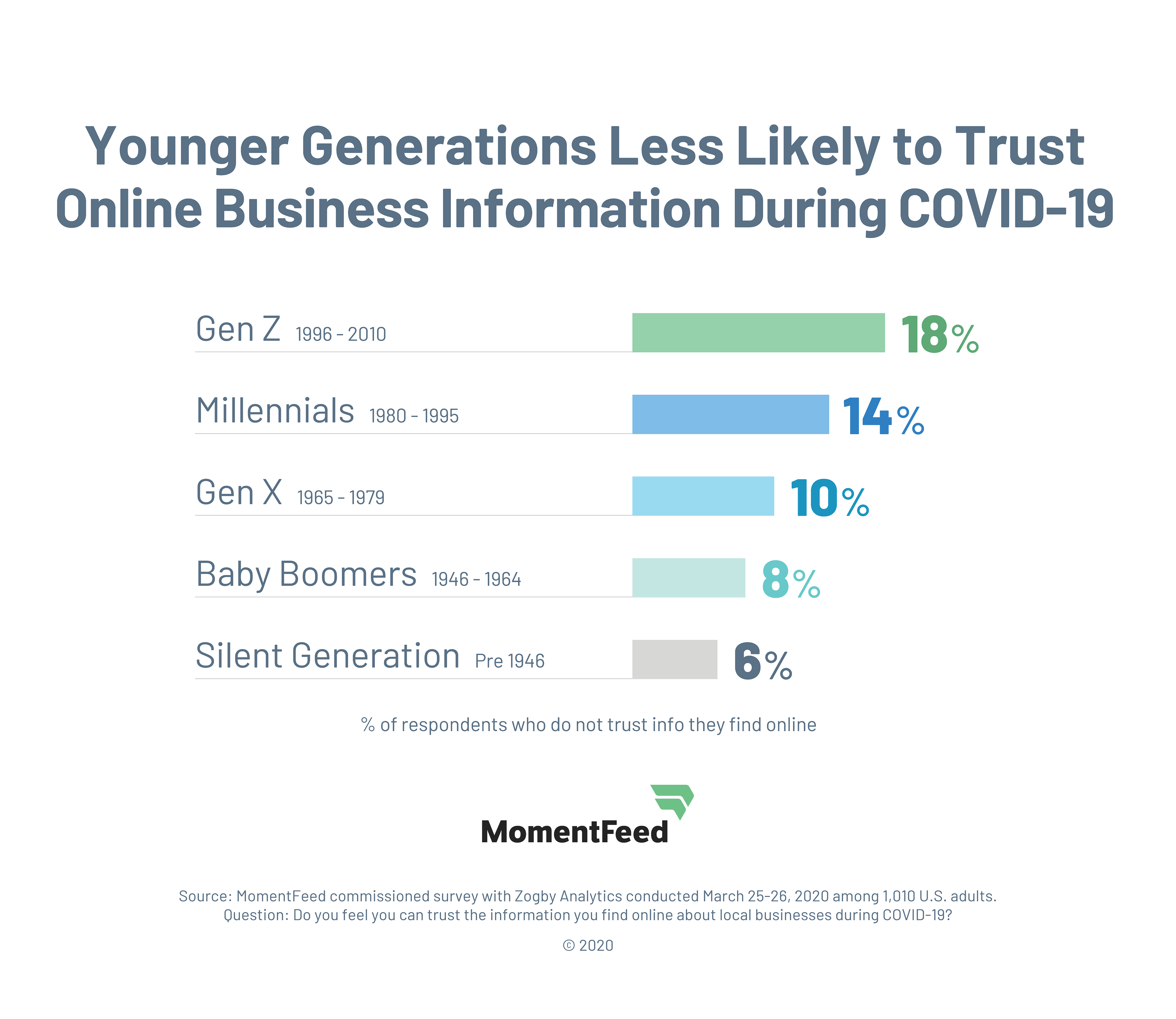 Consumer expectations have shifted. Get access to our latest COVID-19 study.
4 Ways Brands can Ease Distrust Amid COVID-19
1 - Keep your local listings up-to-date - Businesses should update listing information across all online platforms such as Google My Business, Yelp, Trip Advisor, local websites, and more. Google, Yelp, Apple Maps, and MomentFeed have all enabled "Temporarily Closed" status changes during this time. For example, Starbucks has variability across locations, with some stores temporarily closed, while others with drive-thru services remain open. Through a quick Google search you can see which stores in your area are open and which are closed.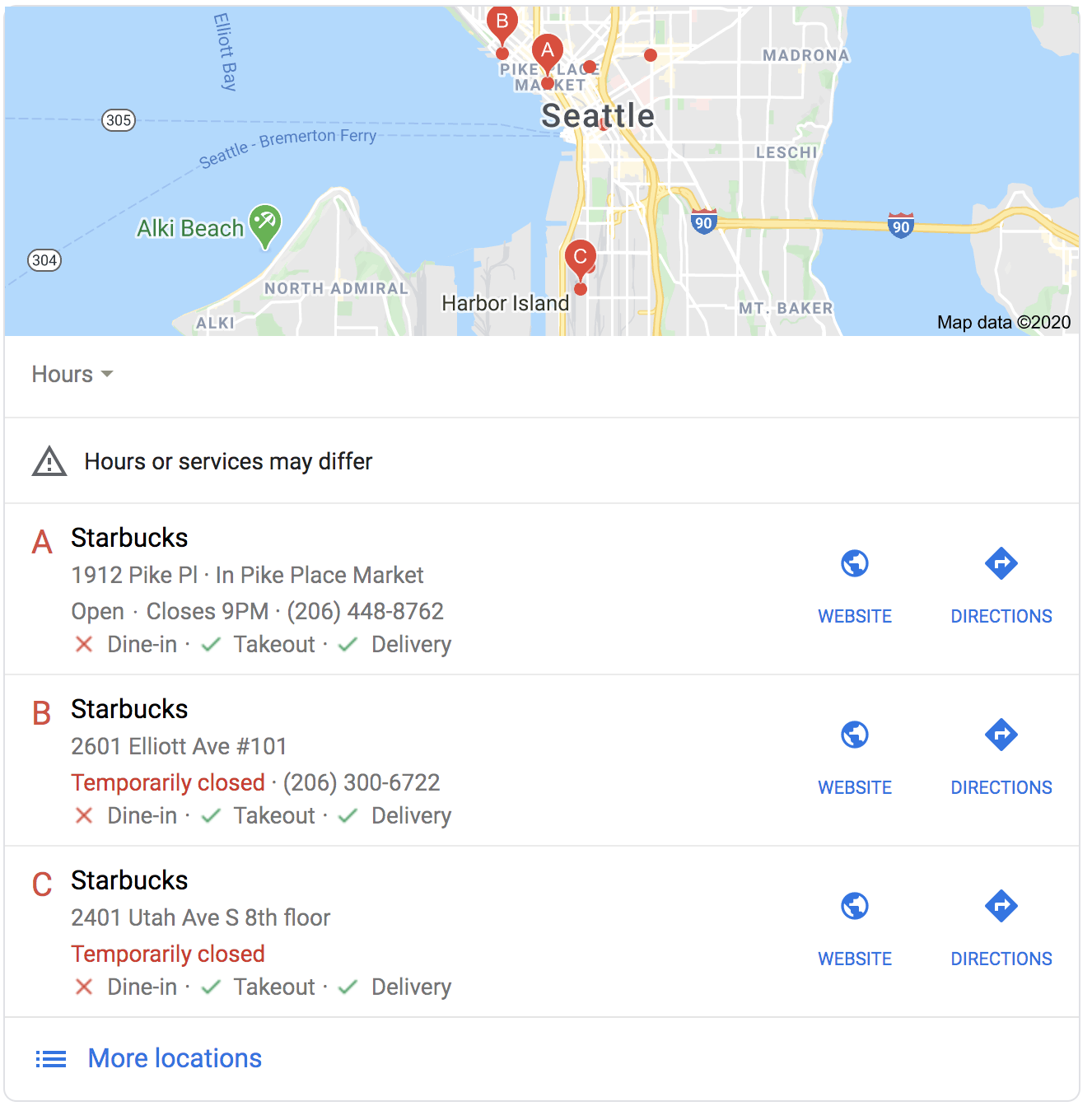 2 - Claim local listings for all locations - For a business with hundreds or thousands of storefronts, managing the local listing for every store can be a challenge. Below are three steps you can take.
Identify top platforms based on your industry and how customers find you - Google, Yelp, Facebook, Waze, Instagram, Twitter, and Trip Advisor are some of the more popular platforms to consider
Claim all local pages for each platform and fill out your profile information completely
Update your profile information as operational details change
3 - Leverage Google Posts - Google My Business has paused reviews, replies, and Q&A during COVID-19. However, Google Posts are a very useful substitute to help businesses get new information out to customers quickly. With MomentFeed's API integration to Google Posts, you can easily inform consumers of new updates and changes related to COVID-19 across all locations. Messages show up in the local panel on Google search and on Google maps.
4 - As stores reopen, make sure you're prepared - Also of importance is preparing for your stores to reopen as business slowly returns to normal on different schedules across the country. Getting ahead of the reopening period can help you maximize your revenue opportunity later.
Managing updates for hundreds or thousands of storefronts with variability in operating details may seem daunting, but MomentFeed's platform makes it easy. Speak to one of our local marketing experts today to see how your business might benefit from MomentFeed.
Learn how MomentFeed can keep your location data accurate - EVERYWHERE!
*About the data: To better understand consumer buying behavior amid COVID-19, MomentFeed commissioned a survey with Zogby Analytics. The survey was conducted March 25-26, 2020 among 1,010 U.S. adults ages 18 and older. The survey respondents were equitably located throughout the country and represented a diverse sample of ages, genders, ethnicities, education levels, income levels, and number of children.