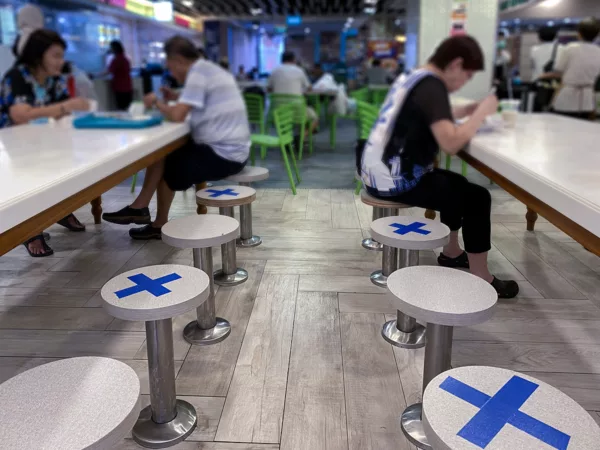 Blog
3 Ways for Brick-and-Mortar Business to Earn Consumer Support as Economy Reopens
After months of being locked down many Americans have become accustomed to a new way of life and – perhaps more importantly – worried about the ramifications of going back to their old routines for fear of contracting COVID-19.
Given this, many business owners are fearful that easing consumers back into stores, restaurants, gyms, bars, and other brick-and-mortar businesses may not be easy. To try to help figure out how difficult the task would be of getting consumers back to local businesses and what brand owners can do to accelerate their return, we conducted a comprehensive consumer survey.
We asked 1,010 U.S. adults* to share what will influence them to go back out and shop, dine, and purchase services from brick-and-mortar businesses post-COVID-19. We found their purchasing behavior will be impacted by three distinct factors:
Support for the local economy
The availability of special deals or offers
Transparency around what health and safety precautions are in place
If you're a multi-location business, it is essential you have a local marketing strategy that takes these factors into consideration to ensure you're ready for when the economy reopens and customers return. Here's what you can do:

1. Demonstrate Support for Local Communities
According to our survey, an overwhelming number of consumers, 77%, said they plan to support local small businesses, followed closely by 76% saying they'd throw their support behind local jobs.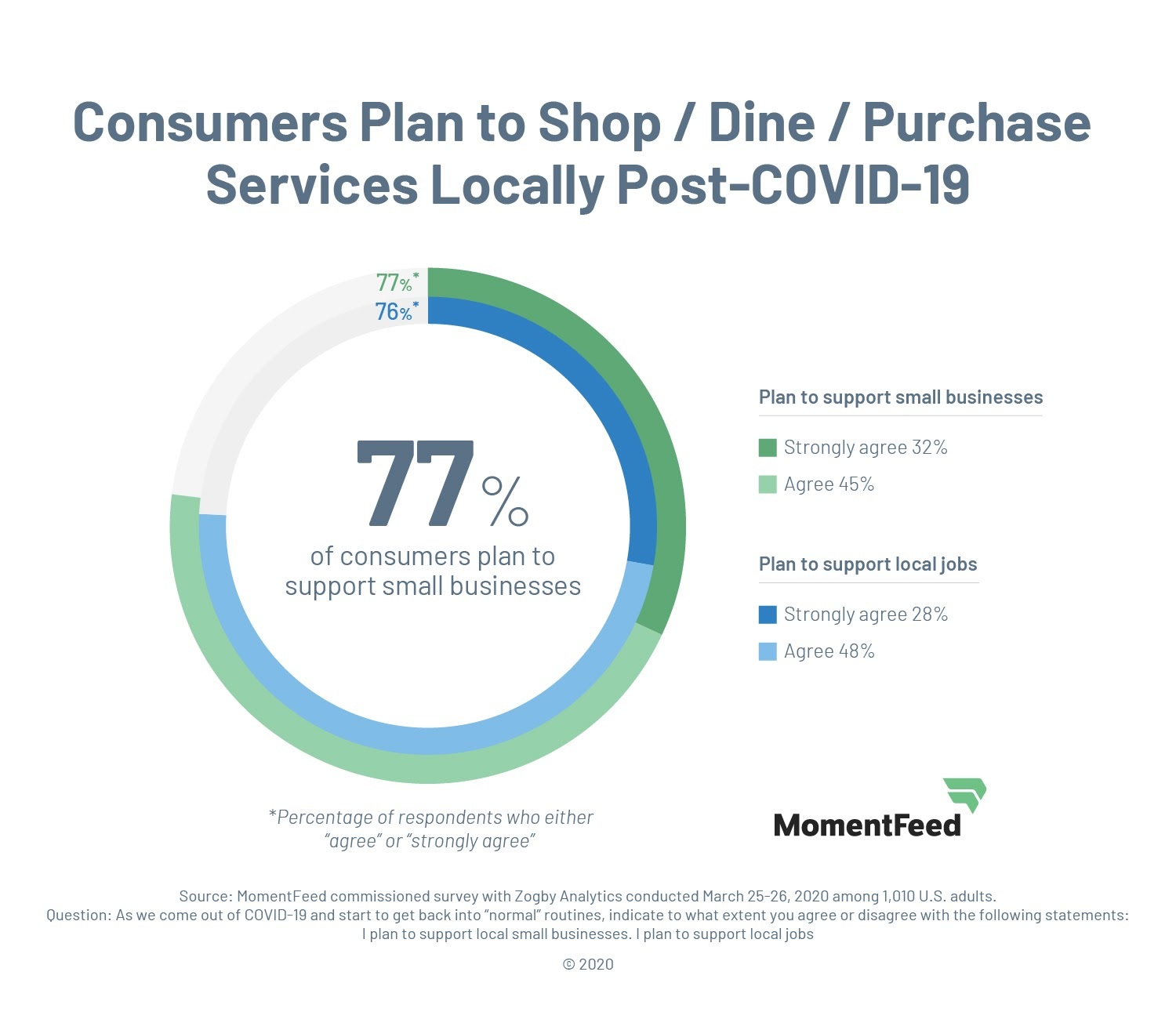 And when it comes to who is most likely to support local jobs and businesses coming out of this crisis, the more senior members of our population appear to be the most passionate. Baby boomers are particularly keen to back local, with 78% reporting they'd shop and dine locally to support small businesses, while 83% of the silent generation said they'd aim to support local jobs post-COVID. Other generations expressed considerable intent to support both local businesses and jobs once pandemic concerns are alleviated, with 77% of millennials saying they'd back local small businesses, and 74% of Gen X saying they'd aim to support local jobs.
Inspired Ideas to Promote Local Jobs
Using social media to highlight the contributions of your local employees can resonate with consumers looking to support their neighbors, friends, and family – as well as local economies – by doing business with brands that value local jobs. If you're a regional player, emphasize your local ties. If you're a franchise, show support for your franchisee owners who operate like local small businesses. Even if you are a large chain, you can show you're part of the community by using social media to demonstrate local support. Be sure to go beyond just your corporate social pages – encourage local store managers and franchises to highlight what they are doing on a local level via their own local social pages. Take it a step further and promote the best examples across your corporate page.

Looking for more inspiration for a quick recovery? Download our checklist!
2. Promote Special Offers and Discounts
While consumers of all ages intend to patronize local businesses after COVID-19 concerns subside, 58% say that they'll base their decision on what specials and discounts brands are running. Millennials and Gen Xers place the most importance on deals and discounts, with 62% of millennials and 61% of Gen Xers saying brands that offer ways to save will earn more of their business.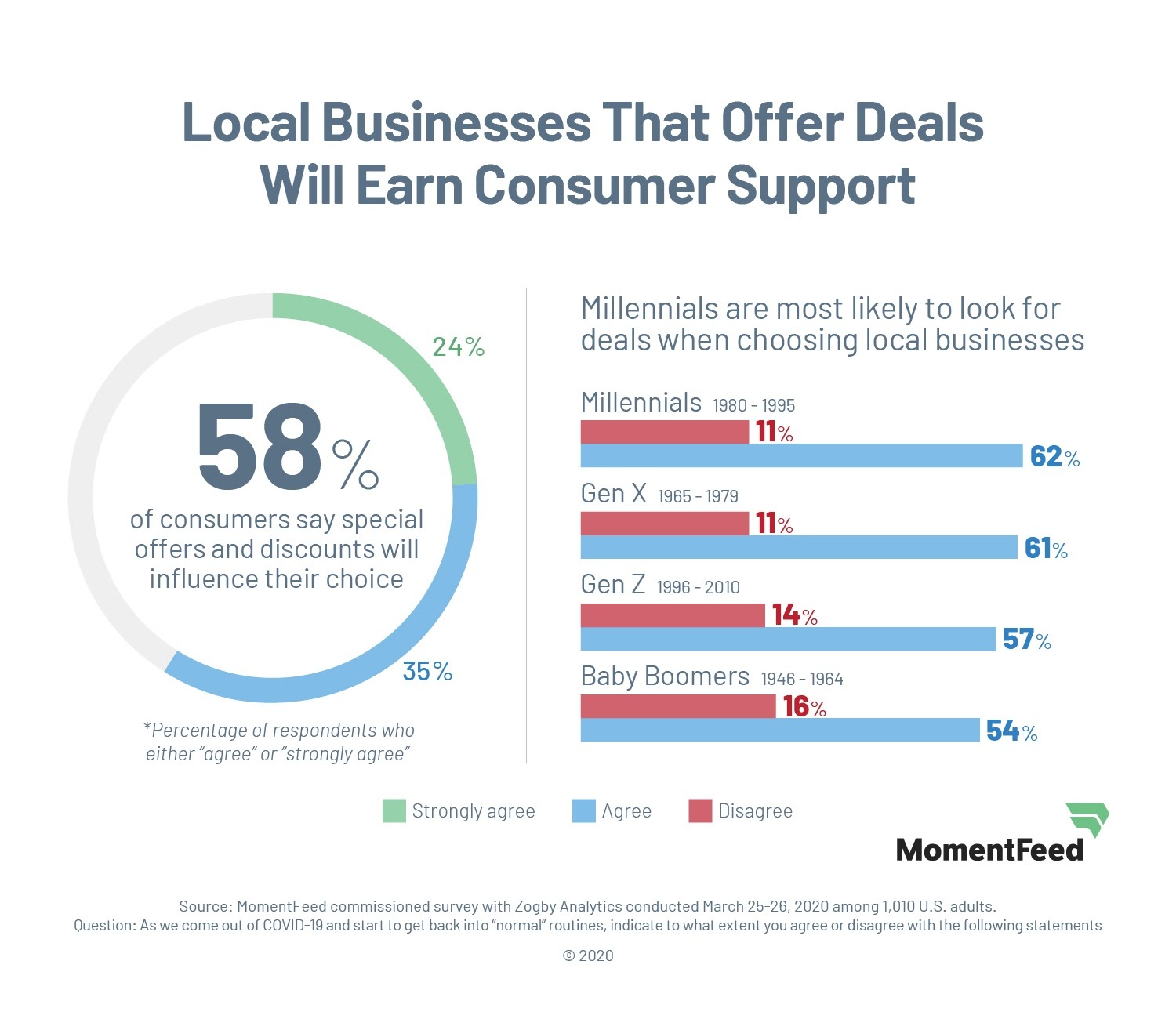 Interestingly, wealthier consumers are the most likely to place importance on special and discounts. Sixty-six percent of respondents with annual household incomes over $100,000 report that they'll be on the lookout for local businesses that offer discounts. Brands take heed – for these consumers with more disposable income, deals matter when they're deciding on where to spend their dollars.
Inspired Ideas for Promoting Local-Level Deals
Make sure your organic and paid social campaigns showcase the offers you're running that are specific to each of your brand's locations. Keeping your customers aware of the latest deals, discounts, and specials that are nearest to them can help you capitalize on deal-seekers also seeking to support local businesses.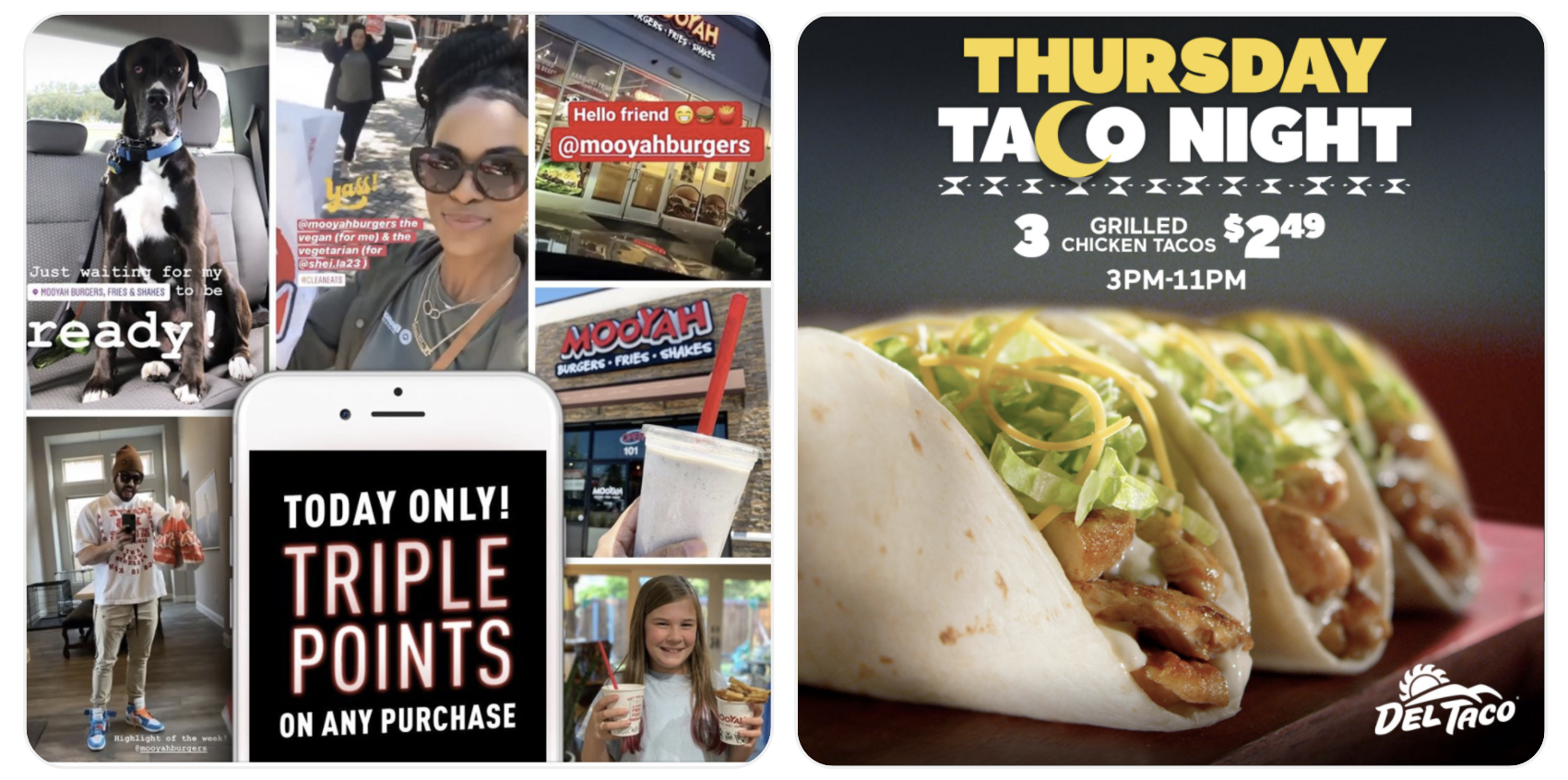 Looking for more inspiration for a quick recovery? Download our checklist!
3. Show Your Commitment to Health and Safety
Consumer concern around COVID-19 will impact when they'll return to their routines. We previously reported that – when asked when they would no longer feel concerned about COVID-19 – consumers said a "dramatic reduction in cases" and "when the government says it is safe" would be the top signals they'd look for.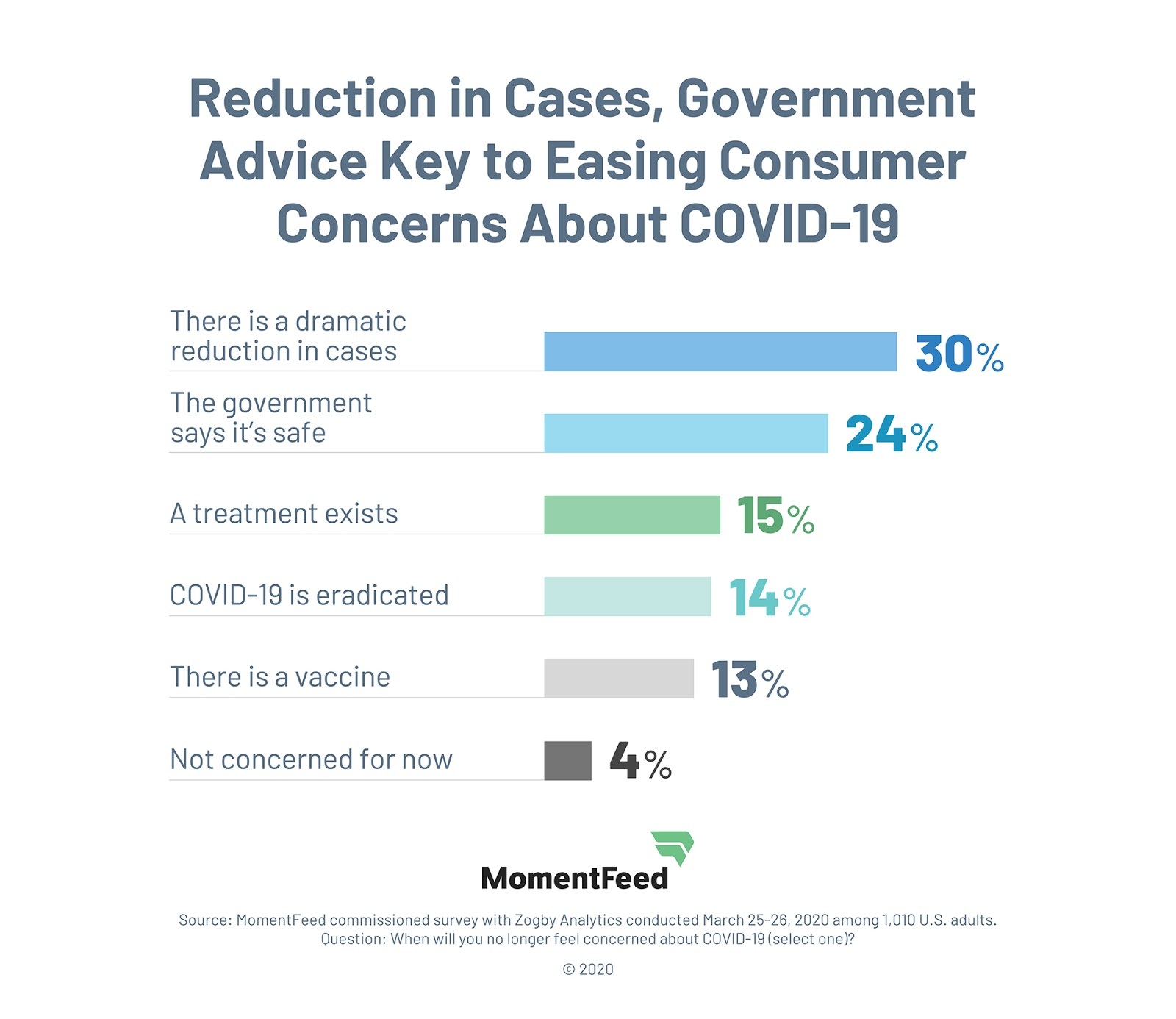 While the top two conditions will be met somewhat soon, the other three signals will likely take significantly longer to achieve.
Dramatic reduction in cases is hard to predict, while there has been a slight reduction in cases in the U.S. since the peak in early April, the latest CDC figures show an increase after some states started to ease shelter-in-place restrictions in an effort to jump start their badly impacted economies.
This surge in new cases will also likely affect those consumers who reported they'd wait for the government to say it is safe before returning to their routines, since it's unclear when outlined criteria set forth by the federal government will be met.
Treatments* are in early trials, and likely months away from being broadly available. A drug with the most evidence behind it is called remdesivir, from Gilead Sciences Inc. In a controlled trial, the drug lowered the median time to recovery to 11 days compared to 15 days on placebo.
A vaccine* is likely more than a year away. The World Health Organization is putting money and resources behind accelerating the anticipated 12-18 month timeline to make a vaccine widely available. To date there are seven to eight top vaccine candidates and early human trials have begun in the U.S. and Germany in healthy volunteers.
Complete eradication might not happen in most of our lifetimes. The eradication of smallpox took thousands of years. Certainly the advancement of our modern society should make it possible to achieve eradication of COVID-19 in a much shorter timeframe. Still, a disease that is so contagious that it was able to spread across the globe in a matter of months, will require a vaccine that reaches everyone in the world, incredible coordination and cooperation from world leaders and citizens, and many years of diligence.
*Note: The Wall Street Journal is monitoring testing, treatments, and vaccines and reporting updates here. Considering the varied levels of concern among consumers and timelines for fully alleviating their concern, many consumers will need extra assurance as they venture out to brick-and-mortar businesses again. Promoting what your business is doing to ensure the safety and health of customers and employees will be critical for many months after the reopening.

Inspired Ideas to Show Commitment to Safety
Before customers will make the decision to shop, dine, or purchase services from a local business, they need to be assured of their safety. Brands that make it a priority to inform their local communities of what precautions they are taking to ensure a safe experience are better poised to secure the loyalty of local customers, during and long after COVID-19.

Taking these three steps – and establishing a strong local social strategy – could help your multi-location brand tap into consumers' longing to support the economy locally as shelter-in-place restrictions begin to ease. Businesses that proactively take the right steps now on the local level could see a surge in support post-COVID-19 and beyond.
This blog is a part of our COVID-19 Insights series. Visit our COVID-19 Resource Library for more in-depth analysis on the overall state of consumer behavior, preferences, and expectations before, during, and after COVID-19. As your marketing team prepares for the reopening of the economy, make sure you have the tools to succeed. MomentFeed's platform makes it easy to execute hyperlocal marketing campaigns at scale, and win the battle of Proximity Search. Speak to one of our marketing experts today to see how your business might benefit from MomentFeed.
Consumer expectations shifted amid COVID, are you keeping up?
*About the data: To better understand consumer buying behavior amid COVID-19, MomentFeed commissioned a survey conducted between March 25-26, 2020 among 1,010 U.S. adults ages 18 and older. The survey respondents were equitably located throughout the country and represented a diverse sample of ages, genders, ethnicities, education levels, income levels, and number of children.