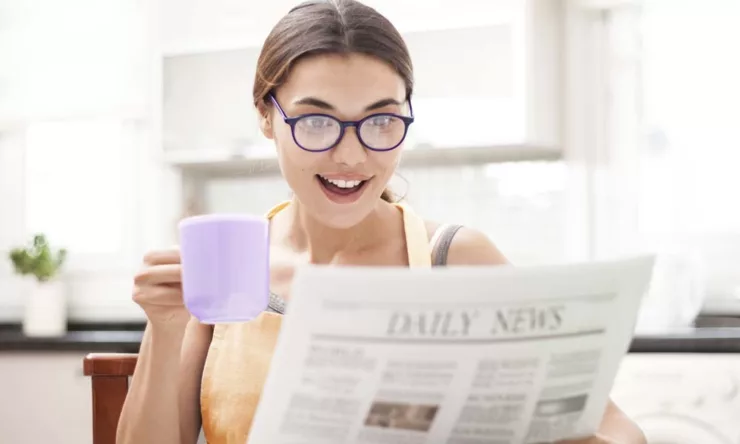 Blog
25+ Hybrid Customer Experience Statistics and Why They Matter
A New Year brings with it both the promise of new possibilities and the likely continuation of ongoing trends. One trend, catalyzed by the pandemic, has been consumers' preferences for a combination of online and in-person options – what we at Uberall call a hybrid customer experience. As this preference will likely grow in importance, we think it's a good time to outline customer experience statistics that will be key to succeeding in this hybrid online-to-offline world.
If your digital marketing is not already optimized to meet the expectations of the modern, hybrid customer – who is locally minded, always connected, and digital-first – this should be one of your top focuses for the new year.
Customer Experience Stats 2022
Catch the attention of the modern, hybrid consumer by offering them a seamless online-to-offline customer journey that consistently meets their expectations. Use these customer experience statistics to drive your business and improve customer satisfaction rates.

Today's Consumer is Locally Minded, Yet Digital First
According to our customer experience stats, having a store location is an important factor in building customer trust. In a recent Uberall survey, customers were asked to indicate how the proximity of a business influenced their overall experience, trust, and loyalty. The results revealed a strong preference to support local businesses with a decidedly digital twist.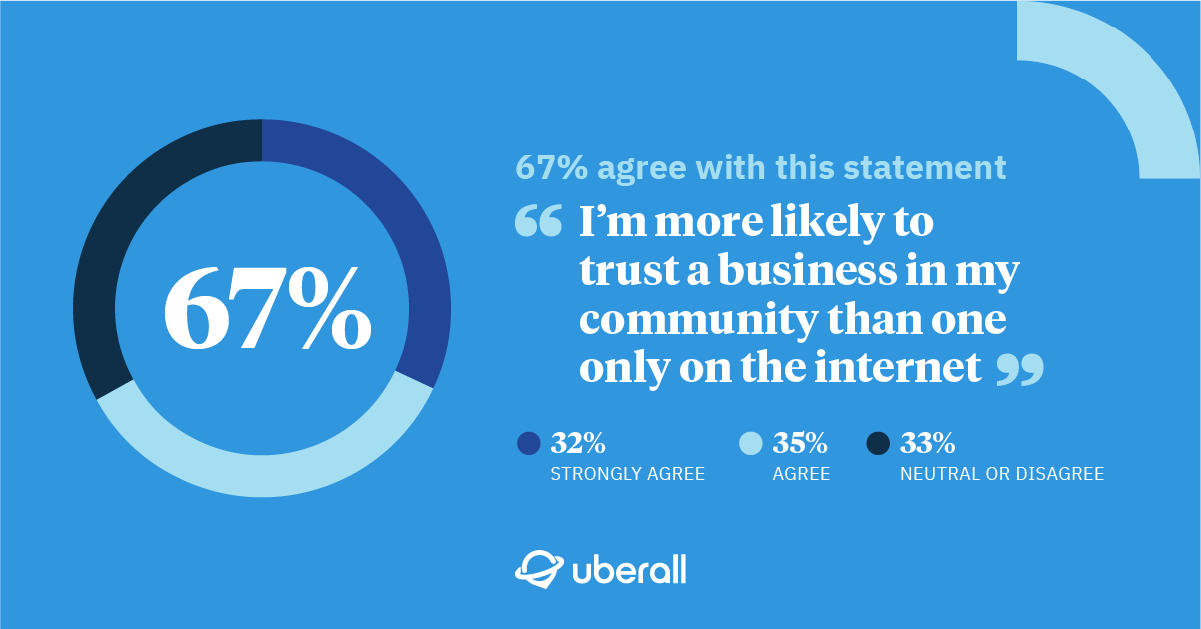 67% of customers trust local businesses more than those that only operate online.
74% of customers prefer including offline or in-store experiences at some point in their journey.
55% of customers say they feel an emotional connection to local businesses.
79% of people expect to have a better experience at a local business (as opposed to online-only websites).
87% think that it's important to trust a business before becoming a customer.
Consumers are less brand loyal and more locally minded: 64% of consumers say their physical proximity to business factors into their decision on what business to buy from, whereas 57% indicate that familiarity with brand matters.
It Pays to Build Customer Loyalty
With more consumers starting their buying journey online, it's harder than ever to earn their trust and loyalty. But businesses that can offer a seamless online to offline experience will reap the rewards. Recent customer experience stats found that loyal customers will spend more for a good experience and bring others with them.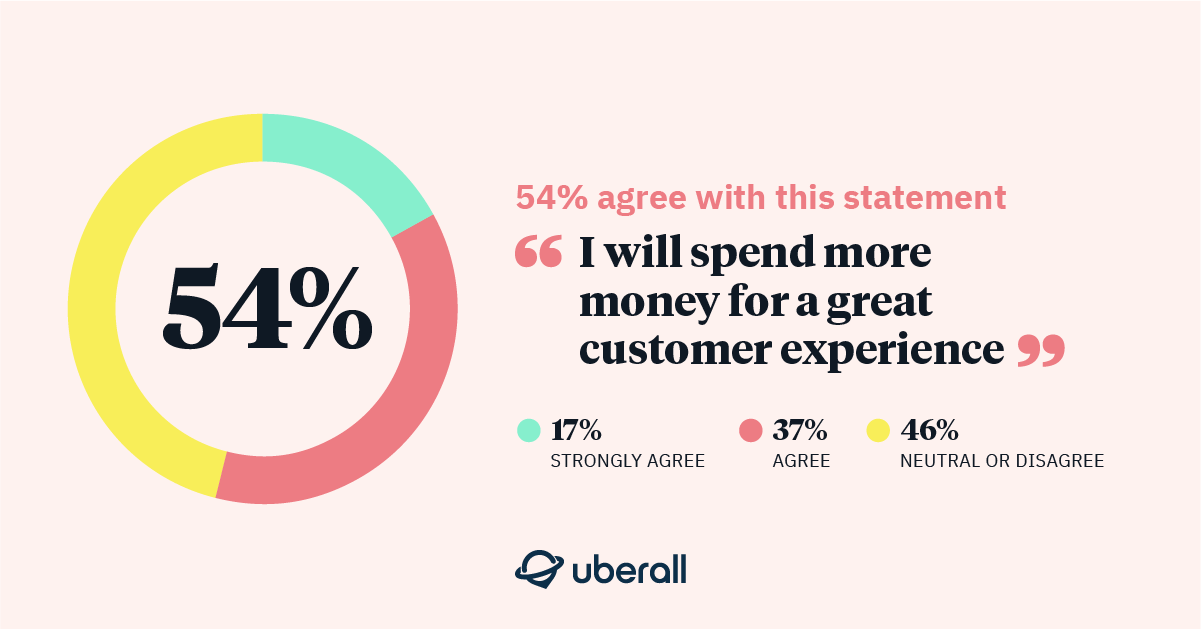 63% indicate that they will refer a business to their friends or family if they are a loyal customer.
41% of loyal customers will write a positive review online.
54% are willing to spend more for a great customer experience.
26% of loyal customers will not do business with the company's competitors.
The leaders who focus on customer experience perform 80% better than those who don't focus on it.
Customers Have Little Tolerance for Poor Experiences
Today's consumers won't hesitate to switch to your competitor if you don't meet expectations, according to recent customer experience stats. Anything from an unresponsive website to a rude staff member can drive clients away.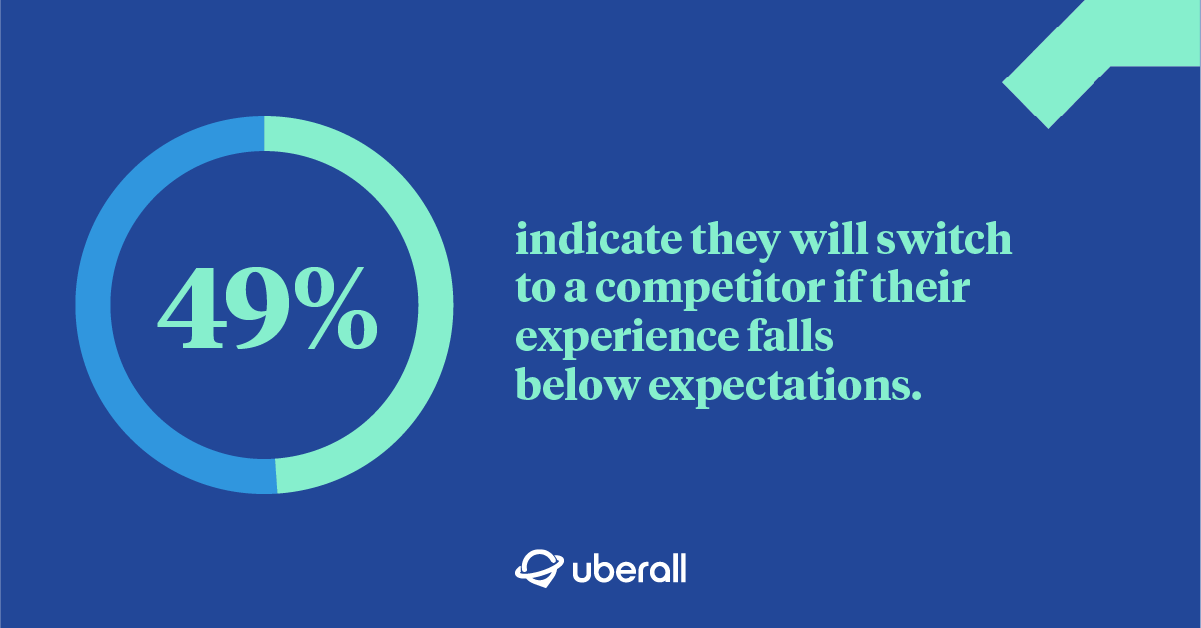 49% indicate they will switch to a competitor if their experience falls below expectations.
43% will tell their friends and family about how their experience failed to meet their expectations.
24% will write a negative review online.
27% will ask for a refund or a discount.
Customers switching to other companies because of poor service has cost U.S. companies an estimated $1.6 trillion.
A Customer Experience Worth Talking About
A good vs. a great customer experience can be the difference between a one-time customer and a lifelong advocate. Below are some customer experience statistics for 2022 that outline what it takes to exceed customer expectations. Other than price, the top factors consumers say make for a "great" experience involve human interaction.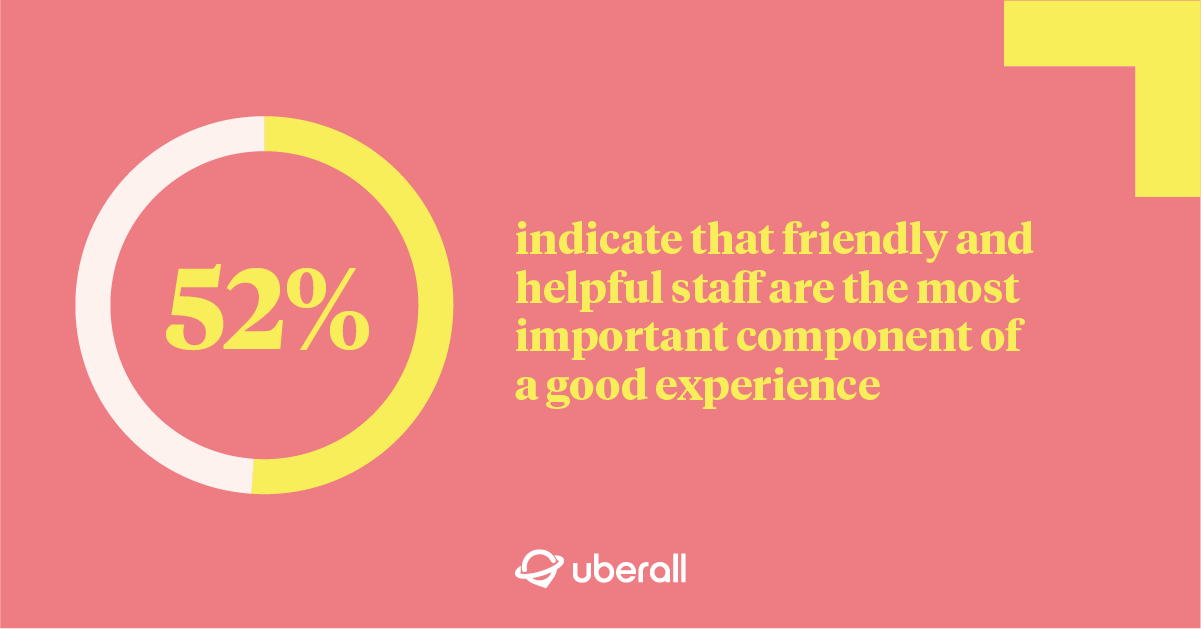 52% indicate that friendly and helpful staff are the most important component of a good experience.
46% indicate that the ability to get questions answered quickly is important to a good customer experience.
38% value connecting with a real person.
32% think that a website or app that is easy to use is the most important part of a good experience.
Evolving Customer Expectations and Technology Will Shape Future Experiences
As technology and customer expectations evolve, so will the hybrid customer journey.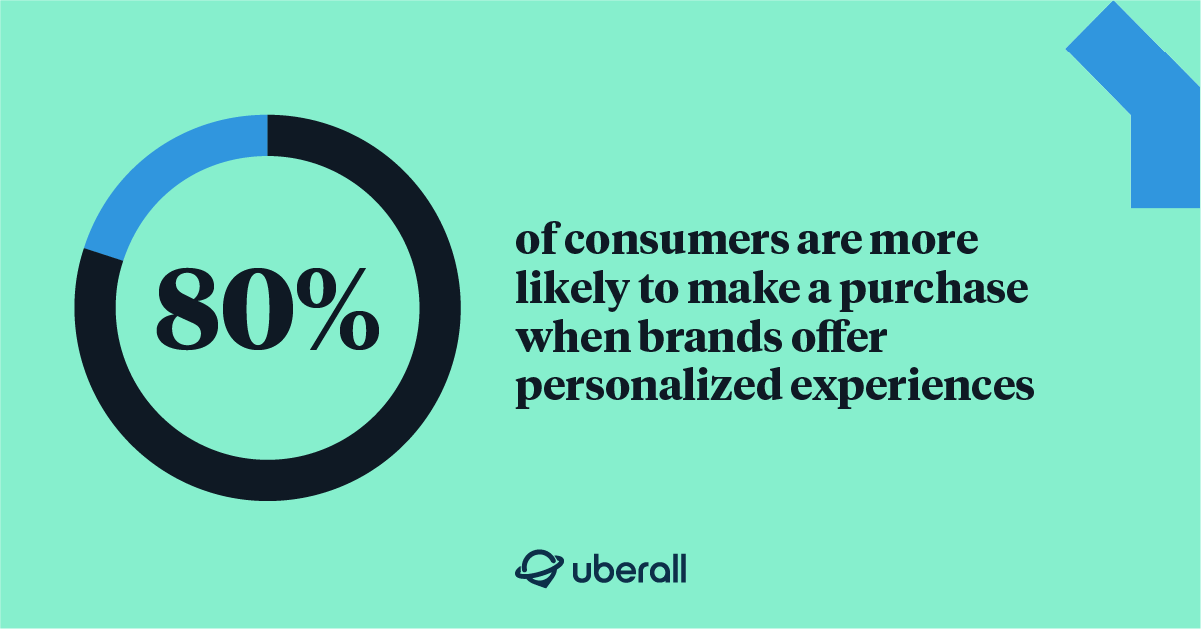 Only 28% of Americans trusted AI in 2018, but conversational marketing powered by AI is an emerging business trend. Think chatbots and smart messaging engines.
80% of consumers are more likely to make a purchase when brands offer personalized experiences.
50% of consumers say they are likely to be influenced by localized social media posts, compared to only 16% who say nationally focused posts influence them.
Offering a unique experience will help you court the 74% of customers who value experiences more than physical goods.
The number of companies investing in a seamless omnichannel experience has increased to 80%.
Customers are increasingly choosing brands whose practices align with their values.
Meeting Expectations of the New Hybrid Customer
We have entered into an exciting time for marketers and consumers alike.
At Uberall, we see brick-and-mortar businesses as uniquely positioned to benefit from the blurring of online and offline worlds: it's a chance to stand out even more, with connected, hyperlocal experiences.
The key to standing out and driving more revenue is to maximize the unique benefits of a location-based business:
Need-it-now convenience
Meaningful human interaction
Unique experiences that can't be duplicated online
Hyper-localized experiences
By putting these valuable differentiators to work for your brand both online and offline, you can attract more local buyers that have a high intent to purchase.
Attract more buyers online and drive more revenue offline, speak to an Uberall Hybrid CX Expert Today.
Data sources:
Uberall Consumer Survey of more than 3,800 consumers in the US, UK, Germany and France, conducted September 2021 - The Hybrid CX Advantage
Uberall Consumer Survey of more than 4,000 consumers in the US, UK, German and France, conducted in April 2021 - New Face of Local
Uberall Study of analyzing location search data from more than 25K locations representing 350 businesses, conducted December 2020 - The Google 3-Pack
Uberall Survey of more than 1,000 U.S. consumers, conducted September 2020
Deliver memorable customer experiences with Uberall CoreX