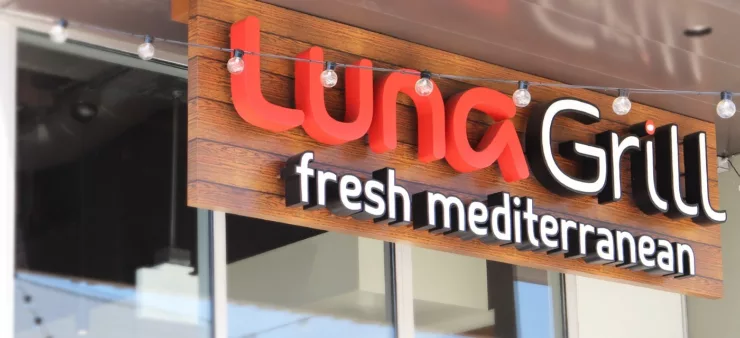 Video
Luna Grill's Proven Strategy for Restaurant Openings
Established Local Marketing Strategy Proves Useful for Luna Grill as they Open new Restaurants
Luna Grill, a chain of casual restaurants that serve healthy Mediterranean and Middle Eastern dishes, gave us the inside scoop on their success leveraging paid ads, customer reviews and social media to promote the soft opening of their 37th location in Culver City, California.

A Proven Promotion Strategy for Restaurant Openings
Since opening their first restaurant in 2004, Luna Grill has experienced fast expansion across California and Texas. As expansion plans continue to forge ahead, the company has developed a tried-and-true strategy to promote new restaurant openings. In a video interview with Rebecca Herrera, the District Manager at Luna Grill, she shared their insights with us.

To recap, Luna Grill has harnessed the power of social media, paid ads and customer reviews to attract customers to their new location and build brand loyalty.
Let's dive in and talk about each one.

Boosting Visibility with Customer Reviews
According to the Local Consumer Review Survey 2016, 74% of consumers claim that positive reviews increase their trust in a local business. For the restaurant industry, positive customer reviews are a testament to the quality of food and services, two things that Luna Grill takes a lot of pride in. So it is no surprise that Luna Grill goes the extra mile in generating customer reviews to boost the visibility of their new Culver City location.

Luna Grill's employees are incentivized to garner reviews from customers by giving them review cards with the employees' names on them. The customers would then be able to write reviews online and give shoutouts to the people who made their dining experience special.

The review cards delivered a constant stream of reviews and employee mentions for Luna Grill since it was implemented a year ago, adding roughly 40 new employee mentions every week (predominantly on Yelp).
Gamifying Review Solicitation
Luna Grill even added gamification elements by rewarding the employee with the most mentions a special prize at the end of each year, effectively reinforcing the staff's motivation to consistently provide high quality services.

Along with Luna Grill's employee incentive program, they've amassed a greater number of positive reviews thanks to their partnership with MomentFeed.
MomentFeed's proprietary Reputation Manager played a critical role in helping Luna Grill monitor customer reviews on all their store pages, and efficiently respond to individual reviews on key networks including Yelp, Facebook, and Google My Business. Since becoming a MomentFeed client, Luna Grill has seen a 262% increase in reviews in one year.
How is that important? Besides a perpetual boost in store visits, gathering online reviews helps businesses stay informed on their customers' preferences while creating a sense of transparency and accountability at each location.

Digital Paid Ads
Paid ads have always been a must-have tactic for Luna Grill's marketing playbook, especially in a brand new market where brand awareness is limited. Referring to the effectiveness of paid ads, Ms. Herrera explains that "it will definitely help us to get the ball rolling and show people what Luna Grill is all about"
When creating ad campaigns on Facebook, Luna Grill strategically alternates between using Facebook's native ad platform and MomentFeed.
Facebook Native Platform: used to create ads for a specific location with native features such as carousel images.
MomentFeed's Platform: Used for mass ad campaigns that touch on a number of different local Pages, such as monthly promotions. MomentFeed comes into play by making it extremely easy for Luna Grill's marketing team to customize ad copy for different restaurant locations. This significantly cuts down on campaign creation time.
Taking Organic Local Social to the Next Level
Luna Grill has been a strong proponent of using social media to connect with customers, whether new or returning. That's why they enlisted the help of MomentFeed to take their social media game to the next level.
Prior to working with MomentFeed Luna Grill had an active centralized brand strategy but didn't know how to manage or leverage local pages. This became increasingly problematic as rogue pages popped up and customer engagements and reviews were taking place without oversight.
With the help of MomentFeed, Luna Grill created separate Facebook Pages for each of their restaurant locations, and merged all rogue pages, gaining fans and check-ins for a fraction of the effort.
Since then, Luna Grill has used MomentFeed's group and dynamic fields features to create social posts that are regionally relevant, and leverage user-generated content. Adding an extra layer of authenticity to their organic social posts.

423%

YOY increase in user engagement – likes, comments, shares, clicks – on Luna Grill's Local Facebook Pages.
Using Established Social Program for Store Openings
With the social media infrastructure in place, Luna Grill opted to use Facebook Events as a way to promote the latest restaurant opening.
The idea is simple: create a Facebook Event and encourage people to RSVP. When people RSVP "Yes" to an event, their Facebook friends instantly get notified and might be compelled to check out the event for themselves, thus spreading the news far and wide.
Luna Grill typically sees that 50% of people who RSVP'd show up on opening days. Being able to accurately predict the number of guests allows the Luna Grill team to better prepare for the launch day, which is key to delivering a great first impression in a new neighborhood.

About Luna Grill
Much like the feel-good fare that they serve, the beginning of Luna Grill was a heart-warming one.
Maria Trakas Pourteymour, the Co-Founder and Chief Cuisine Officer of Luna Grill, grew up under the heavy influence of her loving grandmother who taught her everything she knew about cooking. Having also worked in her family's Greek restaurant for over a decade, the stage was set for Maria to eventually kick start her own culinary endeavour.
After meeting Sean Pourteymour, an entrepreneur and developer of strategic retail partnerships, the pair built a life together and eventually started a business together.
As a new mother, Maria became increasingly concerned over the lack of healthy dining-out options. Thus the concept behind Luna Grill: to serve real food that is affordable, freshly prepared and crafted with the all-natural ingredients.
Sean and Maria combined their expertise and Luna Grill was born.
Opening restaurants this year? See how MomentFeed can help boost visibility.