Well-known name = high ranking? 5 local SEO key points for multi-branch businesses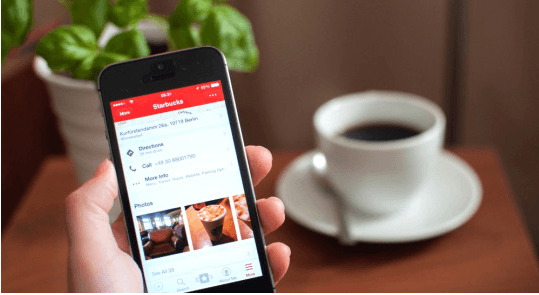 In many areas, branch businesses and major franchise chains function as pioneers and visionaries. Something that companies with a large number of branches frequently fail to achieve, however, is local search engine optimisation, or 'local SEO'. As a result, Granny's Café on the corner end ups outranking well-known names such as Balzac Coffee in local search results.
We offer 5 tips to multi-branch businesses to gain a better ranking in local search results.
Consumers search locally
Yellow Pages, pen, and paper – until a few years ago, these used to be the best tools for finding local businesses. These days, you do not only get the classic business directory in a digital format, but the entire search process is increasingly being transplanted to the Internet. Google results demonstrate that local searches are becoming increasingly important. Search terms with the addition "near me" have increased 34-fold over the course of the past four years in the United States. Especially remarkable: every other customer who carries out a local search over their smartphone frequents a relevant business within one day. Every fifth visit results in a purchase (Google study: Understanding Consumers' Local Search Behavior 2015).
A simple strategy targeting standardised, correct entries in various online registries and map services, coupled with some website optimisation and high-quality local content, can help businesses to be found on the Internet.
Five steps to optimised local search results
The first place to go when looking for a business is, naturally, its website. If it is a well-structured website with relevant content that complies with the guidelines of Google, Bing, and other search engines, the result will show up in the results of local searches and so-called "nearby searches", complete with its address, a map, and company information.
1. Separate branch homepages
Large businesses tend to present themselves and their branches through a single, centralised website. This may be good for the company image, but not necessarily for local search results. Each store needs a separate website to display accurate, up-to-date information about the individual branch, its address, contact data, and opening times. Those are the precise pieces of information that smartphone users most frequently want to find out when they carry out local searches on the go. Additional information, such as the company history, are largely irrelevant in the context of mobile search requests. If every store has its own homepage, local search rankings can be optimised by adding selected local content. Branch websites are subject to the same success factors that apply to any other website. Contents must be: unique (i.e. not duplicated), legible and free of errors, up to date (i.e. regularly recreated), of an appropriate length or brevity (balance between insufficient and excessive information); they must contain backlinks, a certain density of keywords, and internal links.
2. Website quality and layout
Investing in the technical features of the website is another important factor for achieving a high Google ranking. Quick loading times and a design that has been optimised for mobile devices are particularly indispensable. In addition, good structure plays an important role. Instead of cryptic addresses such as www.unternehmen.de/77h4gx/8767, URLs should be structured in a clear, hierarchical manner: www.unternehmen.de/Berlin/Charlottenburg.
From this year, Google will be attaching great importance to responsive design: websites that lack responsiveness will be penalised. The concept of "responsive design" refers to the dynamic adaptation of contents to any device – smartphones, PCs, laptops, tablets. Responsive content is especially important for local searches, which are increasingly carried out through mobile devices.
3. Separate branch profiles in online directories
In order for Google and other search engines to be aware of multiple branches and locations, each of them needs to be represented by an individual entry in directories such as Google My Business, meinestadt.de, Apple Maps, etc. For the sake of NAP (Name, Address, Phone) consistency, the contact data on all portals and the main company website needs to be completely identical. Additional information included in the branch profiles – e.g. images, videos, or discount campaigns – has a positive effect on local searches, even if this requires additional effort.
4. NAP consistency for multi-branch businesses
Maintaining NAP data at an efficient standard is challenging for businesses with hundreds of different branches. The provision of correct location information frequently requires a great deal of resources.
Multi-branch businesses have a number of inherent particularities that influence NAP consistency .
Different telephone numbers for a single location – one branch can have several telephone numbers. This problem can be solved very easily: As a first step, Google rankings can be considerably improved simply by consistently registering the respective local telephone number of each branch on the main homepage, with Google My Business, and in all other directories.
Relocation or closure of branches – businesses with many branches change their locations more frequently than individual companies. Branches close down, new branches open elsewhere. As a result, addresses, opening hours, and telephone numbers available on the Internet become outdated. Updating and maintaining correct profile data across all online and classified directories, apps, and maps is therefore essential for increasing the online findability of multi-branch businesses.
Changes of the business or its name – name changes or acquisitions by other companies can cause NAP consistency issues. Variations or different spellings of names also factor into such problems.
Different URLs – businesses with many branches frequently struggle with several inconsistent branch URLs. Especially businesses that are active in more than one country are likely to have more than one domain, which can quickly become confusing. The more consistent the URLs across branches are, the easier it becomes for Google to find the link to the right branch – even with a large number of branch profiles.
5. Pay attention to correctness
It is important that the data you enter into directories remains accurate in the long term. If opening hours of a branch change, this information must be updated in all directories.
Outdated information may result in customers facing closed doors and, in turn, venting their frustration by writing a negative review. In terms of local search results, customer feedback is becoming an increasingly important factor for Google. A large number of negative ratings caused by misinformation about the location should be avoided at all cost.