Uberall Profile suggestions: Just a few clicks away from complete location profiles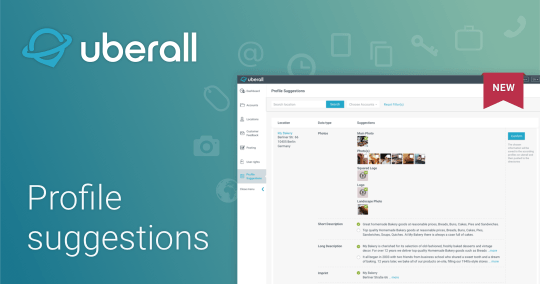 For your customers as well as search engines, there's no such thing as too much information about your business. That's why Uberall has made it even easier to complete your business' profiles, both new and existing. We've created a new suggestion feature which helps you create powerful and complete location profiles.
You have to crawl before you walk
Digital Location Marketing can be a tricky business. Before you deploy the tremendous local marketing power at your fingertips, some nitty-gritty work has to be taken care of. Your profiles have to have complete, correct and consistent information across all platforms to perform effectively in Local Search.
The difficulty is that platforms differ in the kinds of information they contain. All will contain the basic elements such as address and contact details, but not all will offer to contain opening times, for example, or host images. As such, it's easy to overlook certain information fields, and reduce the effectiveness of your locations in Local Search.
But Uberall has made this problem a thing of the past, by developing a sophisticated data crawling tool for our users. This tool delivers notifications directly to you, making recommendations about different data fields. Scanning all relevant platforms, it lets you know if blank data fields in your Uberall profile could be filled using information from already existing listings.
You then have the option of filling it out, or leaving it as it is. As normal, you can upload your own data too. What's more, the crawler will only suggest information or location data that is 100% valid and vetted. This means, if the crawler suggests a particular website for one of your locations, this website will be relevant, effective and available for that particular location.
The new function can be accessed via a new menu item from the Location Marketing Cloud's interface, as well as in the locations overview and directly in the location profile.
Full control over third-party suggestions in Google My Business
Besides providing cross-platform profile suggestions, Uberall also automatically collects all external suggestions from Google My Business. External suggestions are change requests which 'regular' users file directly with Google; for you, this means change requests regarding your locations' appearance in Google search and Google Maps. Uberall notifies you of all requests, and you decide which changes to accept and which to reject. This way, your locations' presence stays consistent in all digital channels.
Optimal location profiles for all businesses
The tool is available for all sizes of business: customers with thousands of branches, as well as for SMEs with only a few locations and, of course, for our sales partners.
Learn more at: US: +1 (628) 400 0150, UK: +44 (0)20 3769 3000 or hello@uberall.com
Our sales partners can find out more about how they can use the new suggestion function for their product packages at partner@uberall.com.