Uberall and Hostopia: A great partnership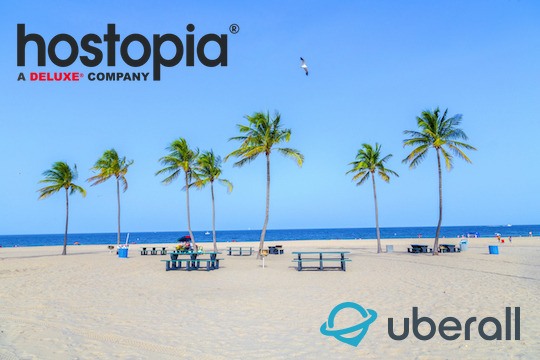 Fort Lauderdale, a gorgeous Florida vacation spot, is also a serious place of business. Earlier this year, Elisabeth Kurek and Catrin Büttner from Uberall's Partner Growth team attended the Hostopia Sales & Marketing Summit in the scenic Florida city.
Uberall and Hostopia are partners. No surprises there: both companies want to help businesses create local relationships with their customers, and believe the best way to do this is to build effective online presences in Google, Facebook, Yelp and numerous directories. And this partnership has already produced some interesting outcomes, including inter-business trainings.
Hostopia recently held its Sales and Marketing summit in its Fort Lauderdale, Florida office, and our Partner Growth team was present to collaborate. Elisabeth and Catrin presented, discussing the value of Uberall for small businesses, how to take Uberall to market to Hostopia's partners, SMB trends and a live demo of the new UI of the Location Marketing Cloud. Afterwards, the team met for a series of roundtable sessions with product management team, sales engineers, account managers, partner marketing and more. The result was clear: good business opportunities and plans were developed throughout the partnership, across regions.
Hostopia is a white-label service that allows service providers to offer their SMB customers the products and services that they need to run a successful business, and in turn, provides service providers the opportunity to generate new revenue streams. This also empowers SMBs to grow. Uberall is now a part of the Hostopia offering, providing a fully white-labeled listings management solution for Hostopia's partners to take to market, helping to grow business and increase ARPU for Hostopia's telco and hosting clients, worldwide. In turn, Hostopia partners can offer this great service to their small business customers.
Jorge Carvalho, SVP of Global Sales and Marketing, Hostopia:
"We were thrilled to have Uberall as a partner, and to have the partner team participate in our Sales & Marketing Summit. Uberall is the perfect fit for our partners, to add value to their website services and offer an in-demand service to their customers. We were able to identify new business opportunities and collaborate on plans to provide Uberall to Hostopia service providers across various regions globally. We hope this is a long and fruitful collaboration which enables service providers to generate even more revenue, and to help SMBs grow."
Elisabeth Kurek, VP of Partner Growth, Uberall:
"The Hostopia Sales & Marketing Summit was a great event for our teams to meet in person, exchange ideas, and collaborate on future projects. The networking events provided a fun setting for team building across departments and companies."
The team rounded off the day by going on a boat-excursion on the Jungle Queen, which included a BBQ dinner, drinks, and live entertainment, providing the teams with a nice opportunity to network in a fun, informal setting.
If you would like to know more about our partnership with Hostopia, then do not hesitate to get in touch with us. We're very happy to hear from you!
Best,
Your Uberall team