Turn Mobile Searches Into Sales with Enhanced Locator + Pages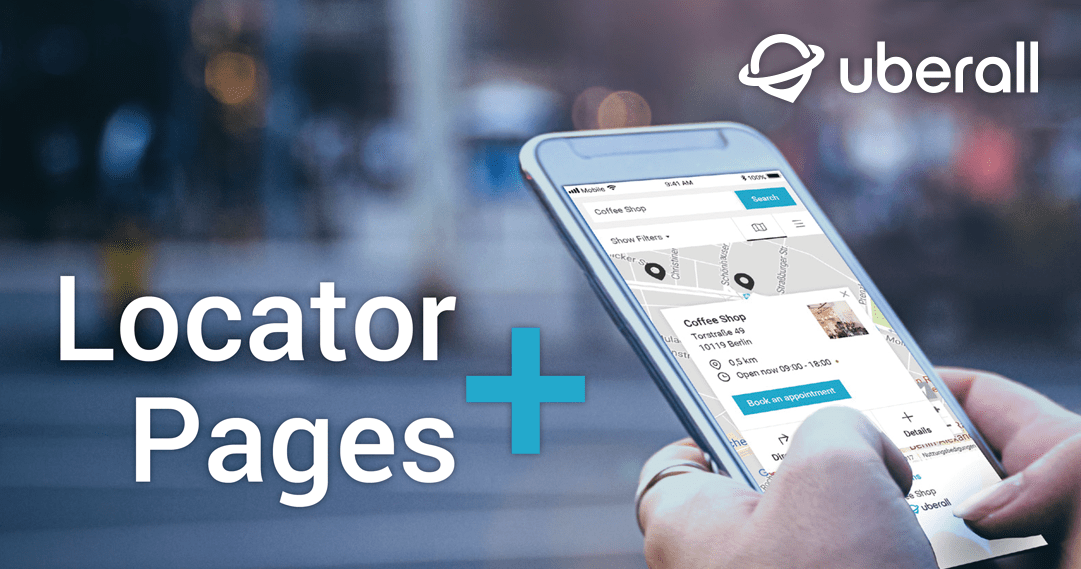 Introducing Locator + Pages—new from Uberall—a plug-and play website add-on, designed to speed your time to market, drive up your sales, and boost and track conversions from your website.
Locator helps you deliver an online experience tailored to each of your locations—amplifying your SEO with relevant content that will vault your stores to the top of mobile search. By embedding a powerful, full-featured store locator directly into your website, we leverage your data and our ability to optimize for desktop and mobile search. You'll also give customers a direct route to locate and engage with your stores—quickly calling up maps, directions and contact info that will bring them to your door faster.
Locator + Pages is an easy plug-and-play widget (a free upgrade for our existing customers). It adds next-generation features like filters, conversion optimization and new directories to an already user-friendly, customizable maps of physical locations—all with Uberall's high levels of reliability and uptime. Our enhanced Pages solution also ensures optimized, relevant per-location landing pages with integrated Google analytics reporting—boosting your SEO and findability online, to increase foot traffic and ramp up revenue.
Use Locator + Pages in every industry—from retailers to banks, services, and hospitality. Here's what you get:
Locator. Guide customers to your nearest location or store via an easy-to-read, mobile responsive, zoomable, clickable map. Visitors can select an individual location to see a dedicated store landing page and even click through to get directions or call you. Because it is plug-and-play, you can easily integrate Locator directly into any website or domain, reducing time-to-market and quickly getting new locations up and running. Now with more branding and personalization opportunities, filters, conversion optimization capabilities, and state directories—Locator offers unmatched reliability and uptime. Plus you'll get free product updates as we add new functionality.
Pages. Quickly roll out individual landing pages for every one of your locations at once. Easily customize data for each location—with operating hours, upcoming events, contact information, offers, promotions and other content that will increase your brand authority and SEO rankings. Create call-to-action buttons, like appointments, reservations, check ins, calls and directions, that will jump-start the sale before customers ever reach your door. Plus, each page is now indexed across Google, and displayed as results for local searches—perfect for popping to the top of mobile and voice search. Uberall also delivers structured data for better visibility, and an integrated Google Analytics reporting feature that helps you to track attribution and evaluate performance directly from the platform.
Your goal is to maximize your digital brand footprint and drive new and existing customers directly to your doors. Our goal is to help those customers find you. Our flagship Location Marketing Cloud solution helps businesses create a consistent, engaging brand ecosystem that connects you with consumers at the exact moment they're ready to buy. Available as a standalone product or as a seamless new addition to your existing Uberall Location Marketing Cloud.
This is a big benefit. Since Locator + Pages is directly integrated into the Uberall Location Marketing Cloud, you get one point of control for your location data, with one process for updating your online presence. This ensures consistent information on pages and other digital channels, optimizing your resources, reducing marketing complexity and amplifying SEO value.
We're excited to launch our new Locator + Pages tool. To try it, log in to your Uberall Location Marketing Cloud account. uberall.com
For those interested in Locator + Pages, feel free to email Uberall at sales@uberall.com for a demo today.
By Josha Benner, Co-Founder of Uberall, Inc.