Time-consuming marketing campaigns? Save time with Uberall and efficient labels for your locations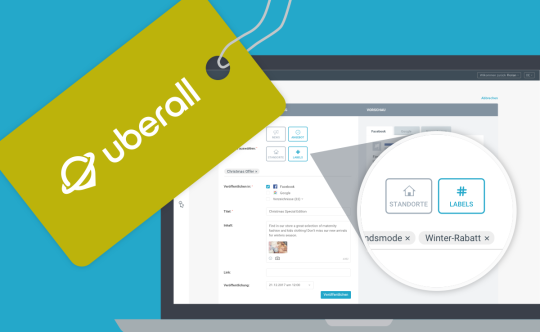 Labels make targeting your customers even easier
With Labels, users can group and classify locations as they need. Just use the Labels input field in the user interface (just as you would 'special opening hours' for example) - and you can define the Label as you need. For example, by location ('North London', 'South London' etc.), by attribute ('Roof Terrace', 'Garden' etc.) or any other grouping suitable for your business.
You can also search and filter these labels in the list view of your locations. This makes it even easier for you to manage your store locations - particularly if you have a large number of them! (Info: Uberall Labels are currently visible and configurable only for the admin user.)
Set up your campaigns and save time!
In addition to the improved UI, Labels also make it easier to make your location-based marketing campaigns even more targeted. Campaigns, offers, special promotions or even company news can be presented and published with target groups defined by your Labels ('North London', for example).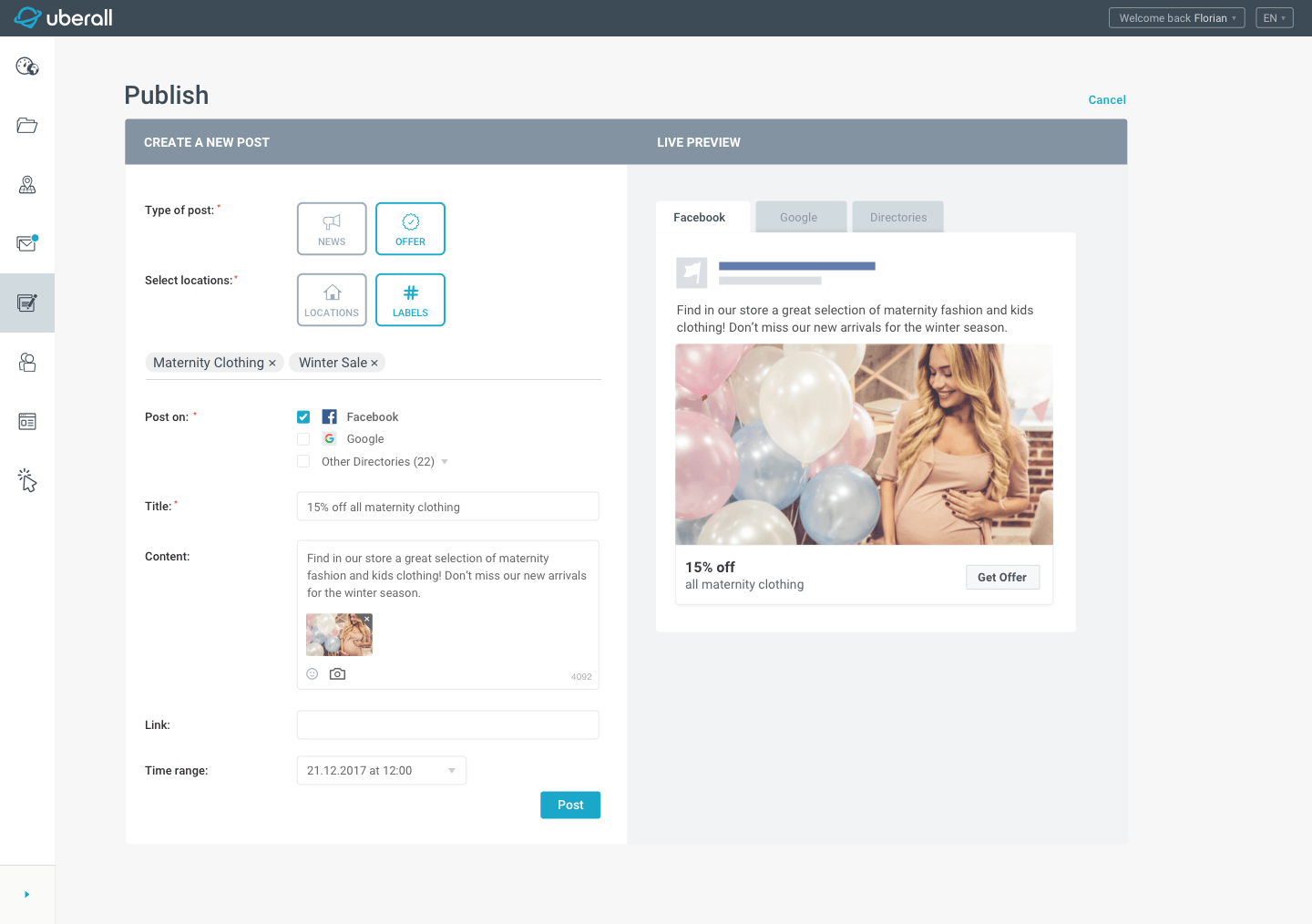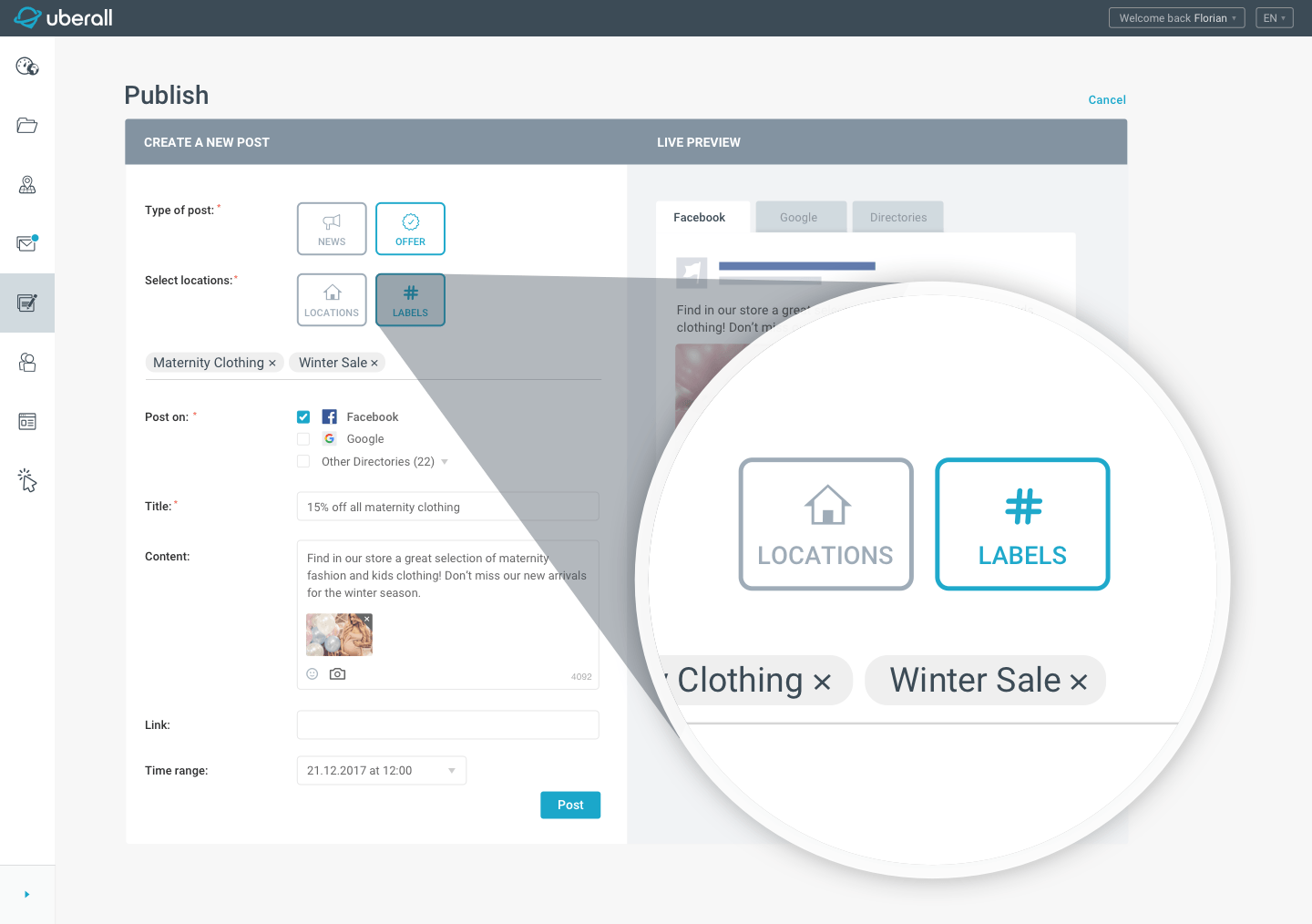 This means the relevant customers can be targeted by your campaign instantly. This saves you time and money, since you don't need to spend extra money on targeting consumers - just use the Engage module!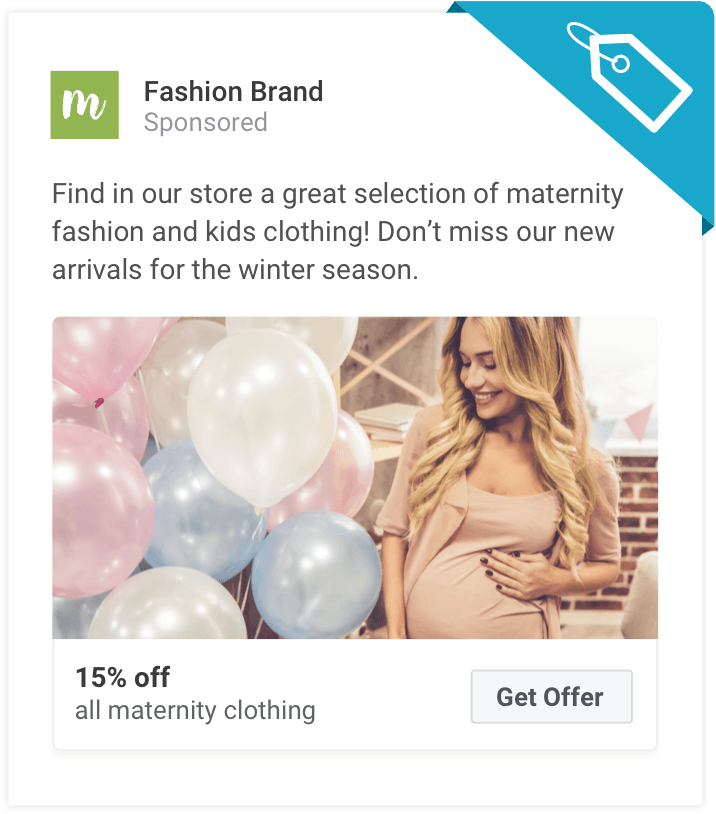 Creative campaign examples:
Restaurants: 15% discount for World Children's Day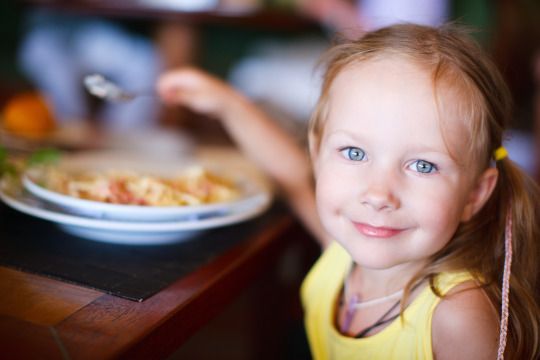 A restaurant owner has several restaurants with a designated area for children, with small tables and chairs and play facilities. For "World Children's Day" on May 13, there is 15% off all food and drinks in these restaurants, which were marked with the label "Children's Area" in advance. A special promotion like this can now be created in a few minutes and announced on Facebook, Google and directories.
Clothing: Maternity wear in selected stores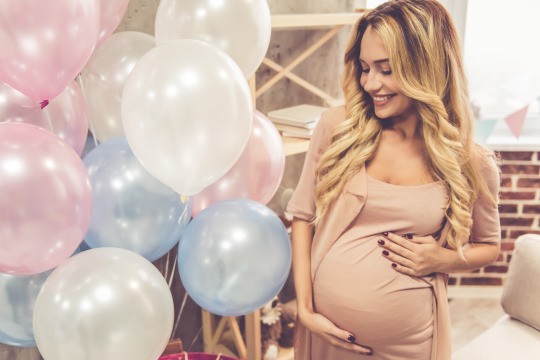 A big fashion brand has maternity wear in some of its stores and has set up an area for it. With Labels, they can now announce offers and new deliveries easily and quickly - with the relevant branch highlighted!
Advantages of the new labels at a glance
Individually applicable, as labels are freely selectable
Countless possibilities of grouping, as there is no limit to the number of labels
Easy to implement - even for companies with many locations, as labels are conveniently entered via Excel-File upload
Quickly publish campaigns by posting posts for locations with labels
For the more targeted customer approach no additional marketing budget must be planned, as users publish via Engage as usual offers and contributions directly
Easier navigation through the UI because labels are in the search function
Get in contact with us if you'd like more information on how to take advantage of simpler marketing campaigns with Labels! hello@uberall.com.

Sources: *https://www.haufe.de/marketing-vertrieb/online-marketing/kundenansprache-marketer-erreichen-ihre-zielgruppen-nicht_132_424696.html