LOCAL. Let's break it down. It's two syllables, five characters, and four different letters. It's an adjective meaning related or restricted to a specific neighbourhood. It can be used simply to distinguish between different districts and communities – but it can also be used in a negative way, as a synonym for confined, restricted or limited.
'Local' might only be a short word, but its meaning isn't always straightforward – and that is never truer than when we talk about local businesses.
At Uberall, we work with 'local' as a concept every day, from local marketing to 'near me' searches and the 'Near Me' Brand Experience – all with the aim of helping companies to attract new customers and interact with them.
To that end, we spend a lot of time picking the brains of marketing experts and decision-makers, examining the importance of local-marketing strategy. This has led to some illuminating and often surprising discussions.
There are a few major misconceptions about being 'local' – and we need to talk about them.
Back in March 2021, my colleague Julie Gölles gave a fascinating talk at SaaSDay, looking into three common misconceptions about the concept of 'local'.
These false preconceptions are particularly deeply rooted in the marketing departments of major companies that don't want to be seen as local businesses. This is a problematic mindset, because it instantly gives a lucrative slice of the market to the company's competitors.
So, if your first reaction when you hear the word 'local' is small or insignificant, you might want to take a look at our rebuttal...
Misconception 1: 'Local' is just a nice way of saying 'small'.
Larger businesses in particular tend to shy away from looking at the local level, because they associate it with small and medium-sized enterprises. When they think about local business, they think about bakers, hairdressers and corner shops – not chains, franchises and big brands.
"We're an international company. We're not small!"
To some degree, social movements to promote small and independent businesses back up this preconception. In recent years, social media has been flooded with hashtags like #ShopLocal, #CommunityOverCompetition and #SupportSmallBusiness. Use of these hashtags has increased significantly during the pandemic. Their aim is to create a sense of community and focus public attention on protecting small businesses.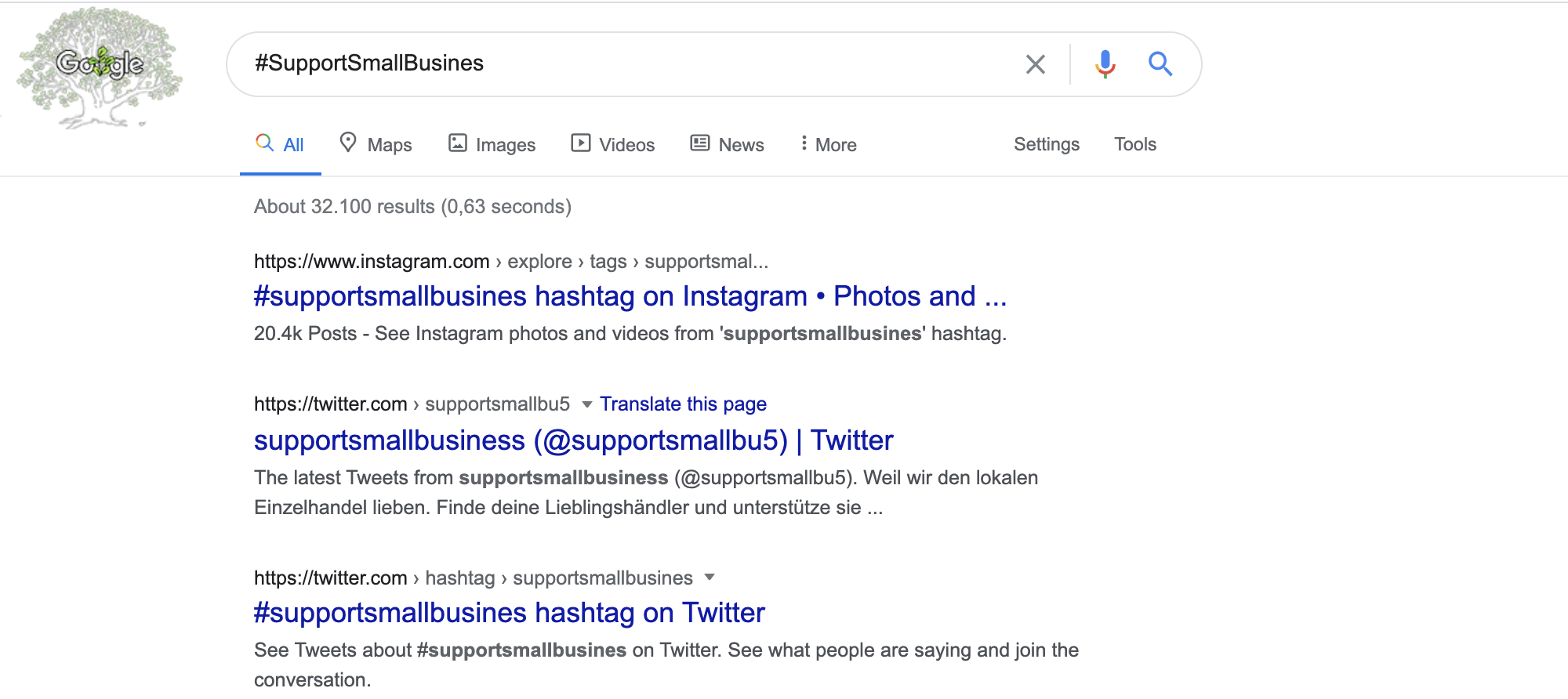 Even global giant Visa has thrown its weight behind local businesses with a high-profile ad campaign, adding to a groundswell of voices encouraging consumers to support enterprises in their area.
The reality? Companies are local, regardless of size or sector.
Consumers make purchases in person wherever they shop, so it's the local experience that counts. It's also true that retail districts often aren't devoted exclusively to either large or small businesses. Independent boutiques and major chains can be neighbours both on the high street and out of town.
This means that the characteristic of being local is not the preserve of any one type of business. All companies, from independents and SMEs to major chains and franchises, can (and should) attract customers locally.
Nevertheless, SMEs do have one advantage over big business at the local level: they are inherently more adept at establishing and maintaining contact with their customers and giving them a feeling of neighbourly proximity.
Big-name brands have plenty of room for improvement. Using online reviews as a channel for interaction is one innovative way of doing so, as illustrated by our case study of TOTAL, the global chain of petrol stations.
Misconception 2: People already know us. We don't need to be local.
The more well known a company is, either nationally or internationally, the more global its approach to brand image will be. Big names tend to focus on making their brand and products even more widely known.
This mindset assumes that, because most consumers already know about the company, it is less important to cater to local communities.
The reality? People live at the local level.
The vast majority of interactions and brand experiences take place in person, in the real world. This often begins with local online searches – such as using a smartphone to search for 'shoe shops in Leeds' on Apple Maps. The final stage of this journey is hopefully a friendly, in-person consultation and a purchase.
But is the shoe shop going to be a major chain or an SME?
Consumers want to find out about shops, restaurants and businesses that will deliver a better experience. The size of the company is a secondary issue. At the end of the day, whether it's an indie boutique or a major chain, the company that impresses customers with a good local online presence will attract the business.
Misconception 3: Local is offline – and offline is dead.
Let's look at the idea behind this misconception: the notion that local is the opposite of digital and so not something that modern, progressive marketing strategies need to worry about.
Proponents of this argument point to the uninterrupted growth of eCommerce, contrasting it with the way COVID has brought 'local', in-person business to its knees.
The reality? Offline is dead, long live offline!
There's no doubt about it, online is here to stay. eCommerce sales in the United Kingdom have shown steady growth year-on-year. In fact, preliminary figures show that the value of online trade exploded during the coronavirus crisis, with monthly retail sales jumping from £776 million in February 2016 to £3.25 billion in October 2020.
Despite this, offline will remain a key source of turnover for business.
The vast majority of turnover in the retail sector is still generated by offline sales. As this graphic from the Office for National Statistics shows, even though online spending rose sharply during the first COVID lockdown, it did not exceed a third of total sales – and swiftly declined once consumers were able to shop in person again.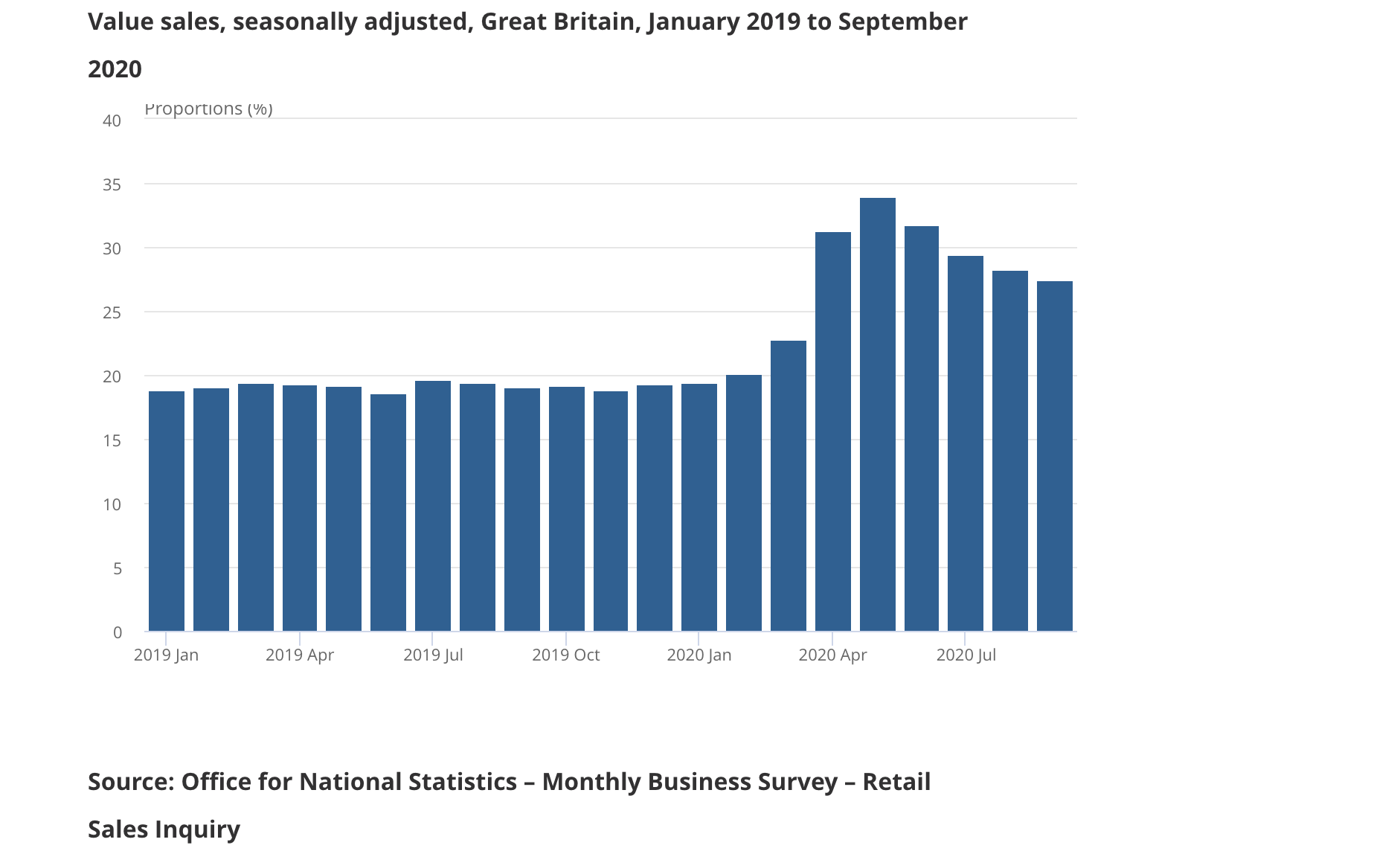 Plus: Local interactions are on the rise, despite COVID.
The graphic below gives just a small taste of the insights provided in a more extensive study carried out this year. It examines the locations managed by Uberall, illustrating how the average number of clicks per Google My Business profile has changed over the last two years.
We can see that direct store visits (indicated here by requests for driving directions) fluctuated significantly from March 2020 in response to lockdowns and their subsequent lifting. In addition, demand for website information has grown, and phone call volumes have increased since March 2020.
The green line, which represents the sum of local online interactions, shows strong growth since 2019.
Understanding local marketing means bringing online and offline together.
Consumers today have many more ways of spending their money than they did five years ago. This is partly down to the unbelievable growth in online retail and, in particular, the enormous expansion of Amazon – but there's so much more to it than that. Think back to where we were five years ago and compare it to the situation today:
We have many more methods at our disposal to obtain information about products and services.
We can reserve products online and collect them offline.
We can make appointments online for phone calls or in-person meetings with advisors.
We can research a product online but make the purchase in-store.
We can buy a product online from a major electrical manufacturer but exchange it in-store if we need to.
There is a whole host of other examples – retail is a fast-evolving field. However, it all serves to illustrate one overarching trend:
Online and offline are not contradictory. Together, they form part of our everyday reality.
So, what does this mean for marketing in practical terms? Simple: the key is to find the right balance between online and offline strategies – and no business of any size can afford to ignore the local aspect of this retail experience.
We recommend that even large-scale enterprises invest time and effort in cultivating localness. And, to put you on the right path, we have distilled our key advice down to five basic steps, which will help you build a strong local brand.