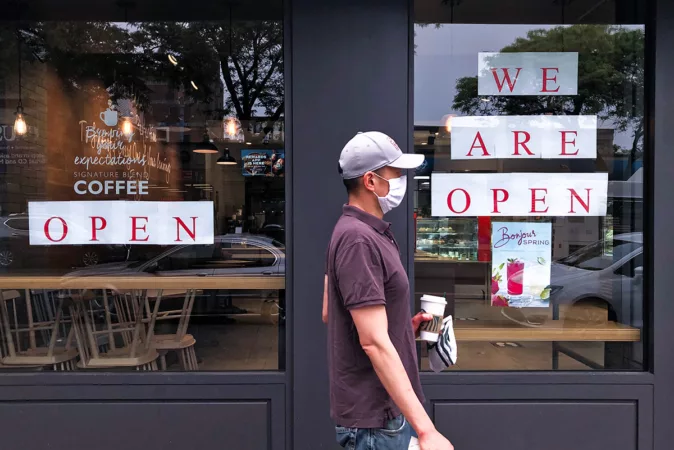 Blog
SURVEY: Impact of COVID-19 on Brick-and-Mortar Brands
The COVID-19 pandemic in the U.S. has been especially hard on brick-and-mortar businesses that rely on foot traffic to survive. In times like these, it's easy to get discouraged. But what we've witnessed over the past few months is a true American spirit, with the savviest businesses finding creative solutions to adapt to customer needs. To help brick-and-mortar businesses during this critical time, MomentFeed conducted a consumer survey of more than 1,000 U.S. adults – Impact of COVID-19 on Brick-and-Mortar Brands. Our goal with this survey was to better understand consumer behaviors, preferences, and expectations, during COVID-19 and as we reopen our economy.
The survey provides some hope for brick-and-mortar businesses, with 91% of consumers reporting they will return to restaurants, shops, gyms, banks, theaters, spas, and other offline businesses. However, such an extraordinary event that has dramatically altered our daily routines will undoubtedly leave its mark. Normalcy will return, but it will be different, and there will be winners and losers.

Consumer expectations shifted amid COVID, are you keeping up?
Key Survey Findings
In this rapidly changing business landscape, the savviest multi-location, brick-and-mortar brands are adapting to meet changing consumer expectations and preferences. Our latest survey results offer clues on how to meet evolving consumer expectations and emerge stronger as our economy reopens.


The Quarantined Consumer
The quarantined consumer is concerned about contracting COVID-19. In fact, 94% of consumers surveyed expressed at least some concern about contracting the virus.
Unsurprisingly the U.S. consumer has shifted daily routines, with 93% of consumers reporting they have changed their shopping and eating out routines at least somewhat and 64% reporting they have greatly changed their routines due to COVID-19.
Data shows that 82% of consumers visit online businesses during COVID-19 and 34% visit more than before the crisis.
Only 45% of consumers visit brick-and-mortar businesses at all. Of those that are visiting, more than half say they visit less frequently than before COVID-19.
The Post COVID-19 Consumer
When will the American people feel it is safe to go back to some semblance of normal? According to our survey the top signals for consumers are "dramatics reduction in cases," selected by 30% of respondents, and "when the government says it is safe," selected by 24% of respondents.
77% of respondents say they will visit brick-and-mortar businesses the same or more when concern around COVID-19 subsides. (Compared to pre-COVID-19 levels)
Consumer support will be the strongest for the following industries: restaurant (+16%), grocery (+16%), retail (+11%), quick serve restaurants (+9%). (Difference between respondents who plan to "visit more" vs. those who plan to "visit less" once concerns around COVID-19 subside.)
Once concerns around COVID-19 subside, US consumers plan to put their support behind local businesses (77%), local jobs (76%), and businesses with special offers and discounts (59%).
There has never been a more important time for national, multi-location brands to localize their marketing efforts. The good news is, technology exists to help brands show up online in a customer's moment of need - converting online traffic into more orders, calls, curbside pickups or visits - whatever your business is open for. Download the full survey for more insights on how you can meet the needs of the post-COVID-19 consumer.
This blog is a part of our COVID-19 Insights series. Visit our COVID-19 Resource Library for more in-depth analysis on the overall state of consumer behavior, preferences, and expectations before, during, and after COVID-19. As your marketing team prepares for the reopening of the economy, make sure you have the tools to succeed. MomentFeed's platform makes it easy to execute hyperlocal marketing campaigns at scale, and win the battle of Proximity Search. Speak to one of our marketing experts today to see how your business might benefit from MomentFeed.

Local marketing tactics to accelerate recovery & return to growth.
*About the data: To better understand consumer buying behavior amid COVID-19, MomentFeed commissioned a survey conducted between March 25-26, 2020 among 1,010 U.S. adults ages 18 and older. The survey respondents were equitably located throughout the country and represented a diverse sample of ages, genders, ethnicities, education levels, income levels, and number of children.