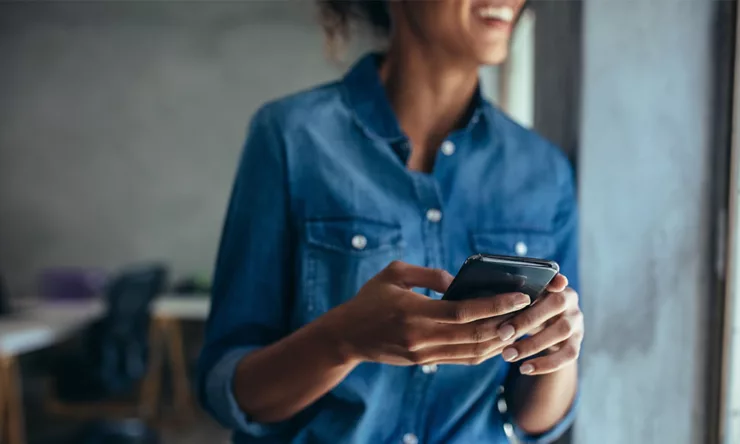 Blog
Reputation Study: US Global Brands Engage More Customers Than SMBs — UK Falling Behind
Last month we released the findings of our reputation management global benchmark report. The key takeaways from this study reinforced that customers interact twice as much with brands that engage with 3 out of every 10 reviews over those that only reply to 1 in 10.
This time, we broke down those findings to look specifically at how US and UK business locations were managing their reputation and what they could do to improve their online engagement rates and increase foot traffic to stores.
US Findings
When we break up our global data across markets we can clearly see that US businesses are replying to their customers online far more than any other market - nearly double their closest competitor.
The average reply rate of businesses in the US is around 23% with the UK trailing behind at around 13%.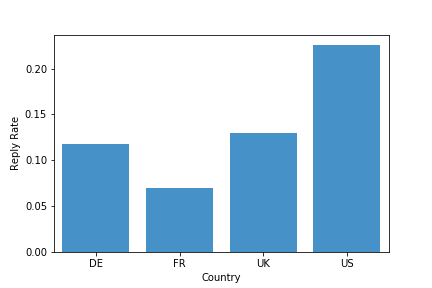 This is not really a surprise given how competitive the US market is but although the US is engaging with customers on average far more than the UK, there is still massive room for improvement.

When we separated businesses into SMB, Enterprise and global brands we found that, surprisingly, it was global brands (30%) and enterprise (22%) businesses that were leading the charge in replying to customer reviews with Small businesses having an average reply rate of just (19%).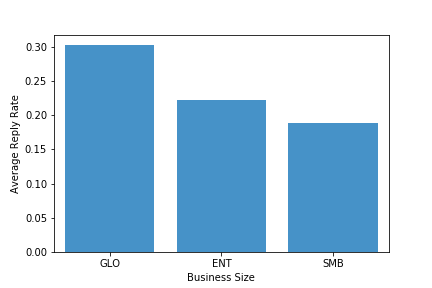 It also makes sense, based on what we know about the impact of reply rates on conversions that the US (5.6%) also has nearly double the conversion rates of the next closest country - the UK (3.2%).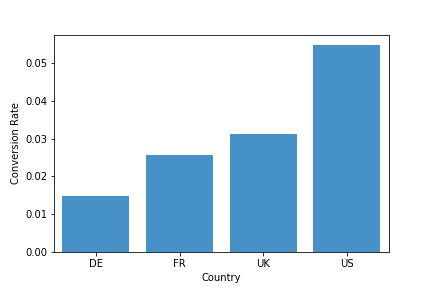 The takeaway here is that business locations really need to reply to their reviews online. The US market is competitive and, as such, consumers expect that a business will engage with them online and when they do that consumers will engage right back.

SMBs are currently failing to compete with global and enterprise brands locally and that is also reflected when we look at conversion rates by review star rating…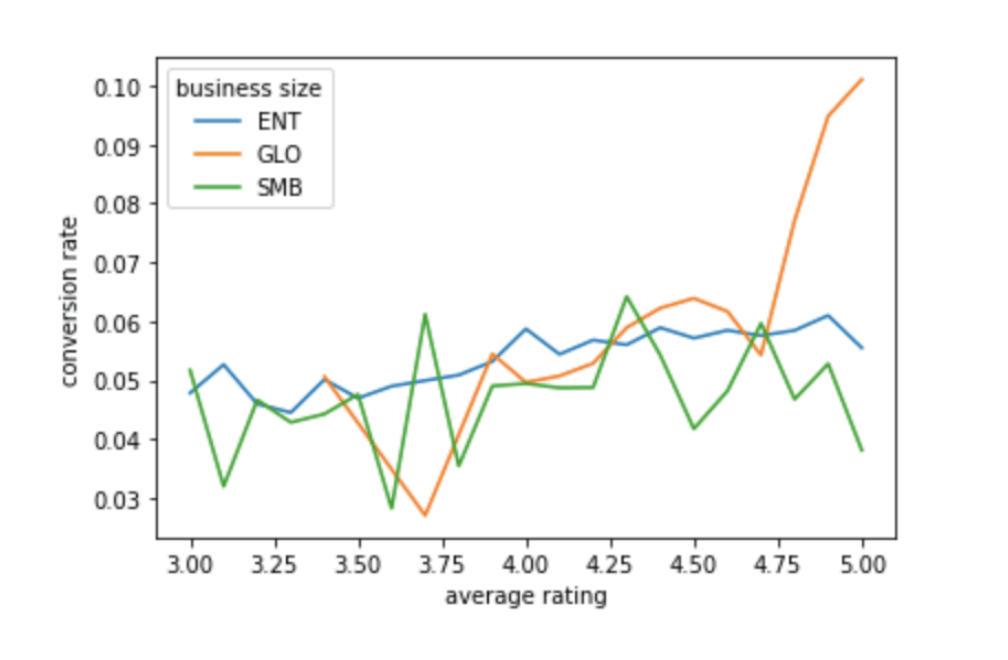 Although SMBs have spikes at the 3.7 and 4.3 marks, US enterprise and global locations are consistently outperforming SMBs beyond the 3.7-star rating mark - with global brands really leaving all competition behind when they reach the 4.7 rating mark.

Global brands are also nearly doubling their conversion rates between 4.7 (5.4%) and 5 stars (10%).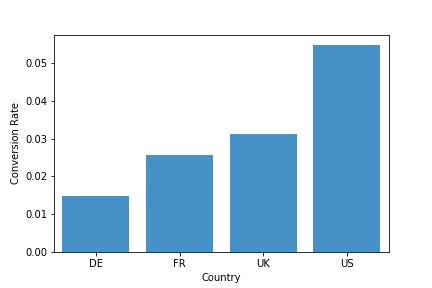 While UK business locations are replying to more reviews than Germany and France...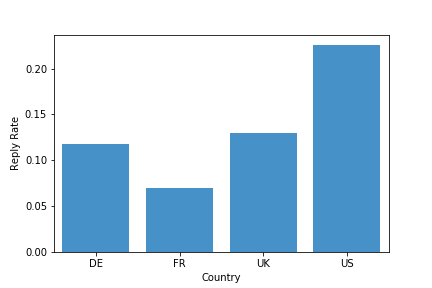 their 13% reply rate means that many locations aren't engaging with customers and consumers online, and aren't getting the potential conversion increases that they could be if they were hitting the minimum reply rate benchmark of 30%

As we see from the graph below, most enterprise locations are hovering below a 10% reply rate getting conversions in the range of 1.5 - 3.5% and those locations replying to 30 - 40% of reviews are converting at around 5.5%.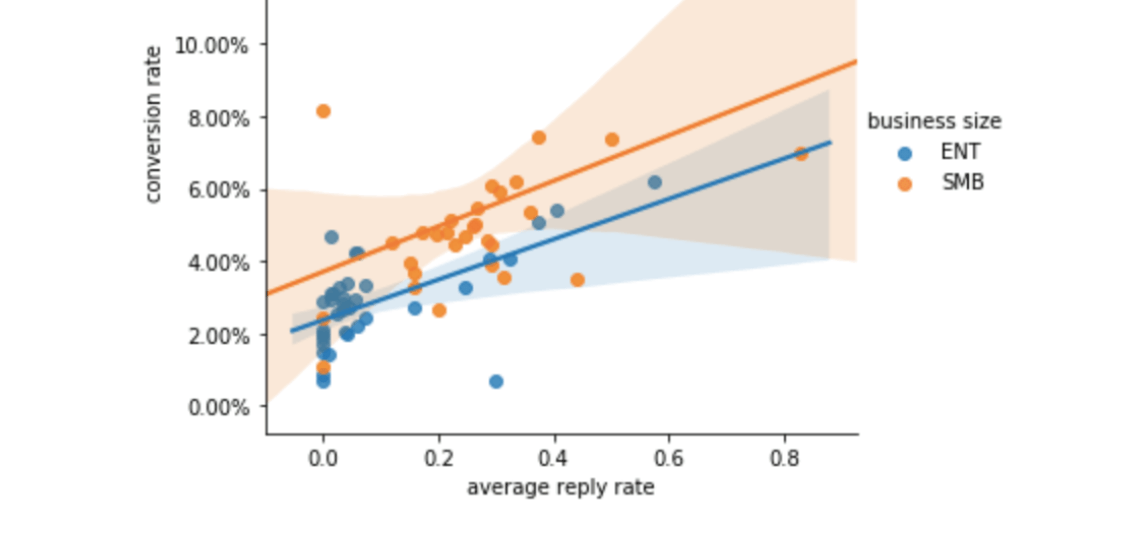 When we separate reply rates out into SMB, Enterprise and Global brands we can see that, in the UK, small businesses (26%) are really outperforming enterprises (14%), in a complete reversal of the US data, with almost double the reply rate and global brands (0.2%) aren't replying to their customers...at all.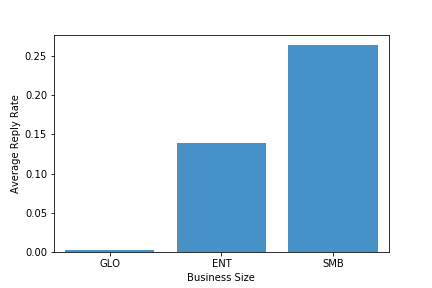 We all know how powerful replying to reviews can be. The fact that global brands aren't engaging with their local customers means that they are completely neglecting the local level and missing out on a massive growth opportunity that could mean double or even triple the number of conversions and in-store visits.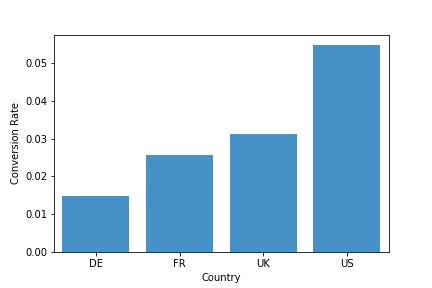 UK conversion rates (3%) are only lower than the US (5.5%) but despite poor reply rates from global brands, UK locations are still engaging with local businesses more than in France and Germany.
Key Takeaways From the Global Study
Enterprise & Global Brand Takeaways
Enterprise and especially global brands are largely Ignoring Local Business Reviews But Benefit Most From Engaging With Customers

4.4 is the magic number for global brands and Enterprise Locations. Conversion rates for global brands almost double between 4.3 and 4.5

A star ratings increase from 3.7 to 4.4 can increase an enterprise location's conversion rates by 80% and global brands by 120%

US Business locations had the best conversion rates of any country (5.6%) and the best reply rates (23%). This is still falling short of the benchmark required however.

UK business locations had almost half the average reply rate (13%) of US locations and almost half the conversion rate (3%).
SMB Takeaways
Smaller businesses have a higher review rating on average than bigger brand locations

SMBs reply to around double the reviews that enterprise businesses do

SMBs have a higher average conversion rate than larger brands until the 4.4 star rating mark.

SMBs in the US are replying to less reviews (19%) than enterprise (22%) and global brand (30%). this may also be why enterprise and global brands are outperforming SMBs - a reverse of the global data where SMBs consistently outperformed larger brands locally.
How to Convert More Consumers Into Customers
For large brands looking to stay relevant, the top down approach alone will no longer suffice. Spending millions on brand awareness campaigns both online and offline can still be effective but it needs to be part of a wider strategy that also focuses on maximizing the 'findability' of individual stores so they can compete against the local small businesses and larger chains.
This is a combination of the 'total brand building' approach and the 'location experience building' approach. The first requires a consistent and accurate brand message, promise and experience. The second requires customer engagement and location management.
Your approach needs to be both global and local. By engaging with customers through every stage of the buyer journey (both online and offline), you are not only putting the human element back into your brand, you are encouraging positive reviews, social media engagement and good old fashioned word of mouth.
You Need to Prove You Can Be Trusted
Build the Promise: Provide as much information as possible online about when, where and how consumers will interact with you offline
Avoid the Confusion: The more information you provide on your website, review sites and directories, the easier it will be to avoid unsatisfied customers and the easier it will be to...
Fulfill the Promise: Make sure the quality and service offline matches your online promise
Encourage the Goodness: Encourage recommendations from brand evangelists and offer solutions to those who had negative experiences
To read the full global findings (including the methodology) please download the full report here.
To read the full global findings download the full report here