Ok Google, how can Uberall help make my business listings appear in voice search results?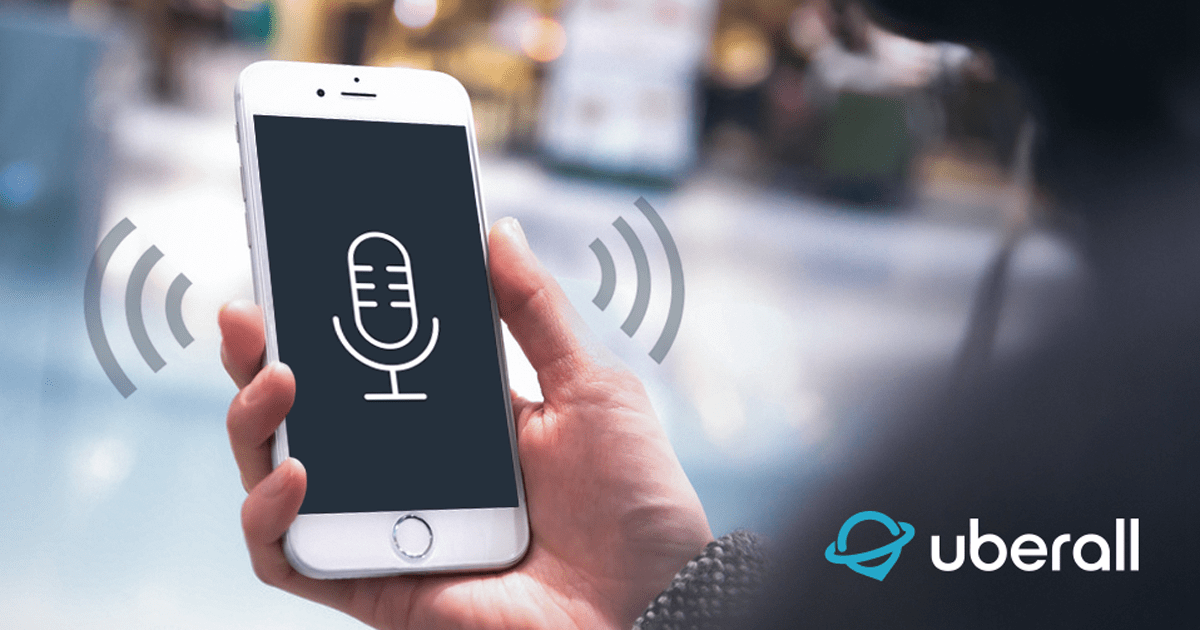 What is voice search all about?
A voice search is really simple in theory; asking a virtual assistant, like Siri, Alexa, Google and Cortana, to run a search on your behalf, whether it's to find directions, create reminders, make a phone call, or even complete a purchase. There have been huge technological developments and the accessibility of voice search across multiple devices, including mobile, smart speakers and other voice-enabled devices is making the functionality more convenient than ever.
As language processing systems continue to advance, the responses to the users' demands of their devices are becoming more meaningful. Technology such as artificial intelligence is used to pick up the particular speech patterns of a searcher, while GPS and search algorithms ensure the results are tailored. For marketers, this means a different strategy altogether to make an impact on voice-enabled local SEO.
How does voice search affect local SEO and location marketing?
Businesses know the power of SEO and how critical it is to achieve higher rankings on Google. However, unlike with a web search where you can scroll and click to see further results, voice results are much more restricted and targeted. With results limited to up to three results in general, the need to be at the top of a search query is more important than ever.
The technology that powers modern voice search functions is known as semantic search. Semantic search aims to discover the essence of what the search query is by accounting for a list of factors besides the query itself. Location data, search history, and a list of continually refined attributes make searches more highly customised than ever before. Indeed, two searches of the same query could yield dramatically different results if made by different searchers standing in different locations at the same time. Semantic search represents a shift towards more intelligent and intuitive search interactions.
While you might have to work harder to get in the top results, location based search means you don't have to dominate the organic SEO leaderboard in order to reap the benefits of optimised local SEO. So, what can you do to make your local business listings appear in voice search results?
5 tips to ensure your local business listings are voice search optimised
1. Ensure business information is accurate and content-rich
The online data for all your locations needs to be accurate and consistent across all platforms and directories in order to strengthen your presence in local searches. If search engines don't know the correct and complete address details or opening hours, they won't be able to send consumers your way. You can be sure they will be sending them to the competition instead.
Once you have covered the basics, include as much information as possible on your listings, specific to each location, to widen your searchability. This may be product information, your latest menu, events or even current vacancies.
Bio Company in Berlin offers a great example of how to display an array of valuable information across your store locators and directory listings.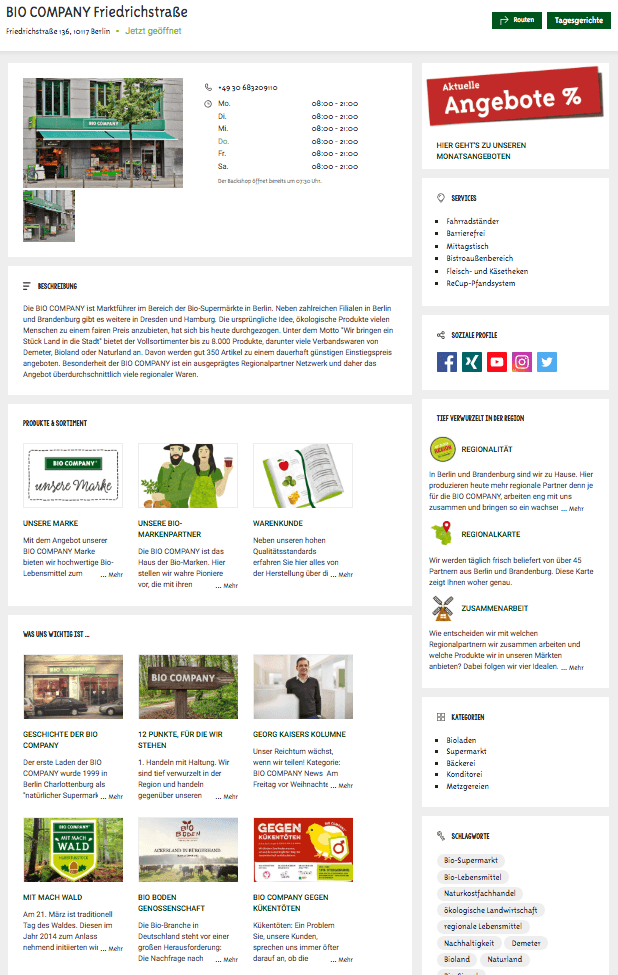 2. Consider voice search in your SEO best practise routine
Users are much more likely to use natural, conversational speech in voice search, than simply using keywords, as they would in traditional search. This means your keywords and phrase should be surrounded by more conversational terms. Words such as who, what, when, where and how are used in nearly every voice search, so your store locator is a great opportunity to include these questions.
To establish what exactly consumers are asking, answerthepublic.com provides a great free resource for your location marketing toolkit. Using the term 'fresh vegetables' yields 103 real search examples, from 'where to buy fresh vegetables near me' to 'how fresh vegetables should be stored.'
3. Utilise schema markup to highlight 'speakable' information
Also known as structured data markup, schema markup is a way to tell search engines what the information on your site means. It helps Google and friends to understand your content in a better way, so it can be presented more clearly and accurately to users. Essentially, structured data drives intelligent search, and that means voice search too.
Google's Structured Data Markup Helper can help you tag relevant information on your store locator, ensuring you optimise your page according to Google's 'Local Business' criteria. Or if you don't fancy messing around with code, structured data markup comes as standard for Uberall customers.
Currently in beta, the Google Assistant is using speakable structured data for users in the US who have Google Home devices set to English.3 So, we are sure it won't be long until this feature is available across the globe.
>> Download eBook: 10 Things That Make A Great Store Locator
4. Consider the context of a voice query
It's good practice to consider the context of a specific voice search when drafting your content, and your keywords and phrases should reflect the different situations and needs of each user.
Use social posts on a local level to anticipate consumers' needs, through Facebook location pages, Google My Business, directory listings and on your store locator. If users are looking for the lastest Christmas toy on the high street or the best meal deal in town, your posts need to address those looking for immediate in-store deals on their mobile.
Posts will enable you to target local customers directly with news and offers. And the more specific you are, the more likely you will appear in voice search results when a consumer searches for that particular product or service you're selling.
5. Make your online reviews count
As we know, 59% of consumers believe online reviews are just as trustworthy as their friends,4 well digital assistants check out reviews too! Review ratings make an impact on local voice search results, especially when users ask for the 'best restaurant' or the 'most popular clothes shop' in the area.
So, make sure yours are managed efficiently, and encourage customers to leave more reviews. You can do this by implementing a review management strategy to ensure you respond to all your reviews in a timely, efficient and professional manner. A well-structured response can even make a disgruntled reviewer change their mind - which is essential for your star rating and gives you brownie points with those virtual assistants.
>> Download a practical guide to review management
Sources
1 https://www.forbes.com/sites/forbesagencycouncil/2017/11/27/optimizing-for-voice-search-is-more-important-than-ever/#6a246d494a7b
2 https://www.gartner.com/newsroom/id/3482117
3 https://developers.google.com/search/docs/data-types/speakable
4 https://www.reportlinker.com/insight/rate-online-review-sites.html