New from Uberall: Improved user interface for more intuitive use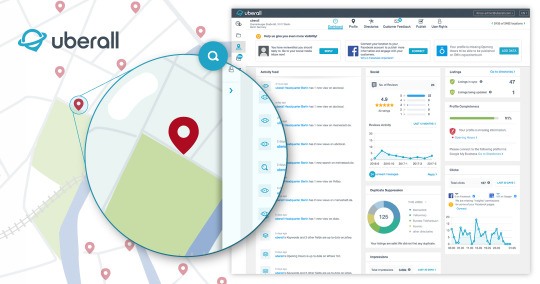 We at Uberall like to think of ourselves as a partner of local businesses.We work with companies which have one location and others which have one thousand locations, with franchises and sales partners, with regional or global corporations; Regardless of size or type, we want to help local businesses thrive. That's why we always strive to develop the best features and tools for the Location Marketing Cloud.
In this spirit, we've updated our user interface with a clean and fresh look, making it even easier for our customers to view and manage their information. This is also particularly useful for sales partners, and customers with large client portfolios who look after the sites individually.
Many of our customers look after locations individually - this is because, as sales partners, they also serve clients with individual sites. These sites are part of a franchise business model, or the company tends to be so large, that they employ site managers for individual regions.
The improved look and feel of the Control Center will benefit these customers in particular. We set up a user lab and asked users to test the Center. After evaluating their feedback, we were able to ensure that the new user interface is intuitive and appealing, and that the Control Center is easier to use than ever:
The changes at a glance:
More intuitive profile view
Performance reporting available in the dashboard
Performance improvement hints for each location
Location menu making navigation easier for users with 'Location Manager' role
This means you can now more strategically use the information about your locations to benefit your business. You can consider the totality of your locations to make strategic company-wide decisions or go into detail and compare the performance of individual locations: Check out how your new location is doing, or how the latest campaign in Liverpool or Arkansas affected search enquiries. The Control Center now empowers you to check all these and more.
You can also give your store operators, branch managers or franchisees access to the Location Marketing Cloud and gain their interest in the online performance of their location. With email reporting from Uberall, you can have the information from the Dashboard sent directly to the inbox of your employees.
Over the next few weeks we will automatically change the user interface for all customers. Until then, interested customers are given the opportunity to test the changes in advance. If you are also interested in the new changes or have any other questions, please send us a short e-mail to hello@uberall.com.