NEW from Uberall and Yelp: Getting local business global coverage through the Location Marketing Cloud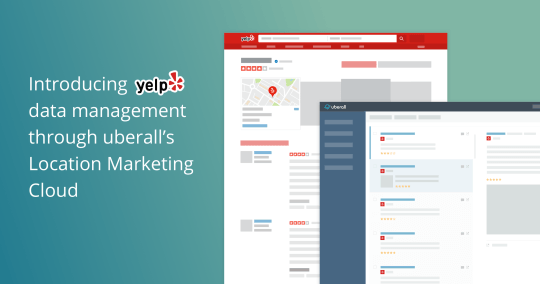 We have a big announcement to make today. We recently brought you comparative Google My Business and Facebook Location insights, and released our Engage module - the best tool around for local business reputation management. And today, we're excited to bring you another slice of big digital location marketing news.
We're proud to announce Uberall and Yelp are now partners!
This is big news for our clients, who have the opportunity to take advantage of the giant Yelp network. What's more, each location can pull in reviews from the Yelp platform through the Engage tool - great news, since Yelp is the leading source for consumer reviews globally. That's 3 snippets for standalone Uberall clients, and 100 for Yelp and Uberall mutual enterprises.
The full announcement was made at the Local Search Association's annual conference in San Diego. Uberall's Co-Founder and MD David Federhen said that the partnership will strengthen local businesses' ability to engage with their customers, and drive more foot-traffic to their stores.
Here's what's new:
Claiming of Yelp listings is supported.
Access to Yelp reviews: Get location reviews directly from Yelp in the Engage tool. This will add serious firepower to your reputation management ability.
Increased management of your listings: Business owners can manage their Yelp listings through the Location Marketing Cloud in real-time, with complete data consistency.
Mutual enterprises of Yelp and Uberall will have the opportunity to take 100 reviews per location. Standalone Uberall clients can take 3 review snippets per location.
Why is this good?
You already know about ROPO (research online, purchase offline) and how it makes digital location marketing indispensable for multi-location businesses. Consumers are influenceable at the research stage through reviews and feedback.
The partnership between Uberall and Yelp provides businesses with the best possible chance of driving consumers to their stores: Uberall creates and secures the digital locations of real-world store locations, and Yelp delivers large numbers of high-quality reviews through the Uberall cloud.
Yelp review snippets and review notifications will be available in the Engage module, and performance metrics will be available in the dashboard.