New for partners: regular email reports for every customer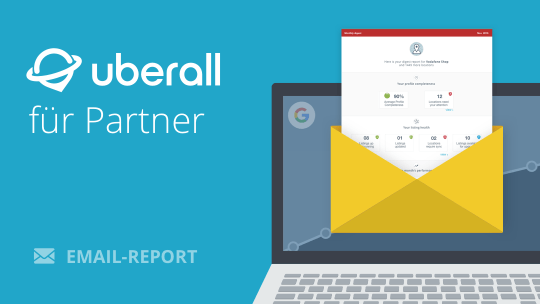 Uberall sales partners can now also make the added value of automated data management and location marketing transparent for customers who do not log on to the platform. Email reports give convenient information on entry statuses and the customer's (location's) local visibility on a regular basis.
Even without logging in: performance data and listing status by email
With the weekly or monthly email digest, Uberall sales partners can effortlessly supply figures on directory entry statuses and visibility to customers who rarely or never log on to the app. The enormous added value of data-based location marketing can now be communicated more efficiently than ever before.
Martin Scholz, SVP Strategic Partnerships:
"Exchanging ideas and information with our partners plays an important role in developing our product further. We're pleased to offer our partners a new solution which helps them communicate with customers and clearly presses home the advantages of location marketing in such a simple feature as an email."
Email digests broaden understanding of the key benefits offered by the location marketing platform. This consolidates customer loyalty, resulting in a significantly reduced risk of end customers defecting.
Regular email reports also contain performance data such as click and view figures for linked Google and Facebook profiles for individual locations or a number of branches grouped together.
Comprehensive status report and next steps for optimum visibility
Besides performance data such as click and view figures, the report also features practical tips on optimizing location profiles and contains reminders to complete profiles.
The email informs customers about:
Profile completeness
Entry statuses on all platforms
Performance statistics for Google My Business and Facebook
Further optimization potential for even greater visibility
The email report also provides our partners and their customers with additional help with Google and Facebook links for location profiles. It's possible to connect to Google My Business and the world's largest social network directly from the email.
As you would expect, the email report is available to Uberall partners as a white label product.
Uberall as automated solution for digital location marketing
The Uberall Location Marketing Cloud comprises an integral solution for digital location marketing and data management. As such, it's an automated interface to all relevant online platforms, including Google, Facebook. Uberall partners can supply their customers with all the advantages offered by this solution with no additional input required from customers.
As a result, the Location Marketing Cloud seamlessly creates significant added value for small and medium-sized enterprises. Thanks to comprehensive reporting, the regular email keeps enterprises up to date, conveying the variety of benefits brought by its services.
Would you like to use the Uberall email report for your customers? Do you have any questions on the Location Marketing Cloud? If you do, you're welcome to contact us at partner@uberall.com any time.