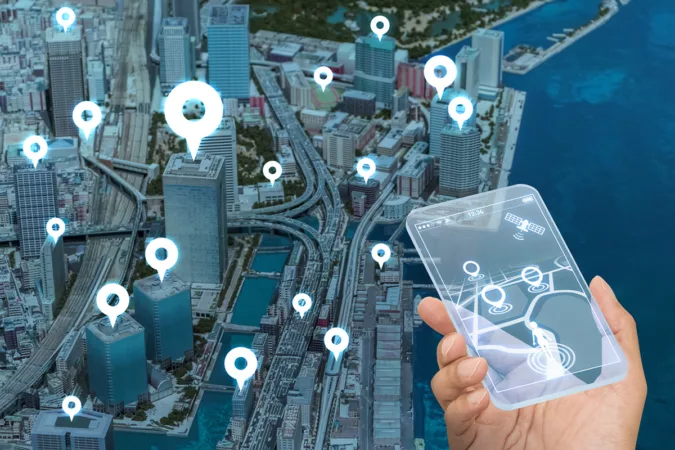 Blog
Location-Based Marketing Whitepaper: Part I
Following is our location-based marketing whitepaper in a blog form, Part I
As we work on the next version of our location-based marketing whitepaper, we'll publish the current version in a series of blog posts.
---
Abstract
---
Location is changing everything. To be more specific, it is transforming how consumers interact with brands, products, and businesses both online and in the real world.
The past year has seen an explosion in both smartphone adoption and location-based services i.e. geolocation. Consumers are using their mobile devices to actively engage with locations in entirely new ways, which opens tremendous opportunities for marketers. Indeed, the addition of real-time location to the marketing equation enables large brands and local businesses alike to utilize new sets of data, to target messages more effectively, and to reach consumers in the moment—the moment when they are present and engaged at a specific place.
In the following, we present a detailed overview of the Location-Based Services (LBS) market through the marketing lens. We discuss the challenges startup companies will face in achieving critical mass, monetizing their services, and coexisting with Facebook, Twitter, and Google. We discuss the challenges marketers will face in making sense of the LBS space, developing and managing campaigns, and delivering results. Finally, we define the Location-Based Engagement (LBE) channel and provide a thorough overview of different types of engagements.
The global market for location-based services (LBS) is projected to reach US$21.14 billion in annual revenue by 2015, registering 1.24 billion subscribers. The market in the short to medium term period will be driven by factors such as development of GPS, proliferation of GPS-enabled touch-screen phones, growing popularity of mobile commerce, and increasing usage of Location based Social Network Services, Location Based Shopping Applications, Location Enabled Search, and Location Based Mobile Advertising." (Global Industry Analysts)
---
Introduction
---
Location-based technologies are well on their way to disrupting the world of media and advertising. This follows a multiple-decade trend, whereby new media technologies have triggered massive shifts in consumer attention from one medium to another.
Starting in the 90's, the Internet triggered a shift from print to digital, which continues to this day. Social technologies followed and drove the shift from one-way to two-way media, where participation and interaction were fundamental. Large-scale social networks then enabled the shift from search to social as a method of finding and discovering information. More recently, we've witnessed the shift from stationary computers to mobile devices as a more frequent and popular means of accessing the Internet. Each of these disruptions has built to this point: the shift from traditional location-based channels to mobile location-based services.
Mobile devices are consuming our attention at an unprecedented rate. For many smartphone users, it amounts to a majority of their idle time plus a portion of time spent consuming other media, attending meetings, socializing with friends or colleagues, and even driving (as rude or reckless as it may be). Since attention is finite, it means that it isn't being directed elsewhere.
Instead of noticing a billboard when stopped at a traffic light, we're on our mobile devices. Instead of picking up a table tent or browsing the store while we wait for our order, we're on our mobile devices. Instead of consuming digital out-of-home content…yep, we're on our mobile devices. And increasingly, we're using location-based services on our mobile devices.
It is incumbent on marketers, then, to adapt and shift efforts accordingly. This is especially vital if real-world locations and physical products are central to one's business, though neither is prerequisite to developing location-based strategies.
"Forty percent of American adults use their cell phones to surf the web, e-mail, or use instant messaging, according to a study from Pew Research Center. That's up from 32 percent a year ago, based on Pew's survey of 2,252 adults ages 18 and older that was released on July 7. 'The smartphone has really penetrated the mainstream of American society,' says Aaron Smith, a Pew research specialist.
Overall, 59 percent of adults in the U.S. go online wirelessly, via Wi-Fi or mobile connections, on cell phones and laptops, up from 51 percent a year ago, according to the Pew report. Among all cell-phone owners, 54 percent used their devices to send photos and videos, 23 percent accessed a social networking site, and 11 percent made a purchase. (Bloomberg Businessweek)
---
Facebook Places - The Foundation of Location-Based Social Networking (LBSN)
---
Facebook Places will have the most disruptive effect on LBS since the introduction of the iPhone. Whereas the iPhone and other smartphones revolutionized location hardware, Facebook is introducing both the software and the behavior — the social gesture — more than 500 million people worldwide (initially launching in the US with exclusive access via the iPhone app and mobile web at touch.facebook.com). Though it will still take time for a bulk of these users to become familiar with and adopt this combination of hardware, software, and behavior, all barriers to mainstream adoption, save for privacy, have now been lifted.
As we detail in Part VI of this paper, Facebook is offering a "Social Checkin" feature. This is one of several types of "location-based engagement" that is possible through mobile applications running on smartphone devices. We classify this as a shallow engagement because the location itself is a means to an end. In other words, the location is being used to notify friends about our current whereabouts. The place is incidental.
Facebook Places also offers the option for users to express positive sentiment toward a location through the "Like" button, to post a message, and to post a photo. These additional actions represent deeper engagements by making the location itself the focus of the engagement. If a brand has registered its individual Facebook Place Page(s), the Like button also opens a communications channel with these consumers.
Unique to Facebook in the LBSN space is the ability to "Tag" friends and check them into the same place. This enables one to share not only their personal whereabouts but that of friends. This is an opt-out feature, such that users have to manually disable it. Provided that Facebook can address the privacy issues of encouraging users to share their friends' locations, the tagged checkin can have a multiplier effect in terms of the value and depth of these engagements.
Despite making this feature available to Facebook's 500 million users, the privacy risks inherent with real-time location sharing (i.e. social checkins) will continue to limit mainstream adoption. That said, Facebook has handled the privacy issue reasonably well, and early adopters of social checkins tend to be exceedingly valuable in terms of marketing and word-of-mouth. In other words, this is the cream of the crop and ought to be engaged accordingly.
The Facebook Places infrastructure is based on dedicated Place Pages for each and every location. This is where all checkins and related activities are aggregated. If a business has one location—and therefore, one Facebook Place Page—it can be claimed and verified through a process similar to that of Yelp and Google Places. This Place Page can then be merged with the business's Fan Page into one. Facebook does not currently offer a solution for multi-location businesses. However, the MomentFeed LEA solution addresses this on many levels.
Five Things to Consider
How will Facebook Places disrupt location-based marketing and the LBS space? It's too early to predict with any certainty. In light of this, however, there are several factors to consider in planning location-base marketing and business strategies.
1. The Social Foundation: Sharing one's location with friends is now a feature. The social checkin will soon become a commodity not unlike the status update. Given that Facebook has the largest and most comprehensive social graph, it will become the foundation of social checkins—the bottom of the LBS pyramid, if you will. Any non-social LBS application, such as Geodelic or AroundMe, can become instantly social by enabling Facebook Places. By acknowledging Facebook as the foundation, marketers and developers can proceed to build upon it. Because Facebook Places is just that: a platform upon which to innovate, differentiate, and add a value.
2. The Rising-Tide Effect: By introducing hundreds of millions of networked consumers to location-based social networking, Facebook is serving as the catalyst for a new consumer behavior: engaging with locations via smartphone devices. In the same way consumers engage websites via computers, Facebook will introduce millions to the offline counterpart—places—via smartphones. Rather than discouraging competition and threatening existing LBS companies, this will have the opposite effect, provided that LBS companies innovate beyond the checkin feature. The bar has certainly been raised, and that's good for everyone.
3. Branded LBS Apps: Certain brands are now in a much better position to launch their own location-based apps. Facebook's location feature and behavioral training, coupled with its Places API, will make branded location apps much more viable. Adidas, Major League Baseball, Pepsi, ESPN, and many others have already been experimenting, but it's essentially been in a vacuum. Facebook Places will supercharge this trend and drive the next wave of innovation in marketing, customer loyalty, social commerce, and CRM.
4. Location Traffic Sources: Every business location should now be viewed as a website. Instead of web traffic via computers it receives foot traffic via smartphones. And just as Google search accounts for the largest share of web traffic to most commerce and content sites, Facebook Places will account for the largest share of foot traffic to physical locations. There are two points to be made here. First, it will be a valuable source of traffic. Second, it won't account for the majority of traffic in most cases. There will be tens, hundreds, or thousands of other sources from a variety of location-based applications, each with a unique appeal for consumers, businesses, and marketers alike.
5. Beyond Social Networking: Though the social aspect of LBS generates a majority of the buzz and controversy, it accounts for a minority of the overall market. Despite the availability of Facebook Places, sharing one's location in real time will remain a niche activity until the privacy risks are offset by an exchange of value such as rewards, discounts, and significant utility. Furthermore, the potential for location is as broad as it is deep. There is no one-size-fits-all. Consumers will be compelled by vertical-interest apps in sports, dining, travel, news, entertainment, and more. City- and region-specific apps will provide the value and relevance that global apps like Facebook and Foursquare cannot, and location-based gaming apps will be more fun and engaging. Just as the checkin is but one feature of LBS, being social is just one element.
What's next for Facebook? Given its acquisition of Hot Potato, we can assume that the social gesture of "checking in" will extend beyond location to events, entertainment, media, products, trends, and even moods or psychic states such as what one is experiencing or how they're feeling. A first case of this was observed in New York when Foursquare users checked into the Northeast heat wave of 2010 aka Heatpocalypse.