Local Citations: Good references for your company's business profile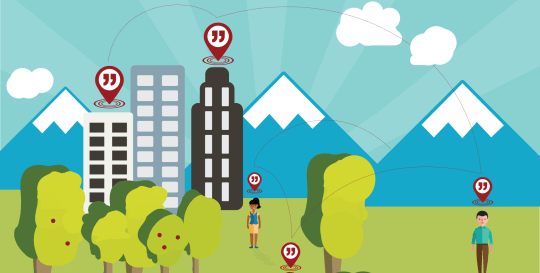 If you want Google to trust you, you need some good references. Curated, consistent citations give you the references you need to earn that trust.
We all know Google provides instant search results - you don't have to type in all relevant keywords for the engine to offer appropriate results, but just one or two keywords for Google to offer potential, completed results. Google therefore 'crawls' the web constantly for new, interesting and relevant content.
In the search "Phone shop in Birmingham", for example. Google provides some store locations, addresses, phone numbers, opening times and even some colorful store pictures in the My Business section. But it doesn't just do this carelessly - Google actually checks whether the shop is really there or not, so consumers aren't misled. It's also careful to provide relevant search results - that is, phone shops people in Birmingham actually want to go to and use. It might seem like a straightforward way of managing search enquiries, but making sure search results and relevant, accurate and useful, as you can see, is more difficult than it looks. This is because Google uses citations.
Sure – but what exactly is a citation?
Image: © Uberall.com
Citations are almost all mentions of company-specific information on a Web page or in a directory and customer reviews. Consistent address details are included, such as phone numbers, company name and opening times.
To ensure that it can provide the best results, Google scans the internet for sources. It looks in directories for relevant citations of a company's name, address, phone number, opening times, etc. Now, imagine a number of these directories provides contradictory information for a phone shop in Birmingham - one says it has information regarding "Phones 2 U" on 47 High Street, but another says it has "Phones to you" at 47a High Street. Another directory says the shop is open from 8am-5pm on Saturdays, but another states it is open from 9am-6pm. These seemingly minor differences create a huge problem for the business, since Google gets a little confused. It's not sure which of the sources has the correct information about the shop. It searches further directories, and pulls out more inconsistent information. Therefore, Google presents what it can, but very low down the search results list. Phone shops which have more consistent information across directories are pushed up in the search results priority list.
Image: © Uberall.com
Google also searches for customer reviews when looking for citations - after all, customers can tell you when they've been to a shop or not. In its My Business profile, Google finds that there are several customer reviews for "Phones 2 U". This creates a little bit more confidence - at least a phone shop exists in that area. Furthermore, the shop has cleaned up its act, and has provided solid opening times, and address information in its business profile - there seems to be a Phones 2 U at 47 Church Street. Furthermore, Google strengthens this information by scouring the internet with this new information - if there are many, relevant directories which match this new information consistently, and can now confirm that Phones 2 U at 47 Church Street is really there, and it pushes the result to the top of the organic search results list.
So you can see, citations are necessary references – they speak on behalf of your company, so Google can make your business visible in its organic search rankings.
So where do you find these guys?
Image: © Uberall.com
Weird as it sounds, you can get citation references from basically anywhere - anywhere that speaks about your business. Wherever there is information listed about your business, that's where you get a citation - directories which list your information, addresses, opening times etc., review sites which say something about your store, social media, GPS networks - you name it.
It becomes clear then that centralized management of all listings would be ideal: Imagine if you could just correct and store all your business information in just one place, so that the correct information appeared everywhere on the web. No broken links here, no false address there - everything correct. To provide Google with accurate and relevant information, you need to pull away a little from Google, just for a second.
Hold on, why can't I just optimize Google My Business?
Image: © Google
Google My Business is always practical, comprehensive and also easy to use. The result: Everyone can manage it, so more and more businesspeople are using it. But the more your competitors optimize their profiles, the more your advantage with an optimized profile shrinks.
So, imagine a well-known pharmacy with several branches in the city. For decades, it's done everything the competition has done: It offers all the right brands and professional expertise. However, it doesn't run any well-placed advertising campaigns to attract new customers, but relies on old and ordinary foot-traffic.
Suddenly, beautiful new pharmacies open around it - ones which are well-decorated and with a stronger customer orientation. They are more present on the web and offer many more points of contact for customers. New customers ignore the old store. Even though the new store is five streets away, customers will go there. The competitor is far too strong. Sadly, store closures and job losses follow.
So if competitors have a strong web presence - we can see that an optimized GMB profile is not adequate to compete, but a bare minimum - Google search decides which branches are the most popular and important. So, you have to ensure, at least, that your Google My Business profile is accurate and complete - this, in a small way, makes up for not appearing in local search results due to inconsistent or missing citations. Otherwise, customers will go to the store five streets away.
So companies should rely on citations for good search results.
What counts as a citation?
Citations are any mentions of your business's information on other websites and directories. These can include customer reviews as well as mentions of your address, phone number, company name, opening hours,etc. Nofollow links also count as citations.
Image: Icon made by Freepik from flaticon.com
The advantages of Citations
- Google's trust: So Google lists your business, it also needs sufficiently uniform references to match the address details of the company's website.
- Citations improve Google ranking:
The more consistent Citations Google finds about your business, the greater the positive impact on your placement in the organic search results.
A necessary step for placement in the Local Pack -Likewise, the placement in Google's local search results improves.
- Customers find your business not only in Google, but also wherever useful Citations were placed. These are often online directories that have their specific relevance depending on the size and regionality.
- Citations increase sales: to be found by more people increases your reach to more potential customers, and more customers = more sales
Take advantage of the enormous potential of Local Citations and ask today for your personal product demo!
itle image: © Uberall.com