While your SEO marketing strategy does influence how well your business locations show up in 'near me' searches, there are limitations. For example, if a location is too far away from where your prospective customers are searching, the location will not show up. Local ads, on the other hand, are one of the easiests ways to increase traffic, clicks and rankings of paid search results because they:
Capture intent
Near your physical locations
At the right time
With the right CTA
At a measurable ROI
In a nutshell, local ads are a huge, high ROI opportunity to capture local intent.
But first . . .
What Are Local Ads?
Local Ads ('Near Me' Ads, local advertisements) increase the reach of a location profile on online platforms with local reference, such as Google (Maps), Facebook or Instagram. For a fee, they highlight the profile in the 'near me' search or display it in the feed. Local ads use geo-targeting and prompt the user to call or visit your location.
Examples of how local ads look on Google, Instagram and Facebook:
10 Reasons Why Local Ads Are the Easiest Way to Increase Traffic, Clicks and Rankings of Paid Search Results

1. Local ads are optimised for offline visits
Regular online ads are set up to lead a user from a search engine or website to a landing page for an online purchase, a download, a sign-up, etc. In terms of conversion optimisation, this is done with as few clicks as possible.
But what if the conversion target is offline rather than online? That is, the goal is to have the uservisit a shop, a branch or a restaurant?
In this case, it would be better to lead the user directly to the location. This requires high-quality location pages and also demands a high "willingness to click" on the part of the consumer.
Here, local ads bring two powerful features together: They combine paid visibility with the advantages of a listing (such as Google My Business).
This turns the location profile itself into a conversion driver.
2. Local ads appear in 'near me' searches

Today, over 50% of all Google queries are 'near me' searches — but most businesses haven't noticed the shift yet.

Local ads for 'near me' searches give you one of the easiest opportunities to capture user intent and reach new "near me" customers online in the right moment.


With local ads, you choose where they appear within a certain distance from the target location and/or in certain regions. Here are some examples:
Delivery services can use them to advertise in specific delivery areas
Petrol stations within a radius of 10 kilometres can advertise cheaper fuel
Restaurants can advertise their "best burgers across the city"
3. Show up to an audience with low price sensitivity and are ready to buy now
Over 75 percent of local searches lead to a store visit within 24 hours and almost 30 percent end with a purchase. This high conversion potential is no accident:
People looking for "burgers nearby" want to eat something as soon as possible
Anyone asking for a "pharmacy open now" has an (urgent) need for medication
These types of 'near me' searches often occur at moments when there is a concrete need for a solution — and an action such as a visit to a shop is highly likely. This means 'Near Me' Ads are highly relevant to consumers with a high propensity to buy.
4. Ads appear only when you are open
"Visit us now: We're open again tomorrow," says no one ever.
A local ad on a 'near me' search is most effective and makes the most sense when it comes at the right time — and that's when customers are searching and your store is open.
Depending on the platform, 'Near Me' Ads can be set to appear only at the most appropriate time. Another reason why local ads are able to achieve higher conversion rates.
5. Competitors are nowhere in sight
Is your marketing team already doing local SEO so each of your locations are at the top of the local search in Google's Local Pack? If not, this is your chance for a real competititve advantage: 90 percent of consumers say that they are likely to click on one of the results only there.

Through paid placement, potential customers do not even need to know that there are competitors next to them. And if your company is the only one appearing in the Local Pack, you will receive 100 percent of the first attention.

Your location is the literal top dog of the 'Near Me' search and the majority of clicks land with you.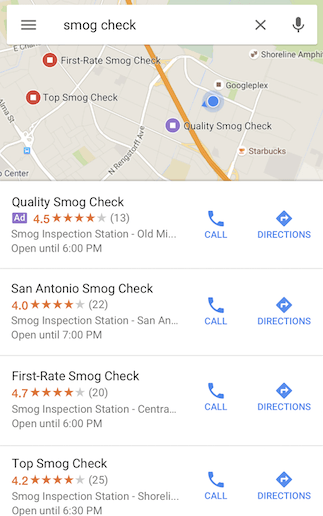 6. Highly targeted: Local Ads call for action
Most 'near me' searches are driven by a need. This is one reason why 75 percent of them lead to an in-person visit.

Local ads, especially on Google, tap into this potential by offering a phone call or directions as the call to action.
With one click, consumers are ready to act immediately.
The "Call" and "Route" conversion types in Google's local ads are ideal for online to offline conversion: The click on the route is suitable for all businesses that sell directly on site. These include, above all, retailers, restaurateurs, petrol stations or car parks as well as various types of service providers.
Click-to-call optimisation is perfect for businesses where the call is an important step in the sales cycle. Suitable for: Delivery services, reservations and bookings, making appointments, consultations etc.
7. Local Ads are quick to set up, provided that ...
... you only want to advertise a few locations. The only requirement is that you have a location profile on the respective platform. For Google this would be Google My Business, for Facebook the Location Page, etc.
You enter the ad specific parameters on the respective platform:
Budget for the campaign
Campaign period
Geo-targeting: radius, region(s)
Conversion objective: optimize for call or directions
Keywords the ad should show up in
Advertising text
But for multi-location brands, simultaneously running, managing and optimising many ads on different platforms for multiple locations, doing this manually would require hours and hours of manual labour.
As with Listing Management, it is best practice to manage many locations in from a central platform. With a solution such as 'Near Me' Ads, different companies have already placed local ads with minimal time and resources.
8. Return on Investment: Local Ads Pay Off
Ads must be worth their money. If you use a daily budget of 1,000 euros for 10 locations, you'll want to generate more than an average of 100 euros in sales per day, depending on your objectives. Here are two examples showing the effectiveness and profitability of local ads:
1. Les Menus

Les Menus Services is a French franchise network that offers delivery and home services for older people. Les Menus Services' digital marketing has used 'Near Me' Ads to increase online visibility in its catchment areas. Because the telephone call is an important touch point in the sales cycle, it has optimised local ads for click-to-call.

The result: a click-to-customer rate of 12.8 percent. Due to the significant increase in new customers, the marketing team recorded a 5-fold return on investment.

Read the success story.
2. Contipark
The Interparking subsidiary Contipark is one of the largest parking space managers with 570 parking garages, parking garages and car parks in Germany and Austria. With 'Near Me' Ads Contipark was able to advertise the car parks at the Google search and bring car drivers directly to them, although other parking possibilities would have been closer.

With the Local Ads Contipark achieved a conversion rate of 7.7 percent, which led to a 2.5 times ROI. Because the ad campaign generated so many clicks on the directions, Contipark could qualify for an exclusive Google-Metric:
9. With Local Ads You Create a Powerful Data Basis for the Google Metric "Store Visits"
How many shop visits are actually made on the basis of an advertisement?
While it is easy to establish correlations between ad clicks and new sales, these figures are at best an indication of a successful campaign.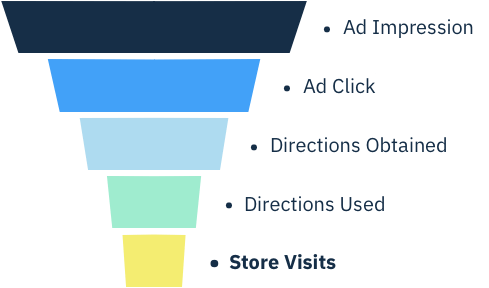 Google has developed the Store Visits metric to measure online to offline conversion more reliably. Google explains how it works like this:

"Store visit data is based on anonymous, aggregated statistics. Current and past data is used to generate modelled values on how many users visit the store after clicking on your ads.
Shop visit data cannot be associated with individual ad clicks, visible impressions or specific people. We ensure the protection of individual user data by applying industry best practices."
To use metrics, advertisers need a solid data base — only with enough impressions and clicks can Google make a useful statement about store visits.
Once the metric is activated, Google's local campaigns open up completely new possibilities. Contipark (see above) has qualified for Google's store visits through the campaign performance with thousands of clicks.
This enabled the digital marketing of the car park manager to better understand and evaluate the success of the campaign — and thus work much more professionally.
10. Local Ads Kick Off Your 'Near Me' Brand Experience
You can use local ads to boost offline sales at short notice (after all, that's what they're there for) — but if you address the needs of your customers along the customer journey, you can establish a sustainable brand-to-customer relationship with them and encourage them to come back.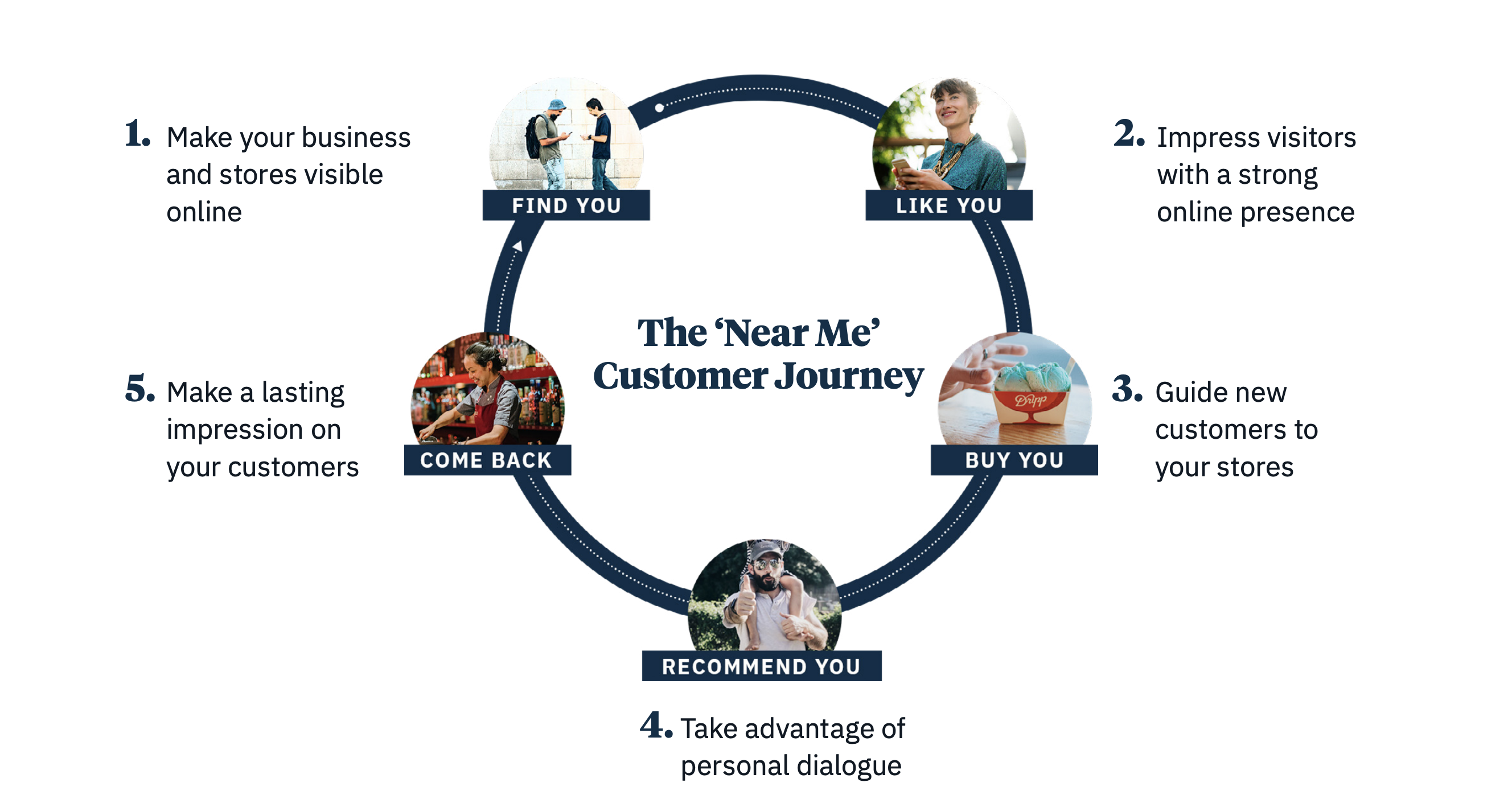 Local ads can mark the beginning of this strong customer relationship - the path that follows is along the lines of the 'Near Me' Brand Experience: it requires that you create a seamless and positive brand experience for your customers that they will be happy to repeat.

Read how Greg Sterling (Uberall VP Market Insights) explains the 'Near Me' Brand Experience through his own experiences.
Conclusion: Get Ahead of Your Competitors Now
If you search for the keyword for your business on Google Maps, you will hardly see an ad. That's because local ads are still a relatively new topic and many digital marketers have yet to leverage the potential.
For you as a first mover this means: less competition and low costs per click.
If you are already using the Uberall platform, you will soon be able to use 'Near Me' Ads. Please contact your Growth Manager directly or click here.
If you want to serve local ads without the Uberall platform, you can do so through your GMB profile and this Google guide.