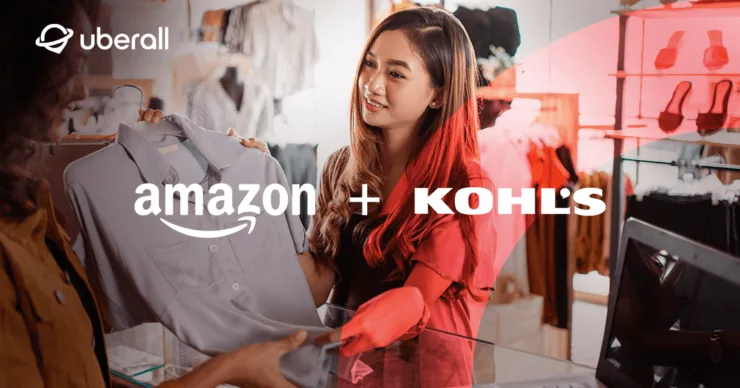 Blog
Kohl's and Amazon: A Marriage and Model of O2O Convenience
In July of 2019, after a trial period, U.S. discount retailer Kohl's rolled out Amazon returns at all its 1,100 stores nationwide. The initial move to partner with Amazon was questioned by other retailers who see Amazon as an existential threat.
A year later, why am I writing about this? Because I just experienced Amazon returns myself for the first time. It was a terrific experience that worked for all involved.
The easiest in-store return imaginable
I had purchased a portable air conditioning unit on Amazon that I needed to return. As I was initiating that process on my iPhone, the Amazon app prompted me to take the product to a local Kohl's store. I quickly located the nearest store, generated a QR code on my phone and my wife and I went to Kohl's.
Once there, we quickly found the dedicated Amazon returns service desk. They scanned the code, took the oversized box and that was it. I didn't have to pack anything or address anything; there was no paperwork of any kind. A printed receipt with a confirmation code also featured a 25% discount coupon for in-store shopping. It was the first time in years that I'd been in a Kohl's.
'As long as we're here...'
Guess what we did next — we spent $250. "As long as we're here we might as well look," my wife said. And this is exactly the point of the program, to bring new people into the physical stores who are likely to buy something. When people shop online they typically buy only the item being sought; when they visit stores they browse and often buy more than they came for.
Kohl's bet on the fact that Amazon returns would bring new and younger shoppers into the retailer's stores. There's evidence that thesis was correct – and they wouldn't have gone forward with the rollout if not – but Kohl's has posted mixed results for the past couple of quarters. Financial analysts have now concluded the deal has asymmetrical benefits, that it's better for Amazon and worse for Kohl's.
It certainly is good for Amazon and, in my case, it was good for Kohl's. However, Kohl's has recently underperformed some of its retail peers, even though it posted 58% growth in online sales in the second quarter. But that competitive underperformance may be a function of Kohl's relative brand weakness, something the Amazon deal can't overcome. The company now exists somewhere between the bankrupt (JCPenney) and the booming (Target).
Questions for holiday 2020 shopping
Now in a transitional quarter, as we look forward to holiday 2020, there are a number of questions and uncertainties that confront retailers:
Will people feel safe going into stores?
Will consumers feel free to spend money or be selective and cautious?
How aggressively will retailers need to discount to lure shoppers (online and off)?
What role will loyalty play? – Walmart just launched an ambitious Amazon Prime-like membership program called "Walmart Plus"
How important will real-time inventory data be for retailers? (hint: important)
What role will BOPIS play in consumer thinking about where to buy?
On the final point, physical retailers have a significant competitive advantage over e-tailers because of traditional stores:
People are more likely to buy sight-unseen if they can return products locally
Immediacy and immediate fulfillment of online purchases (i.e., curbside pickup)
Same day pickup locally (after online purchase) avoids pesky shipping fees
Stores enable consumers to see higher-consideration products and buy them online later (e.g., furniture, appliances)
These reasons are partly why DTC brands had been furiously (though thoughtfully) opening stores until the pandemic hit. Stores help establish and solidify brands as well.
Amazon the traditional retailer
While Amazon is seen mostly as an e-commerce marketplace, it now has a considerable number of offline assets: Amazon Books, Amazon 4-Star, Whole Foods, Amazon Go, Amazon Fresh Grocery, and Amazon Lockers. I would argue the company's success can be attributed to a number of variables:
Brand strength and trust, bolstered by its offline moves
Prime loyalty program and 2nd day shipping
Generally good customer service
Massive inventory availability (it's the default place to look for products)
Product reviews (though fraud is a major problem)
Increasing number of local return options
It's also very well managed and has mastered complex global logistics including last-mile delivery. Admittedly few companies can do all this equally well.
The convenience of O2O shopping and returns
Whether or not the particular Amazon-Kohl's relationship ends in divorce, it's something of a model for others. Pure play e-tailers would do well to enable offline returns either directly or through a partner. And most traditional retailers need to do much more online to become true omni-channel sellers, including integrating channels, exposing in-store inventory and dramatically improving the mobile shopping experience.
Regardless, the retailers that can best adapt to changed consumer behaviors and preferences will win in the post-pandemic marketplace. And the future of commerce is not online "cannibalizing" offline; it's a marriage of O2O that allows consumers to buy and return products any way they choose.