Many organisations fear the prospect of a negative review. But it doesn't have to be that way. In fact, the benefits you can reap as a result are worth every bit of effort you put in. An effective review management strategy really can make a positive impact on your online reputation, and ultimately your sales.
Follow our eight top tips and you will be embracing your negative online reviews in no time.
1. Don't ignore your negative reviews
Of course nobody wants a negative review published for all to see, and whilst the temptation may be to bury your head in the sand, ignoring a negative online review is the worst thing you can do. The fact your disgruntled customer has taken the time to let you know how they feel, means they have opened up the lines of communication, and in the majority of cases, are willing to have a discussion.
This kind of direct customer interaction is rare and should be grabbed with both hands. Plus, it gives you a great opportunity to win that customer back.
Additionally, ignoring a negative review may put potential customers off altogether. With a response from you they can see that your customers are important to you, and you have the chance to resolve any misconceptions caused as a result of the review.
2. Respond to your negative reviews first
Whilst it may be easier to respond to a positive review than a negative, it's essential that you tackle the negative reviews first; quickly and professionally. The most successful examples from our customers prioritise responses by star ratings. Typically, one and two stars are answered within 24 hours, 3 within 48 hours, and 4 and 5 stars within 72 hours.
The sooner you reply, the more impact you will have. Remember that most customers want a solution, so a quick and professional response will resolve the majority of complaints. Plus, you will want to limit the amount of time that passing traffic has the opportunity to see the review without a response. It can even be the case that the reviewer edits or deletes their negative review on reflection of a positive solution. Even better if potential customers don't see it at all!
3. Offer a considered solution
Most customers leave a negative online review in the hope for a solution. This is your chance to keep them, so take it. The solution can come in all shapes and sizes, depending on the complaint, from an apology to a freebie. An in-store voucher is a great way to encourage a disgruntled customer back to your business location.
Ultimately you must present a considered, personal response and your customers will feel listened to and valued. Take a look at this template from our practical guide to managing reviews to help you structure your response.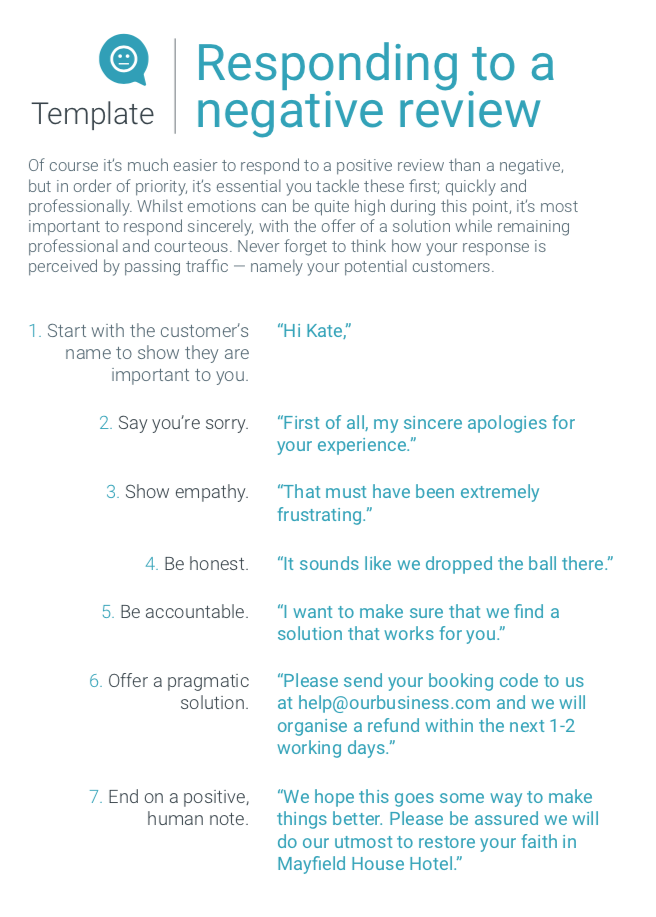 4. Make sure each response is unique
Using a template is a great way to structure your replies and share best practice amongst your teams, however it's essential you make each response unique. This is not only for the purpose of your customers, who have visibility of all your responses, but for search engines who are regularly checking all your published content - reviews and all.
There are a few rules you need to consider to give yourself the best chance of being at the top of the search results. Customer engagement from a business owner is considered a high ranking factor, along with unique replies, so it's important to respond quickly and regularly, while avoiding the temptation to replicate content.
5. Stay true to your brand
A negative online review shouldn't mean you forget your brand voice when you craft your response. Your values and personality should still shine through, after all that's the reason your customers chose to go to you in the first place. Remind them, and confirm to potential customers, that this is what you're all about.
On a organisational level, it's essential that local review management is considered as part of your brand strategy, which can be particularly tricky when local teams are responding to reviews at different locations. The key is to communicate clear brand guidelines to deliver a consistent message, and in keeping with your tone of voice.
6. Recognise when there's no resolving a negative review
It's not nice to admit defeat, but sometimes a disgruntled customer can't be appeased and any interaction fuels further negative comments. In this case, you will have to assess the incident to establish the best course of action. Always try to take the conversation offline where you can to avoid a lengthy public discussion. Sometimes it is just best to stay level-headed and refrain from responding altogether.
There is a whole chapter in our practical guide to managing reviews to help you tackle what to do when things turn ugly. This checklist is just one of the tools you can use to establish when it's best to refrain from responding altogether.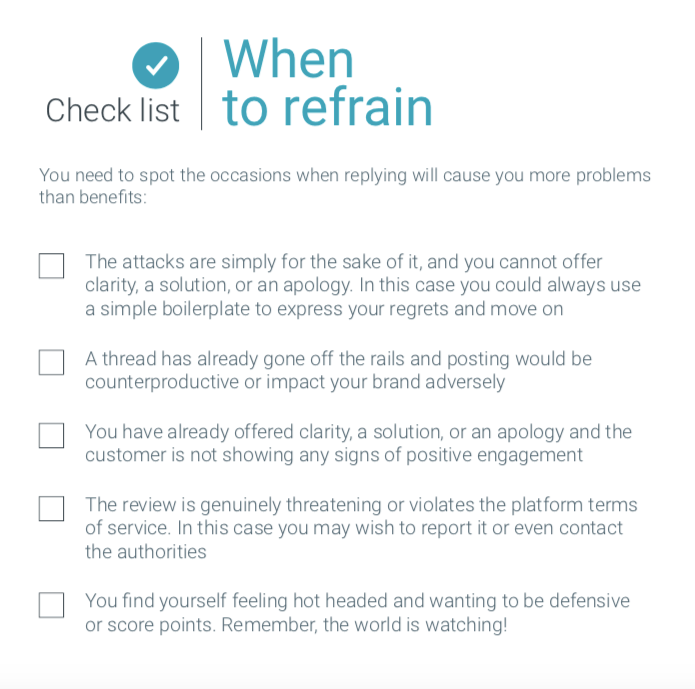 7. Set up internal processes and workflows
In order to make sure your negative reviews are managed effectively, you need to establish a clear process, so every stakeholder knows exactly their responsibility and goals, when to escalate issues and when to offer solutions.
Setting up workflows is particularly helpful when multiple people have responsibility for responding to reviews, for example franchise organisations and larger stores with multiple local sites. This will help head office functions retain control and ensure the brand is being represented according to the guidelines.
8. Analyse your negative reviews
Your negative online reviews give you access to a whole host of customer data, so you can spot and monitor trends and patterns. This data will also enable you to easily highlight issues with specific locations, so you act accordingly, as well as use the insights to predict similar problems in other locations.
When there is a serious issue, or if you just want to delve further, you can look into your customers' profiles to discover more about them as a person and even other reviews they have left. This will help you tailor your response to feedback and reviews, helping you win back unhappy customers, as well as provide insights for your wider customer profiling activity.
Want more information? There's a practical guide to review management with your name on it. Download it here.