What Is a Global Local Brand?
First let me say that that building a successful global local brand is not an easy task. If it was, every large global brand would be successful at it. But as the saying goes, 'anything that's worth doing is worth doing well' or in the words of Stefan Riedl, Department Head of Development Strategies at McDonald's Germany and one of the key contributors in our report:
"when you start to try and implement digital solutions to improve your customer experience, you either do it right or you don't do it at all".
But what is a global local brand? Really it's a recalibration of thinking from the brand. It is an understanding that if you are a large brand with hundreds, possibly thousands of locations, and unless you focus on improving the customer experience at each individual location level, and start utilising tools that:
- maintain and update data accuracy
- Consolidate reviews for your global HQ to monitor and for your owner/operators to answer
you won't be retaining customers and you won't be giving your locations a fighting chance to compete against competitors in that area.

The Global Brand Problem
For a single location business, managing data accuracy, replying to customer reviews and posting on social media are all things that are relatively easy tasks. Because of this, the small business is ultimately able to battle the large global brand in the same industry on the same block and win.
We conducted a reputation management study last year that found that global brands weren't winning any new fans with their customer reply rates: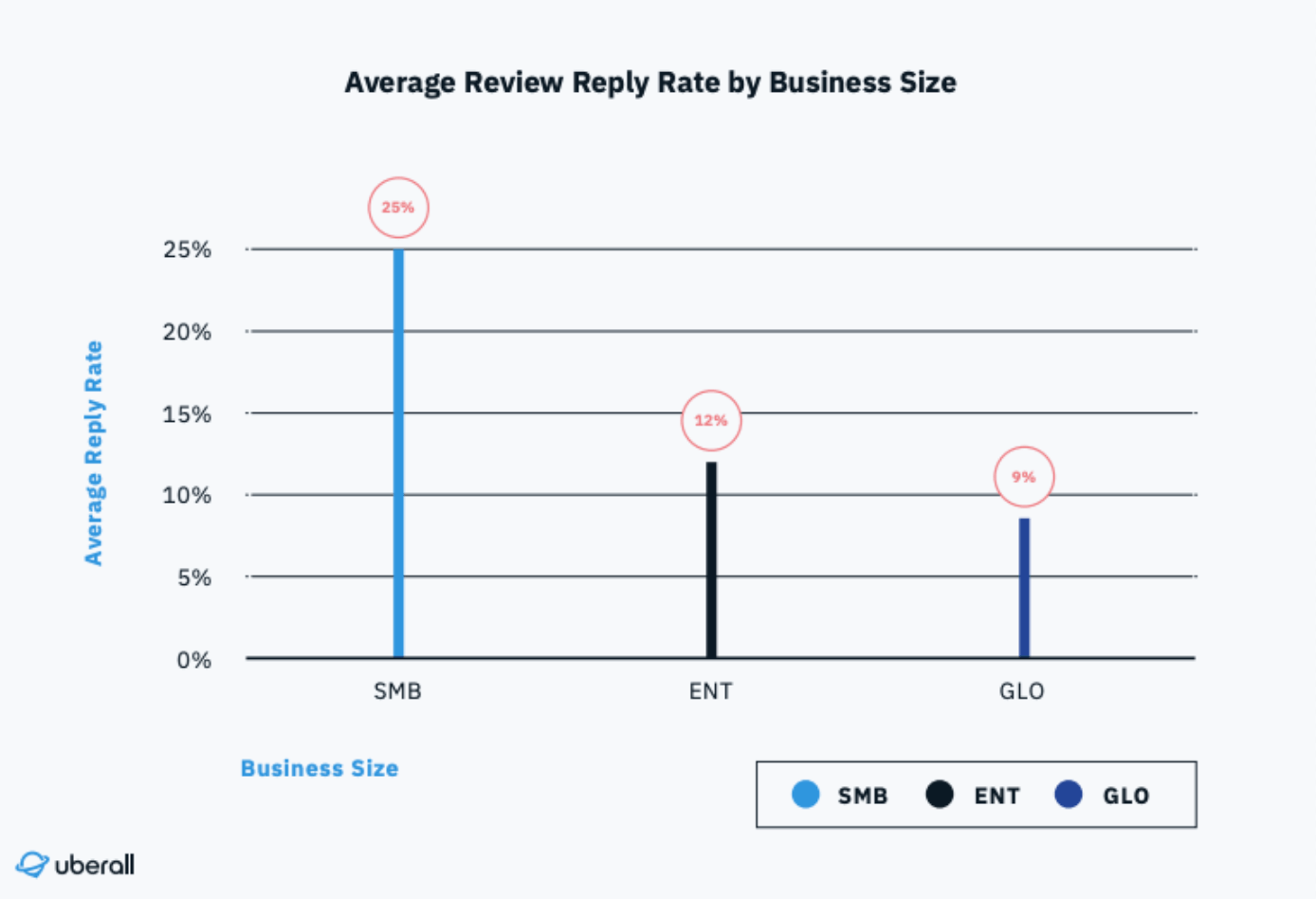 Which is interesting because we also found that the larger the business, the easier it was to generate a higher conversion rates just by replying to customer reviews.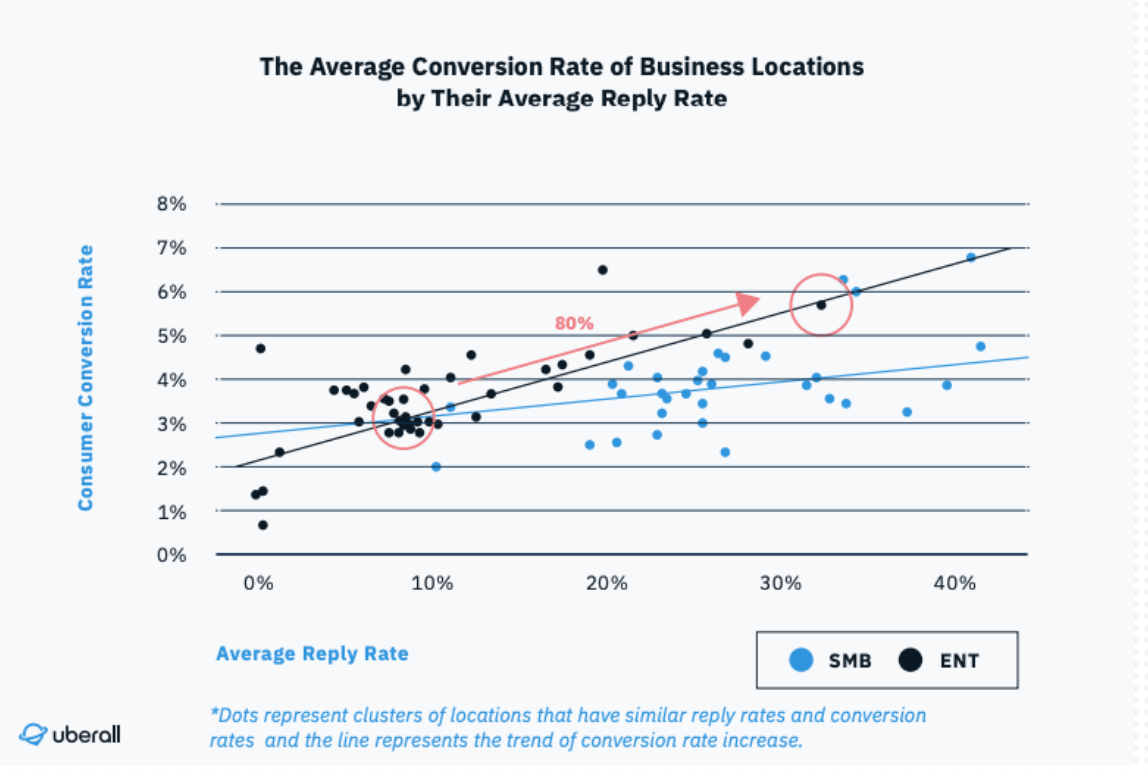 So a global brand that engages has more potential to increase conversions but in order to that, they need to reply to reviews? And therein lies the issue. Managing thousands of global brand locations and relying on store operators/managers to feed correct data (opening hours, special information etc...) is an extremely difficult task when the ask is to 'get everyone on board' and create a seamless communication flow from the local level to the HQ and get buy-in from owner/operators.
This is the challenge for a global brand.
Creating the Customer Experience: The Argument for the Global Local Brand
From our reputation management study we found that when a large brand replies to 30% of reviews they get 80% more conversions than those replying to 10% of reviews.

And what about visibility? We recently measured the visibility of 15,000 locations on GMB and found that the 10% most accurate and complete locations (measured by number of listings and accuracy of the location data) had 18x the visibility compared to the 10% of locations that were least accurate and complete.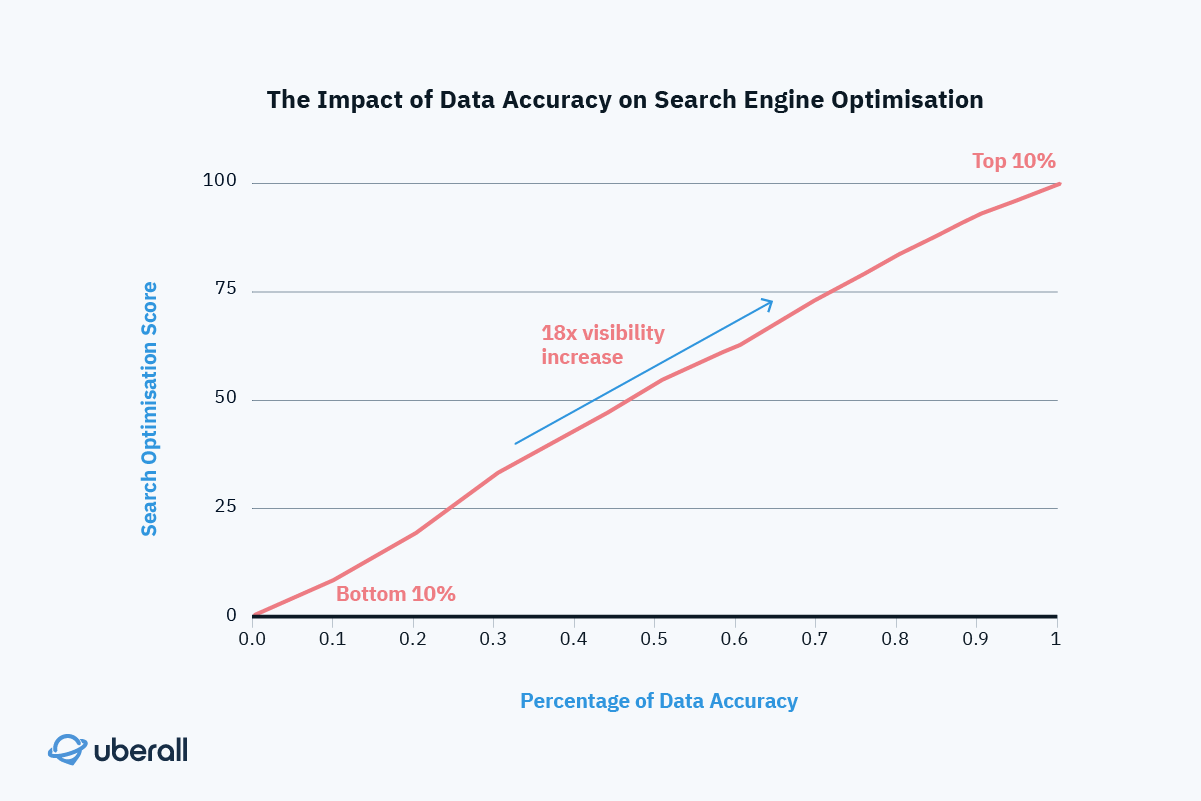 Data accuracy matters.
Traditionally, Global brands have had an uneasy relationship with customer experience marketing at a local level. Global marketing teams are often more concerned with building the brand and opening new stores than in portfolio management and making sure the online promise matches the in-store delivery. Creating the customer experience is often not viewed as a priority to global brands that think they can rest on the brand recognition they develop through brand awareness campaigns.
But as Andy Duggan, responsible for Global Digital Marketing at BP puts it, global brands need to shift their thinking if they want to both retain existing customers and increase online visibility:
"Traditional businesses spend all their time asking "how much money are we going to make?" and "what is the ROI?". They are not asking, "have we done the right thing for the customer?" "Can we make a value return last?"
"Level 1: is to make sure the data is right, is it accurate? That took a good couple of years to nail well. Once we got data right, we could now expand to more locations."
Level 2: Servicing the channel: Responding to the customer, handling the customer, getting back to the customer
Level 3: Commercialisation: How can we make a value return here?

What people want to do when it comes to marketing is to commercialise first, but that's not how the world works. You have to build an audience, a tribe and once that tribe trusts you then you can commercialise it."
The Findings of the Global Local Brand Report
Soci recently released a report which asked senior marketers what their greatest difficulty was in creating a global local brand. Their top answers included 'resources', 'silos' and 'the difficulties' of customisation.
All of these elements are present within our Global Local Report, but we decided to go one level deeper and included detail explanations of our findings which you can read in the brand new report.
Findings of the Report
At Uberall, we recently conducted interviews with more than 20 senior marketers from a range of global brands to understand if there was a certain way to create a global local brand. The initial findings are below:
1. Controlling everything from the Global level may be easier, but the danger is that your locations lose personality and become cookie-cutter
2. There is no clear consensus from our marketers on whether location owner/operators should reply to reviews, or whether the regional and global level should pick up the slack here
3. Whoever replies to reviews, there is consensus that the global level should pay the bill for all of its markets so individual regions aren't sourcing different tools
4. It is a difficult task to convince location owners/operators to reply to reviews, but what about if they appointed someone from within their location to be part of the ongoing global local effort? You could even create an internal certification for that position
5. It is critical to build your own in-house master data management system which owner/operators can access to put their updated information such as opening hours
6. Make it simple and easy for operators/managers to update hours so that you can publish up to date listings preferably
7. Try not to incorporate a host of stakeholders, but rather think about who will be using the technology on an ongoing basis. That is also the person who should be leading the implementation
Model for Implementing a Successful Global Local Brand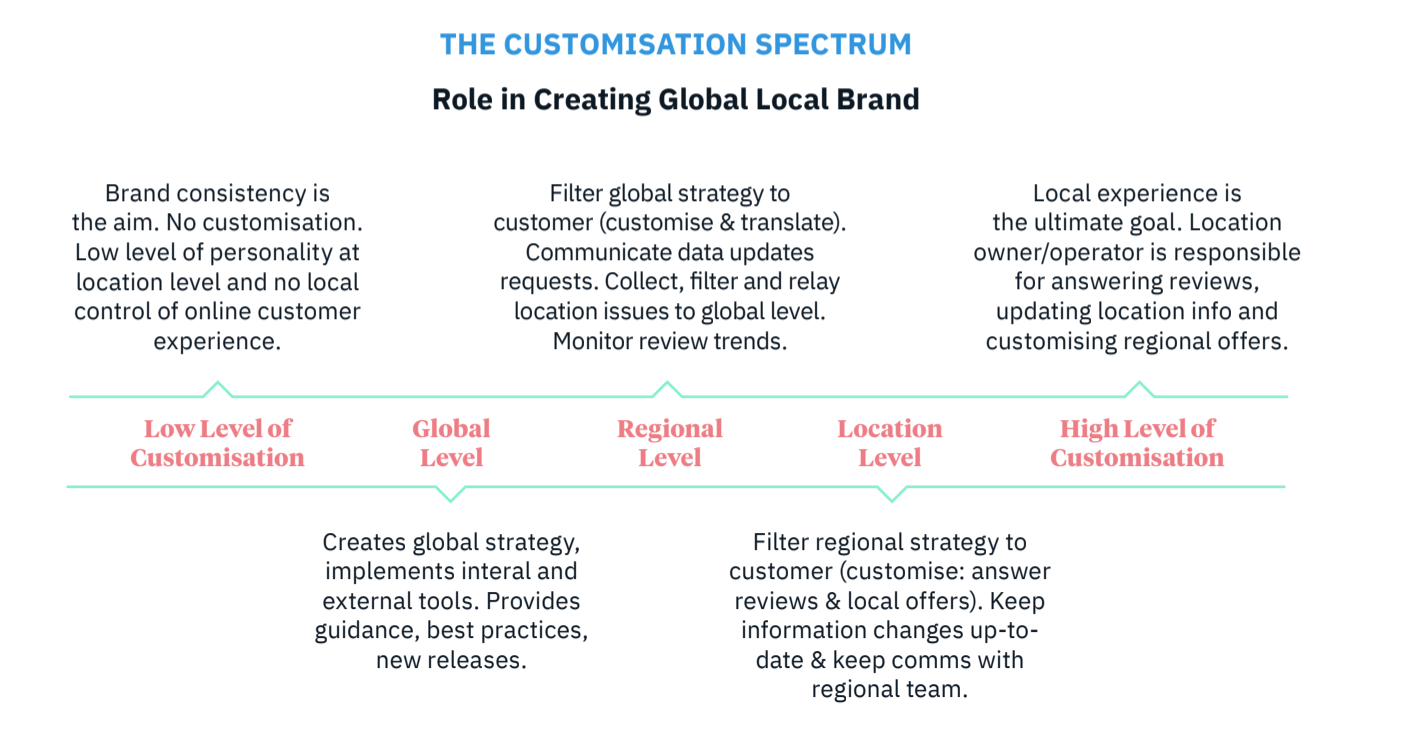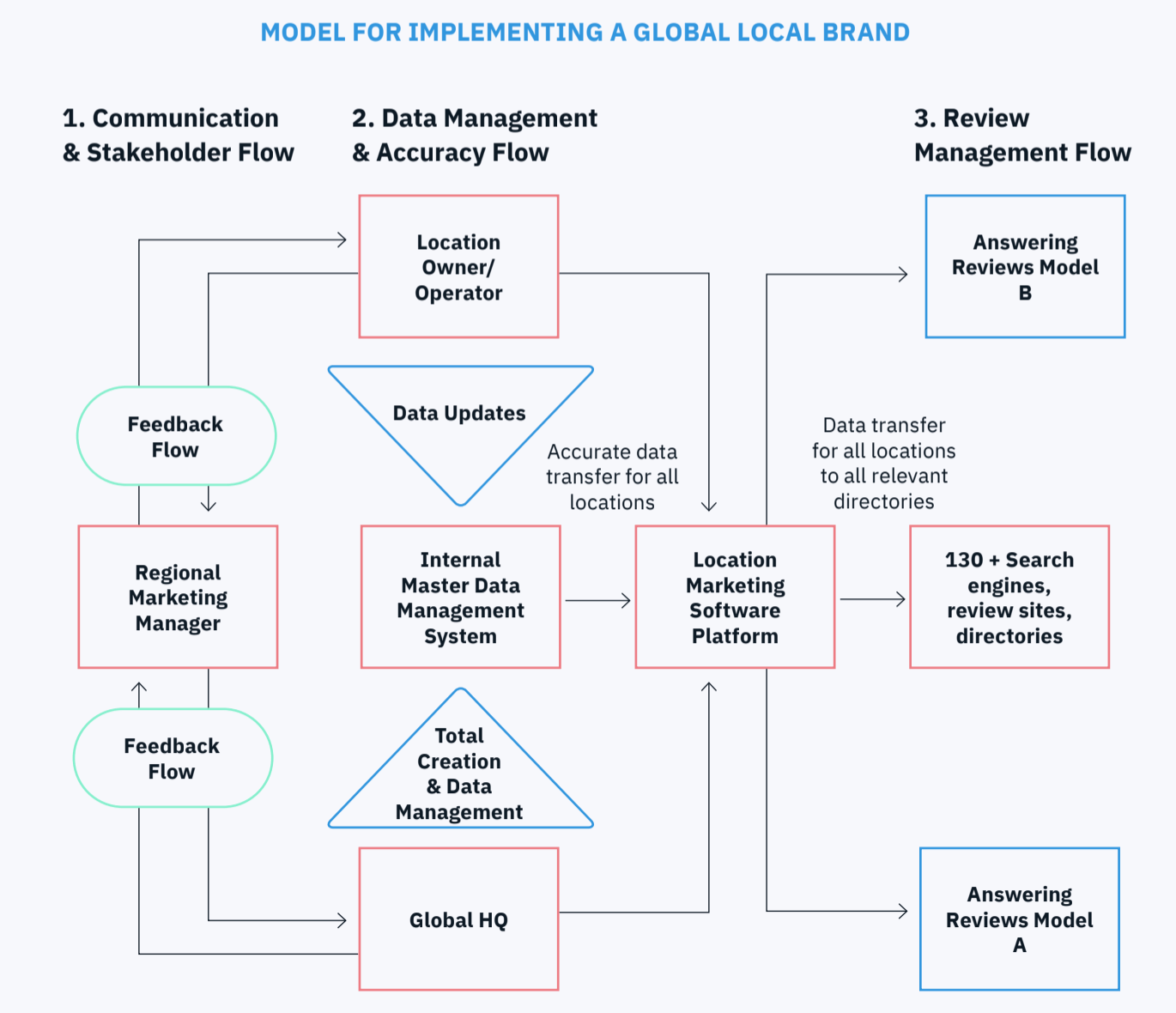 These models were created using the insights from over 20 senior marketing professionals. From those interviews we were able to create a model of what a successful global local brand looks like, determined by three areas:
1. The communication between the global, regional and local level needs to be both top - down and bottom - up to have the type of brand consistency that allows you to understand what is going on at a local level but also give locations enough freedom to communicate to their customers and local consumers
2. Global brands will need an internal data management system (single source of truth) where location owners/operators can login and update store information regularly (this is especially important in Corona times). The Global HQ will need to create and manage the tool while also finally feeding the information to a third party provider with an API connection to major directories.
3. Reviews also should be managed on the same third party technology provider but the model allows for control of reviews on the platform to be given to the global level or location level depending on the resources your company has.
These are just a few insights from the new Global Local Report. For more in-depth analyses and access to the answers our interview subjects gave, please download the Global Local Brand Report now.