Google has historically been the leader in most "near me" search engagements in the U.S., but the search engine is far from the only mobile internet tool that's being used to connect its users to nearby businesses. In fact, Facebook has beefed up its Places algorithm to compete with Google in ways that only social media can, and these improvements are worth the attention of marketing leaders who wish to continue attracting mobile users to shop at their business's locations.
Several amazing features have been tested and/or launched by the social media giant recently. Among these updates, Facebook has launched City Guides, which gives tourist-oriented travel ideas to visitors in popular cities. Facebook is also testing an integration of friend recommendations to its Place search tool, which will prioritize businesses in search results that have been suggested by someone's personal Facebook connections.
However, the most substantial change to the Facebook Places search algorithm is its overall sharpened accuracy. Facebook is better than ever at prioritizing locations so that mobile users can easily find the restaurants, stores, and services they're looking for.
Business locations that perform well in Facebook's local searches have a growing advantage over their local competitors. It's one more reason why businesses of any size benefit from Location Marketing experts - like Uberall - to help their locations master Facebook Best Practices.
Standing out in "near me" searches means more foot traffic, stronger sales, and a simpler experience for consumers. There are specific criteria for appearing and ranking well on Facebook that many businesses have little idea about. Here's how Uberall helps local businesses connect to consumers through the Facebook Places search tool:
1) Create claimed Location Pages
We'll start with the basics. When consumers turn to social media to look for products or services, Facebook prioritizes the user's geographical location in its results. A business' location will not show up in "near me" search results without first producing a Location Page with information specific to that individual store. If your business only has one or two store locations, the process of uploading the right information is pretty straightforward and can be easy to manage.
Multi-location businesses hit a snag, however, when they own more stores than is possible to keep up with across an equal number of respective Facebook pages. The high volume is overwhelming. From our experience, no one overseeing even just a handful of business locations has the time to properly monitor each location on Facebook for maximum results. This means that businesses miss out on invaluable marketing opportunities and lose daily foot traffic to their locations.
Instead of monitoring, editing, and engaging on an indefinite number of Facebook Pages, multi-location businesses can use Uberall's Location Marketing Cloud to organize and interconnect all their Location Pages under the umbrella of a main Brand Page. This means simpler social media marketing, consistent brand image and data, and an overall competitive edge for standing out in local searches.
2) Provide accurate rich location data
Consumers need to know more than just where to find you. The only thing worse than finding no information about your locations online, is finding inaccurate information that leads consumers to make a drive to a closed location, or wasting time with a call to an unexisting number.
Consumers expect all details on each Location Page to be specific to the location they're looking for. Keeping your potential customers informed is an integral step to being found more often and getting customers through your front door.
To accomplish this, each store must provide rich content that's specific to its location. This includes categories, a brief description of that location's products and services, and hours of operation, among other details.
Uberall's Location Marketing Cloud is a simple platform for providing this information. We also make it easy for multi-location overseers to find and delete duplicate or unofficial Facebook pages that may contain inaccurate details about one or more of their stores. With Uberall, providing consumers with accurate information can be an intuitive process that results in greater customer satisfaction, more returning customers, and a higher quality shopping experience for mobile users.
3) Analyze reviews and respond to customers
Customers increasingly leave reviews on individual Facebook Location Pages. Without some way of blending the these comments under a single Brand Page, customer feedback can go unseen for days, weeks, or even months at a time.
Too many unmonitored pages means that reviews are naturally overlooked or forgotten, especially if a business does not take control of its locations' presence. Unofficial or unclaimed pages can result in a shoddy online presence that the business itself may not even know exists, let alone have the ability to make right.
Uberall presents all feedback and reviews in the same place. Now when a customer leaves a review on one of your Facebook Location Pages, you get notified right away and can easily respond. To save multi-location businesses from PR nightmares, Uberall's Facebook Brand Page enables members can react quickly, before things get out of control. It's easier than ever to make right a bad experience or thank your gracious customers for their support of your business.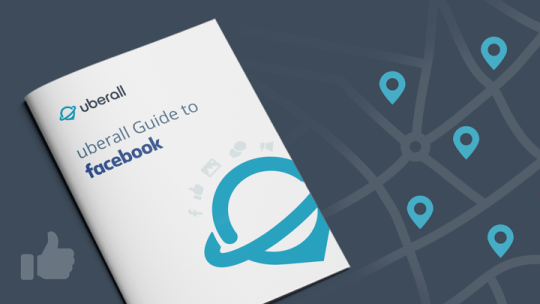 Check out our Uberall Guide to Facebook for more information on these and more Facebook best practices!
At the end of the day, Uberall's goal is to get more customers through your doors. Let us show you the Location Marketing difference when you sign up for a free demo today.