Back in the day, managing our finances or choosing an investor meant popping into a local bank near our home or visiting an insurance provider nearby that our family and friends had relied on for years.
With the rise of mobile and the fintech revolution, the journey for today's investors, everyday banking customers and insurance clients is unpredictable and no longer resembles the typical marketing funnel.
Empowered by an abundance of information at their fingertips, consumers are now owning the customer journey, and no two customer journeys are alike.
With their pocket-sized trusted advisors by their side day and night, consumers put in a lot of consideration and time researching online, often via mobile, before making an appointment or stepping into one of your offices or branches.
This means that being a big familiar name will no longer cut it. Today's consumers are bombarded with products, services by new and agile fintech companies and eager investors who are offering them personalized services and better customer experiences.
From turning reviews on Trustpilot to finding the best insurance agency near them to gathering location details and closing hours to one of your city branches, your customers will turn to their mobile devices first when they need an ATM, insurance agent, mortgage or loan.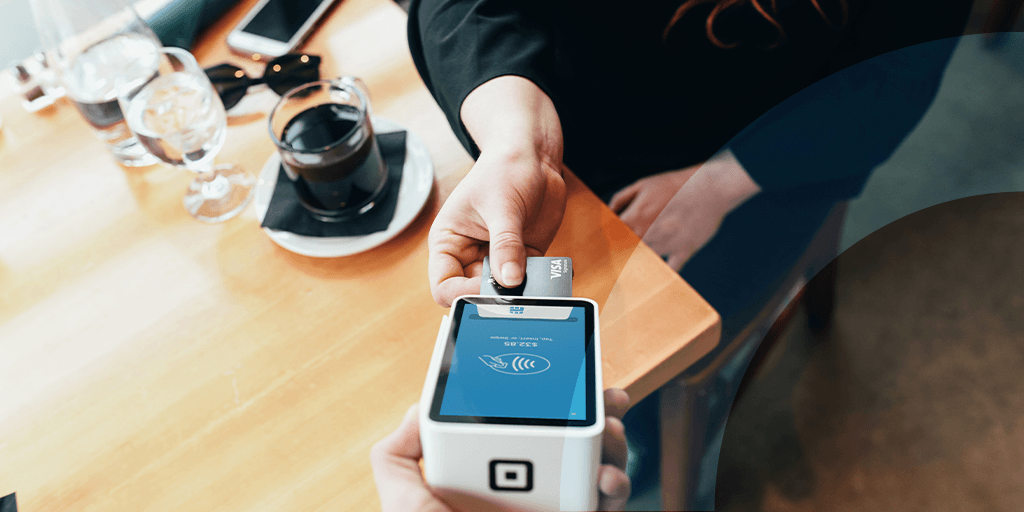 The New Path to Purchase Means New Marketing Challenges
Retaining and attracting new customers requires that you show them great financial and insurance offers, and relevant content at every step of their journey online first — before they step into your branches or sign up for an account online.
Or, when your customers or prospects turn up to one of your branches after finding you in a 'near me' search, only to find out that you aren't open, even though it says so on your Google My Business page, there's a good chance they'll move on to a competitor.
Adding to that, if your business already has local search visibility, a good review rating is crucial for establishing trust and helping consumers make their purchasing decisions.
The common denominator of these challenges is trust.
Without a review management strategy or local presence for all your brand locations, you'll miss out on prospective customers at the precise moment they need to pop into your local branch or speak to a financial advisor.
"75% of consumers agree that positive consumer ratings would make them more likely to become a customer of a bank, compared to only 9% who disagree." — Trustpilot.
This means that for finance brands with multiple locations, ensuring your opening, closing and holiday hours; and agent and advisor schedules requires consistent management on multiple platforms to ensure they are accurate and up-to-date in real time.
Adding to that, when given the choice, consumers would rather call a local number and will identify better with brands that meet them at the local level. In fact, Google research shows that 1 in 4 investors prefer to open an account over the phone or in a branch.
Another challenge is that a single location may offer multiple services, which need independent promotion, such as insurances: car insurance, life insurance, home owners, etc. Or banks: ATM, financial advisory, mortgages, loans, etc. Business need to make sure they don't get overlooked on key parts of their offering.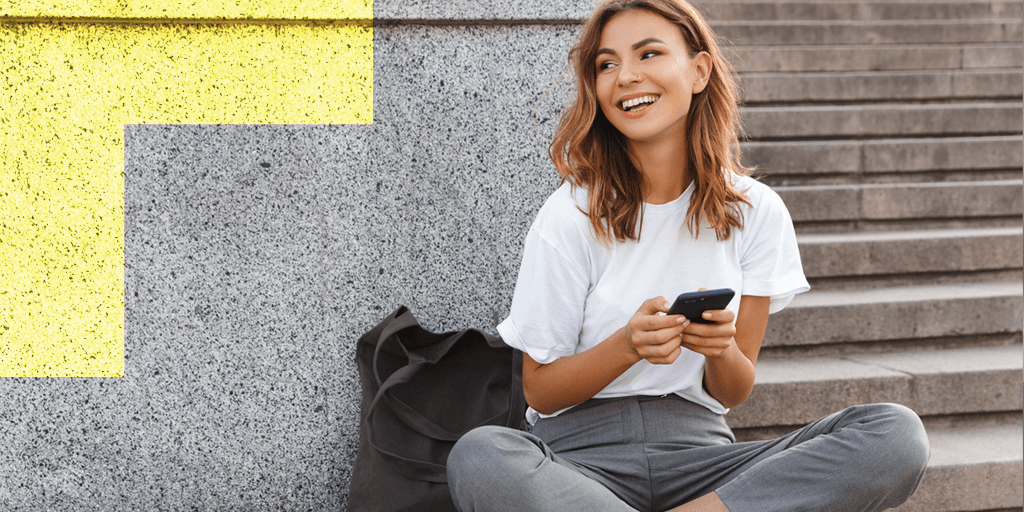 Why 'Near Me' Searches Matter
The 'near me' search phrase made its debut in Google when people were looking for something they needed right away and close to them — like an ATM when they needed cash or an insurance when they needed to to speak to an agent in-person. This is important for finance brands because consumers who are typing in 'near me' search queries usually want to make a purchase at the time of the search.
As 'near me' searches grew, search engines got smarter and consumers didn't need to add the phrase every time they were searching for something with local intent.
The definition of 'near me' has expanded and is no longer solely about finding a specific place. Today, 'Near Me' is the Brand Experience.
Today, Google and many other platforms, apps and directories that consumers rely on already know that when you type in "ATM" you are looking for an ATM near you now.
For example, in the UK if you search for "ATM" the most popular result is "ATM near me" with 25,000 search queries per month.



Source: Ahrefs
What About Optimisation?
When we talk about optimisation we are talking about ranking. When a consumer types in "best insurance agency London" into Google, they are presented with three results.
Research by Moz suggests that if you aren't ranking in the first three results, your chances of even being seen falls to under 8%, which means that if you aren't showing up in the top three results, you'll have far less users finding their way to your door.
Consumers want information instantly and it needs to be as relevant as possible. In fact, Google found 50%+ of online investors don't have a brand in mind when they start looking.

This means you may be able to reach your competitors' customers because you gave the consumer the information they needed first.
Unbranded Local Searches: Reach More 'Near Me' Consumers
Unbranded local search is when consumers use general words such as "bank near me" or "insurance agent open now" or "financial advisor open Sunday."
These consumers don't have a brand or business name in mind when they need something right away.
They want information instantly and it needs to be as relevant as possible. In fact, 90% of smartphone users are not absolutely certain of the specific brand they want to buy when they begin looking for information online.
In the example below, the consumer knows what they are looking for (a financial planner) and they know where they want it (London), but they have not specified which bank or branch they need, the results of their 'near me' searches will differ from regular searches in Google.
That is, when a search query is considered locally relevant, a grid called the "Local 3 pack" will appear.
This means you may be able to reach your competitors' customers because you gave the consumer the information they needed first.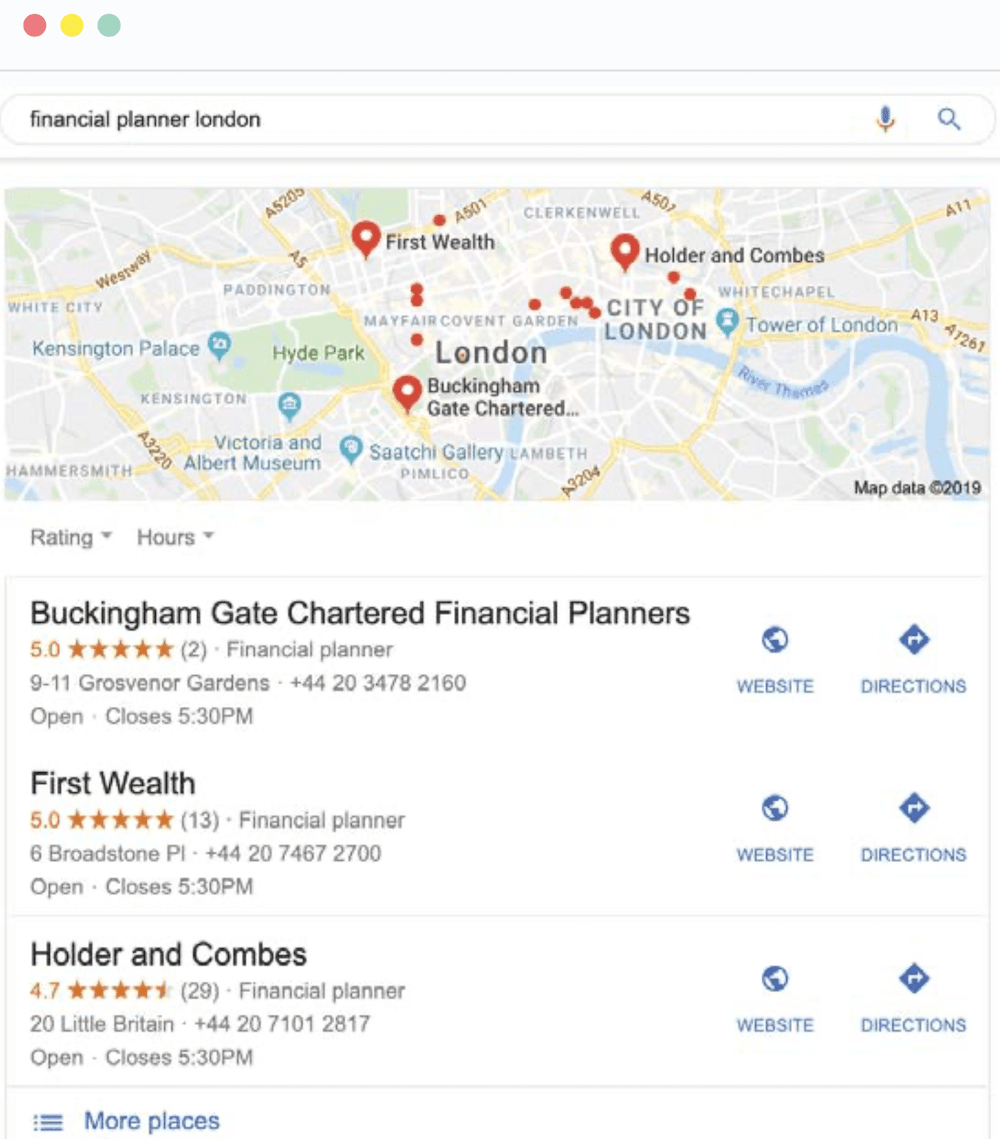 Branded Local Searches: Reach Consumers You've Already Won Over
Branded local search means consumers are searching for your brand's name because they trust what you offer.
This is where it's critical to give your loyal customers a seamless 'Near Me' Brand Experience — so when they type in your brand's name, such as "NatWest " or "ALA Insurance open now" you connect with them instantly.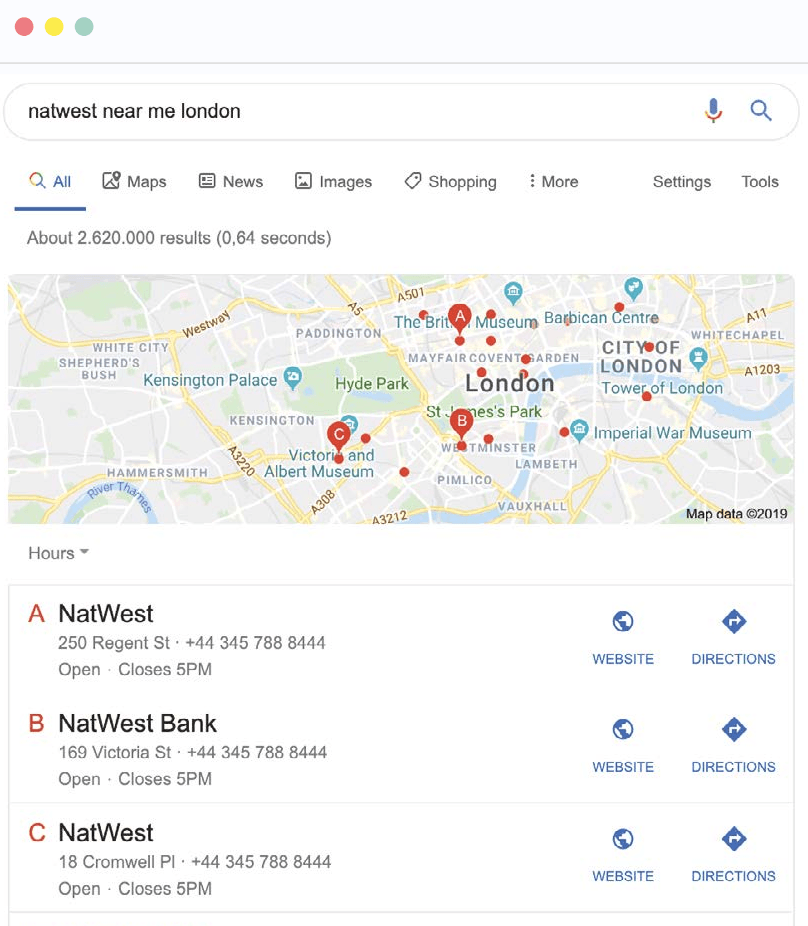 Attract Customers to Your Locations: Optimize for 'Near Me' Searches
You want to connect your agents, advisors and branches with the prospective customers who are searching for your services at the exact moment they are ready to invest, purchase insurance or apply for a mortgage.

Listing your branches and independent agents on business directories, map services and review sites is the number one way to rank for local search.

Sounds easy, right?

Well, here's what most finance and insurance brands don't understand about business listing.

Listings alone are not enough.

The key to ranking for 'near me' searches is in the accuracy and consistency of your business information.

Quality listings are more important than quantity.

Here's an example of what we mean by this:

'AFL Insurance Brokers' is the name of an insurance brokerage in London that was randomly selected.

We ran them through Uberall's online company presence check tool, which establishes the online presence, consistency and accuracy of a business location, and here we see how easy it is to have inaccurate location information online.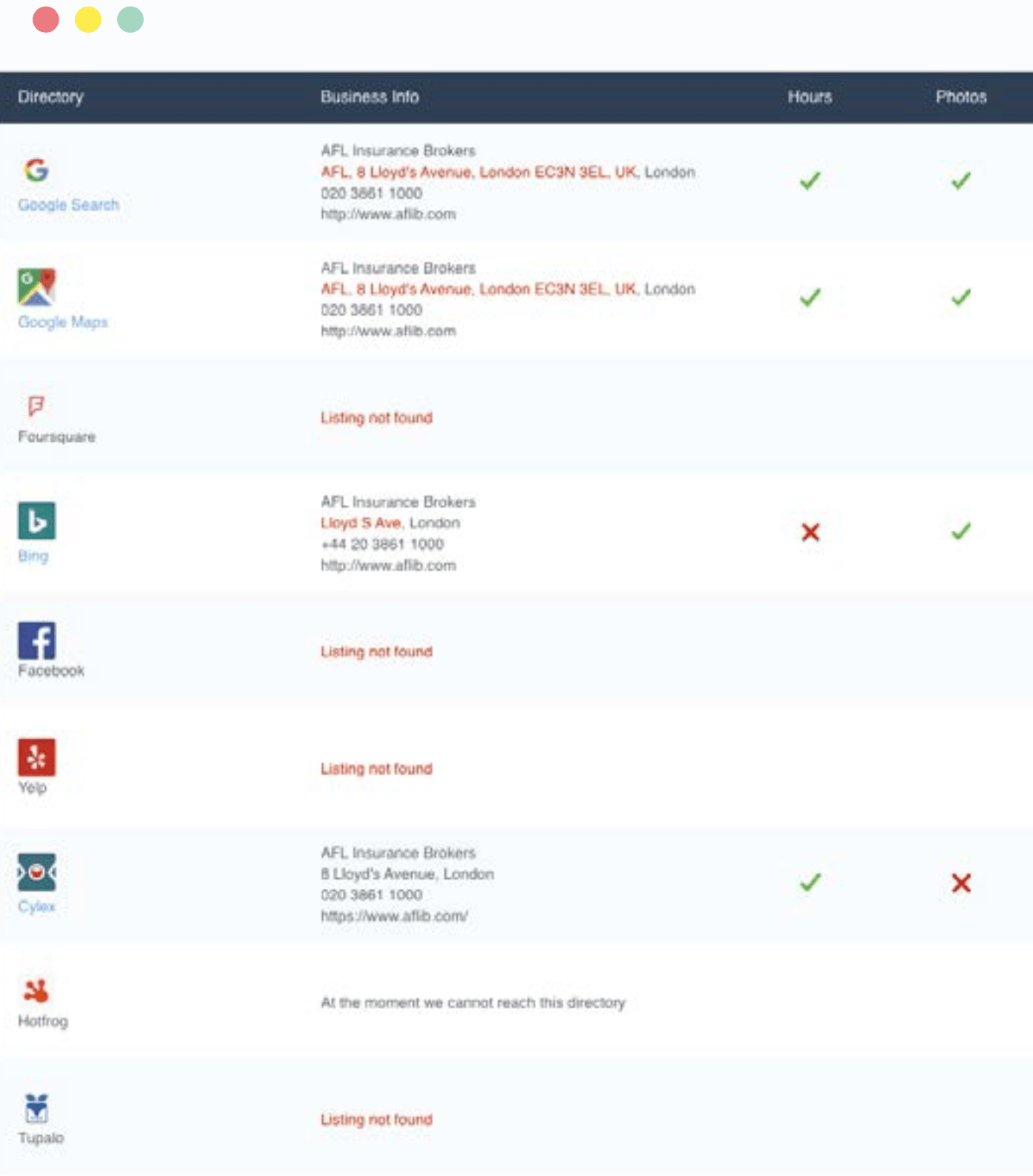 Here's what we found:
- AFL Insurance Brokers isn't listed on Facebook, Yelp or Foursquare
- The name is different on abc local and jelloo
- The address is missing on Bing and Where To?
- There is no listing on Yelp

The importance of choosing this insurance company at random was not to call out an unsuspecting small business.

The business was chosen because they have accurate Google My Business listings. However, it's accuracy and consistency across the most important directories that are the real problem for many finance and insurance brands — a recent study we conducted found that 96% of business locations had inconsistencies across Google, Bing and Yelp.

Inconsistencies may seem small, but they represent major trust factors to search engines looking to establish where to send hungry consumers looking for a meal in your area.

So what information do you need to get right?

The most important business information (from most to least important) is:

- Address
- Opening hours
- Phone number
- Business name
- Website
- Postcode
Google uses the accuracy and consistency of your business address, opening hours, phone number, business name, website and postcode as trust factors to see whether they should send a user to your location.

The more accurate your information is, the more likely Google will rank you in one of the top three spots.


Create Your 'Near Me' Brand Experience Now
To better understand how brands like yours can stand out in a crowded market and reach more 'near me' consumers, we created Digital Marketing for Financial Services: How to optimize your brand in the Age of 'Near Me'.

Get your free copy today, and learn why reviews are the new currency and three easy ways to optimize your brand for 'near me' searches.

Download your free guide.