Thanks to our new partnership with Cylex, Uberall clients can now create and manage Listings in one of 35+ country versions of the business directory giant. This means additional listings for all locations of a company.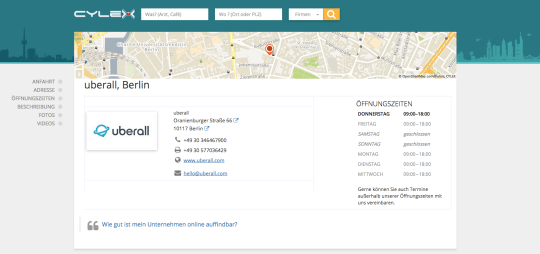 By integrating Cylex into the Uberall Listings Network, we've made our clients' business information even more accurate and secure, meaning even more customers will find that information when they search for it. It goes without saying that the data between Cylex and all other platforms which are a part of the Listings Network, such as Google, Facebook and Yelp, is ensured.
Another plus: the new Cylex listings are complemented by location profiles in Cylex's subsidiary: Find Open, or one of its international versions. Find Open is the authority on business opening hours - if business information is listed here, customers can be sure that they know when the store they want is open.

The variety of Cylex business directory entries
Uberall users will be able to enjoy the full variety of Cylex entries. The number of Cylex functions that users will be able to manage centrally from the Location Marketing Cloud is as follows:
Update entries in real time
Publish offers and news
Check customer reviews
Suppress duplicate listings
Communicate products and services
Communicate (special) opening hours
Inform your customers about payment type
Show video clips
Much more!
Cylex: an invaluable Citation Builder
As one of the most important online directories, Cylex cannot be ignored by businesses. Mobile customers frequently consult the Cylex directory for local business information. Businesses have to make sure their location data is up to date and accurate across Cylex, so customers are able to find the right location, when they search near them.
This is also vital for Citation Building. This simply means reliability. The more times the same information is listed across different directories, the more reliable that information becomes. The same is true for business information, which needs to be the same across Google My Business, Facebook and Yelp, for example, for it to be considered reliable by Google. In other words, the more frequently a business location under a particular address is consistently managed with particular opening times (i.e., the more citations are built), the more likely a search engine will "believe" in the reliability of the data and in the existence of the site. This in turn leads to a higher Google ranking of the site. Making it even more likely that customers will find and trust that information.
Cylex is an influential citation builder for business information, as is Find Open for opening hours.
Contact us today to learn more about Cylex and the everywhere Listings Network: hello@uberall.com!
You can also learn more about Citation Building in our current infographic. Download it now!