Consumer Behaviour Research: In Times of Crisis, How Do We Engage Brands?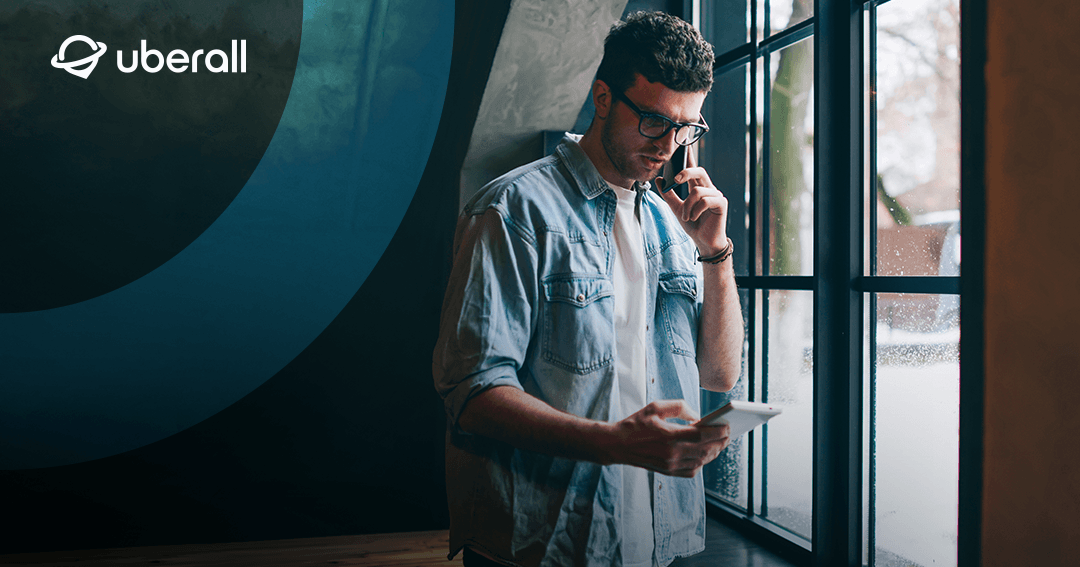 Right now, understanding buying behaviour has never been more important,.
Covid-19 has been a wakeup call for many businesses. Some have thrived, some have really struggled.
The brands that learn how to offer customers more choice at the e-commerce and local store level and understand consumer behaviour at both a global and local level, are sure to make better marketing choices in the future.
Consumer Buying Behaviour Is Changing Due to Limited Movement
If we can take any positives away from this global crisis, it's that it has allowed us to have a deeper understanding as to how consumer buying behaviour is impacted by uncertainty.
There has been a lot of recent data on the factors influencing consumer behaviour and how that has changed their buying behaviour, which suggests that consumers are still engaging with local businesses directly online. Since their communities have gotten smaller due to restricted social movement, it's perhaps no surprise that engagements at the local level have also grown.
What We've Learned so Far:
Consumers are spending less
Despite spending less, they are open to marketing messaging
Driving directions to stores have decreased(decrease in foot traffic)
Website clicks and phone calls have increased
Our Immediate Communities Have Never Been More Important
There Needs to Be a Better Relationship at the Brand and Location Level
1. Consumers Are Spending Less
According to a recent Yotpo consumer study, consumers are using their paycheck to prioritise groceries and other essential items such as medication and health and wellness products. This lines up with our own study, which suggests that when stores are closed, consumers are still engaging with essential industries locally, and then going to the website or phoning directly for more information.
2. Consumers Are Open to Marketing Messaging
According to the same Yotpo study, despite spending less, consumers are paying more attention to marketing messaging. Some brands may have cut their marketing spend during this time, but the winners have been those that are communicating essential information over this time, by both providing the unsolicited style of general updates at a brand level and the more specific, sought after information at the location level.
3. Driving Directions Have Decreased
It is really no surprise that driving direction requests have decreased. When governments around the world only make it legal for essential stores to be open and restrict our movements beyond the confines of our own homes, it's really a no-brainer that your average consumer isn't going to be looking for driving directions.
Add that to the fact that we are now largely moving within our immediate communities and you would be forgiven for thinking that engagements with individual locations have dropped drastically. Our study found that, for the most part, this was not the case.
4. Website Clicks and Phone Calls Increased
Although driving directions did decrease across the months of March and April, total engagements were up. Consumers or customers that would normally be looking for directions had not stopped engaging with brands at the local level just because they couldn't/were worried about visiting a store, they were simply changing the way that they engaged.
Covid-19 is teaching us that when businesses close the doors to their stores, it doesn't stop the customer from engaging at the local level, It just changes the method of engagement to website clicks and phone calls.
5. Our Immediate Communities Have Never Been More Important
During this crisis, consumers have been looking to engage with brands they trust within their own communities. Their journeys have been shorter and more informed.
Even though a store location is closed, it does not mean that it is irrelevant. On the contrary, it has proven the importance of accurate and consistent information at the store level.
And when brands need to modify how they are offering, turning from a dine-in cafe to a purely takeaway model for instance, up-to-date information at the store level is necessary for utmost clarity.

6. There Needs to Be a Better Relationship at the Brand and Location Level
When a user is looking for information at the store level and clicks on your website, your brand can then convert those searches into sales on the brand's platform.
When a user is making a call to/about a location that is currently closed, there is an opportunity to turn that into a brand experience for the customer.
Brick-and-mortar-first brands are quickly learning that the process of buying online needs to be as seamless as the process of buying at the store. The two journeys also need to be connected as much as possible to offer the option of purchasing online and picking up offline.
E-commerce-first brands are starting to understand that having a physical store presence is necessary for creating a total brand experience by using their stores as a conduit to connect with the customer and encourage them to engage on social media while in-store.
Consumer Behaviour Research: Learnings From the GMB Engagements of 41 Global Brands
After analysing search trends until the end of March 2020, we found that across the 41 global brands we measured, there was a large increase in total location engagement during March - a time of limited social movement and brick and mortar locations being closed.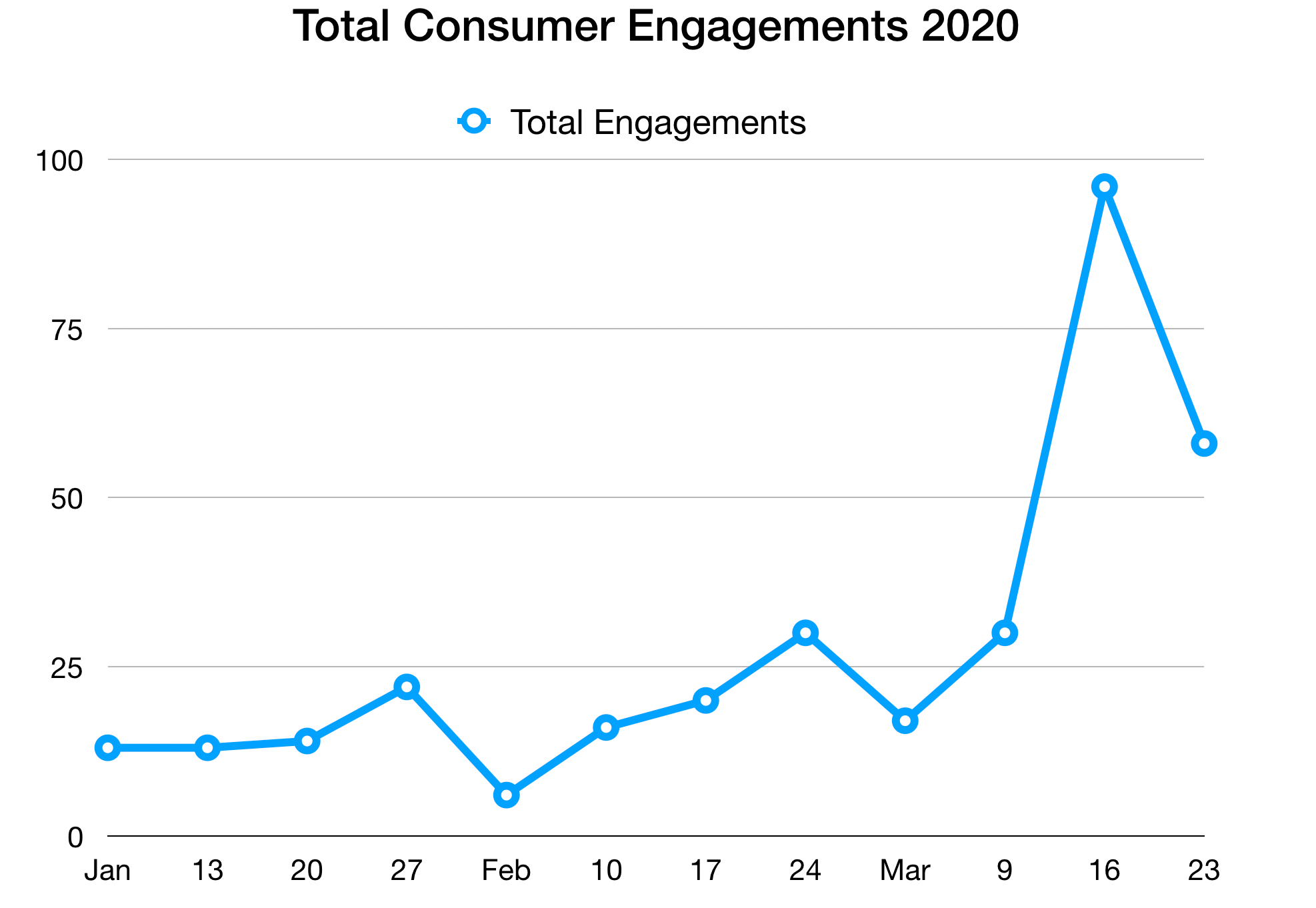 The takeaway here is that while locations were closed in March across the US, UK, Germany and France, consumers were still looking for information on local businesses by engaging with them directly (driving directions, website clicks, phone calls) on the individual store locations' GMB profiles.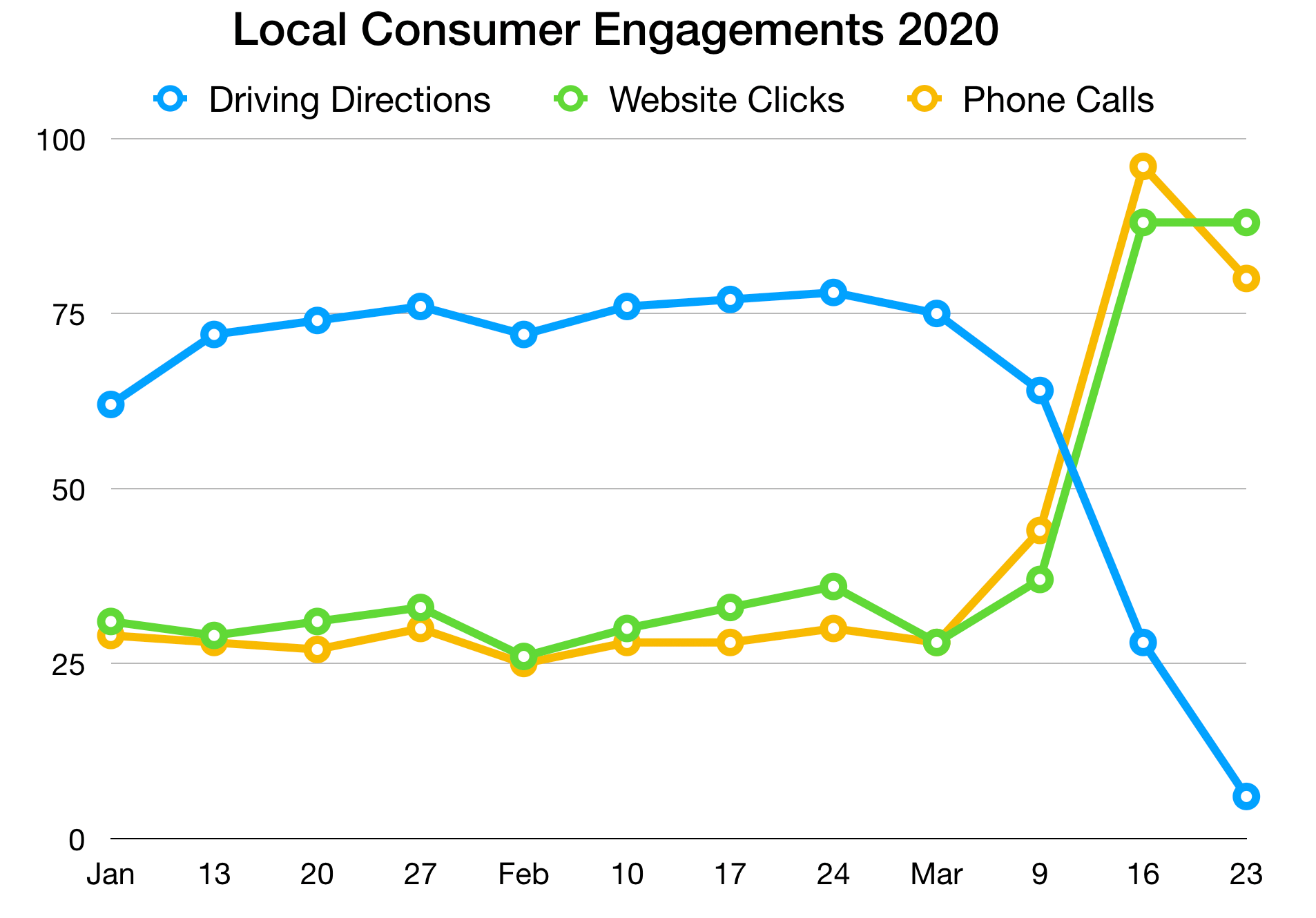 When we grouped all brands, and markets (UK, US, Germany, France), we found that driving direction requests only dropped by 50% while phone calls increased in this period by 73% and website visits increased by a whopping 135%
Despite stores being closed, local search is transferring normal local buying behaviours to the brand level, feeding the overall brand visibility and despite what many might have expected, local engagements (consumers engaging with GMB profiles of local businesses) have increased.
Local actions are currently redirecting customer intent to the brand level (website, phone calls) in a time where brands haven't been able to sell products and services from their traditional locations.
When we look at it across markets, the findings are also very interesting…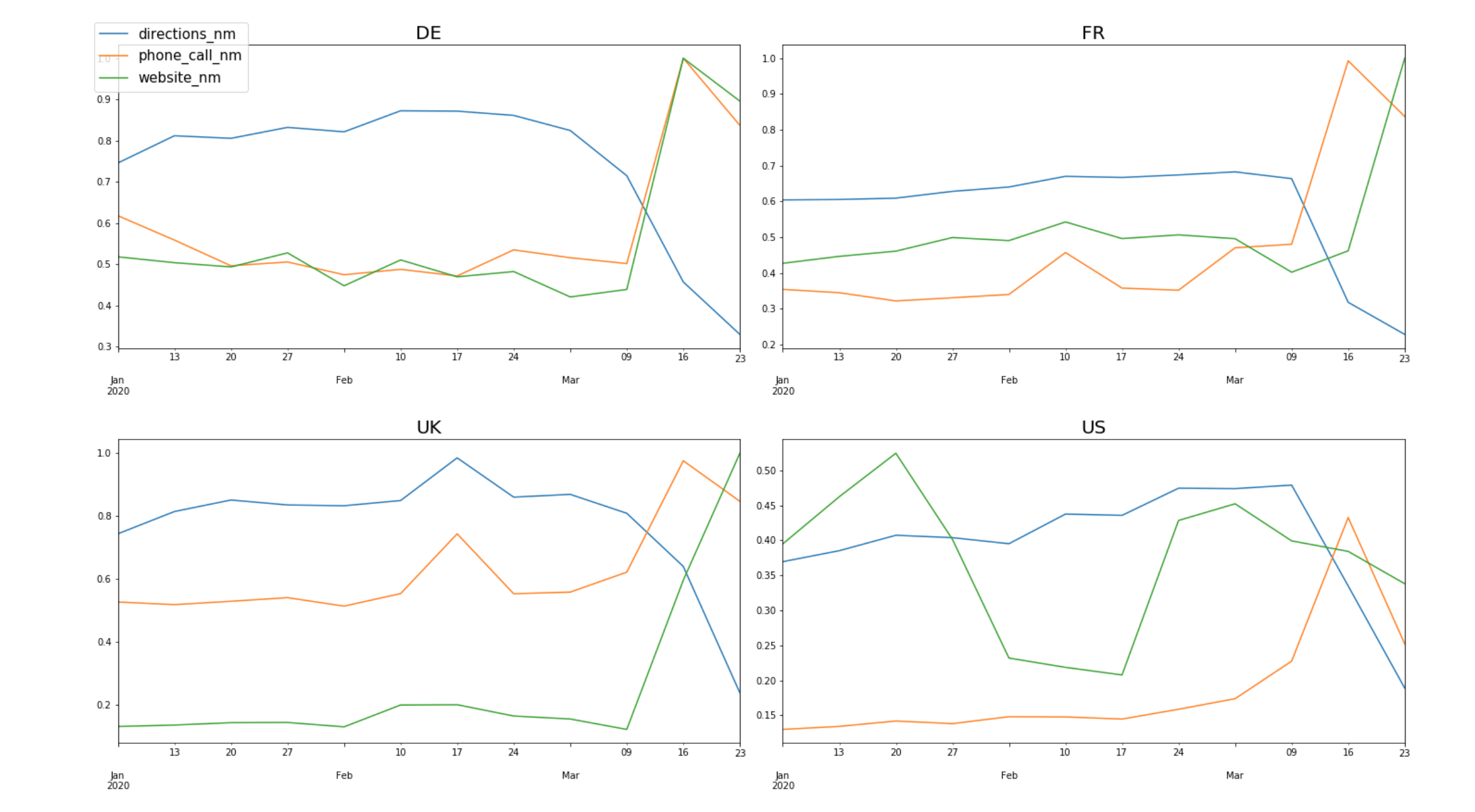 While the impact on local search in the US in 2020 has been minimal (bear in mind this study only collected consumer behaviour research until the end of March), the trend has remained the same across the other markets studied.

The UK seems to have been the most impacted by a loss in driving direction requests, but what business locations have lost in direct journeys, they seem to have more than made up for in terms of website visits (158% increase).
The US was least impacted by a loss in direction requests and as a result, website clicks had no real change across 2020.
Brandify's recent Pandemic Insights Study looked at engagements across industries and found that essential industries such as Grocery, Pharmacy, Banking & Finance, Service Stations and perhaps more surprising categories such as Hardware and Home Improvement had the best Google My Business engagement increases.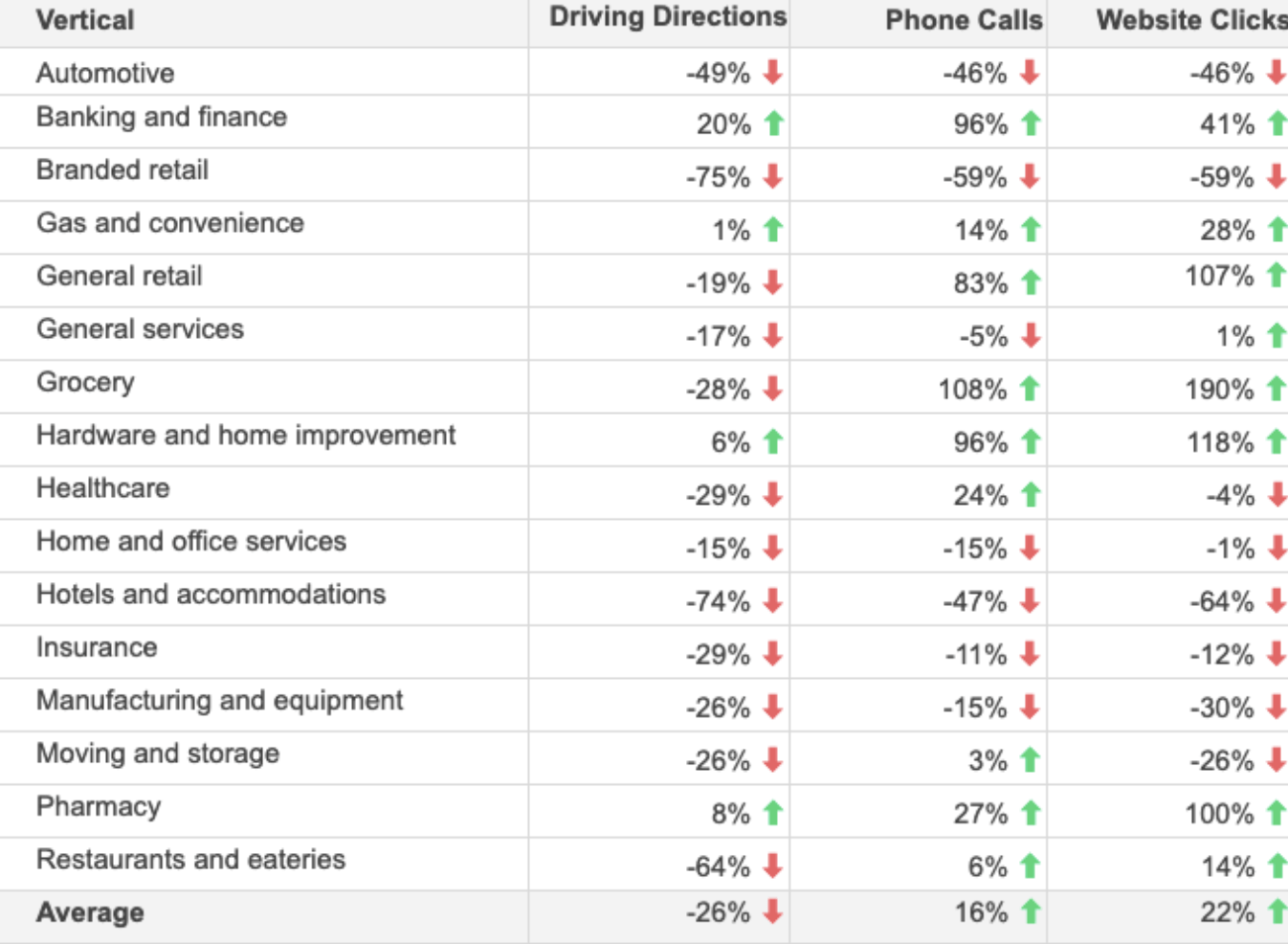 Whereas industries such as Hotels & Accommodation, Home & Office Services, Insurance, and Manufacturing suffered declines across the board.
Building a True 'Near Me' Brand Experience
A true brand experience is no longer categorised as online search leading to offline purchase. That assumes that understanding consumer behaviour in marketing stops being relevant at the point of purchase. A brand experience is usually online (search), offline (engage) and then online again (review/social media post).
Large brands need to understand that there is a longer list of factors influencing consumer behaviour]. While they must connect their online and offline efforts in a more seamless way for the customer, they also need to factor in how their customers search, engage, purchase, interact and return the products and services they offer.
Our Head of Marketing Insights, Greg Sterling recently had this brand experience with Banana Republic:
"I purchased a denim shirt online from Banana Republic. It turns out, however, that I bought it not from BananaRepublic.com but from Banana Republic Factory, the company's online outlet. When the shirt didn't fit right, I went into a local Banana Republic store to return it. After waiting in a long register line, I was told I couldn't return the shirt because it had been purchased from the BR Factory site and the store couldn't accept those returns."
Greg will no longer shop there because he has options. There are stores out there that have better experiences for the customer, that deliver a similar product.
The New Customer Journey
In the new consumer journey, there may never be a step that is entirely offline. Meaning that even while a customer is in-store, they may still be taking photos for their Instagram, leaving reviews for your brand (or others they find in your store) or looking up information about the products as they are considering them.
In times of crisis, brands need to understand that customers will search directly for information on locations in their area. When they are searching for you locally, they are no longer seeking brand information, they are seeking the very specific operating information of store locations. Keeping this information accurate and up-to-date has never been more critical.
Understanding New Customer Behaviour in Marketing
Since the pandemic hit, our communities have gotten even smaller and our engagement with brands has become hyper-local.
A survey by Nextdoor found that 72% of respondents say 'they will frequent local businesses more after the crisis'. E-commerce cannot replace brick and mortar (how do you replace being able to interact with a product or a real employee?), but to have an effective business model now and in the post-covid era, large brands need to start getting a local focus and integrate their online and offline offerings to offer customers more choice.
Buying behaviours will never be the same. Business operations should be structured accordingly. The recent rise of online sales will not spell danger for brands selling through store locations when consumers are free to roam the streets again at will, but it is a wakeup call for brands that haven't created seamless customer experiences both online and offline. Optimising both gives the consumer more options, thereby providing a better brand experience for more customers and a greater potential to appeal to the brand agnostic consumer.
Are your locations found online? Find out in just 2 minutes!