What's the best thing about the holiday season? The lights? The decorations? Wham! and Mariah Carey on repeat? There are plenty of things to love about the holiday season, but one thing we probably can all agree on is that holiday sweets are definitely on the top of everyone's list.

We asked our Uberall colleagues to tell us their favourite holiday cookie recipes and the following three recipes are just too good to not be shared with you! Besides, the best holiday cookies near you are the ones passed on from family and friends.

(Make sure to scroll until the end of the page for a surprise bonus recipe)

So grab your apron and bring out the mixing bowl — and soon you'll have our best holiday cookies in your mouth now!
Rosemary Raisin and Walnut Cookies
Ingredients:
125g soft butter
2 teaspoons grated orange zest
220g brown sugar
200g wholemeal flour with incorporated yeast
100g roughly chopped walnut kernels
100g dried raisins cut in half
2 teaspoons dried rosemary
80ml of orange juice
50g dried coconut
60g oat flakes

1. Preheat the oven to 180 degrees Celsius. Cover several baking trays with oiled baking paper.
2. Whip the butter, zest and sugar in a bowl with a hand mixer until you get a smooth mixture.
3. Put the flour through a sieve and add first before remaining ingredients.
4. Mold dough to bite-sized shapes and put on the baking trays. Leave a space of about 5 cm between them. Flatten lightly.
5. Bake them in the oven for 15 minutes.
6. After taking them out of the oven, let them rest and cool down on the baking trays.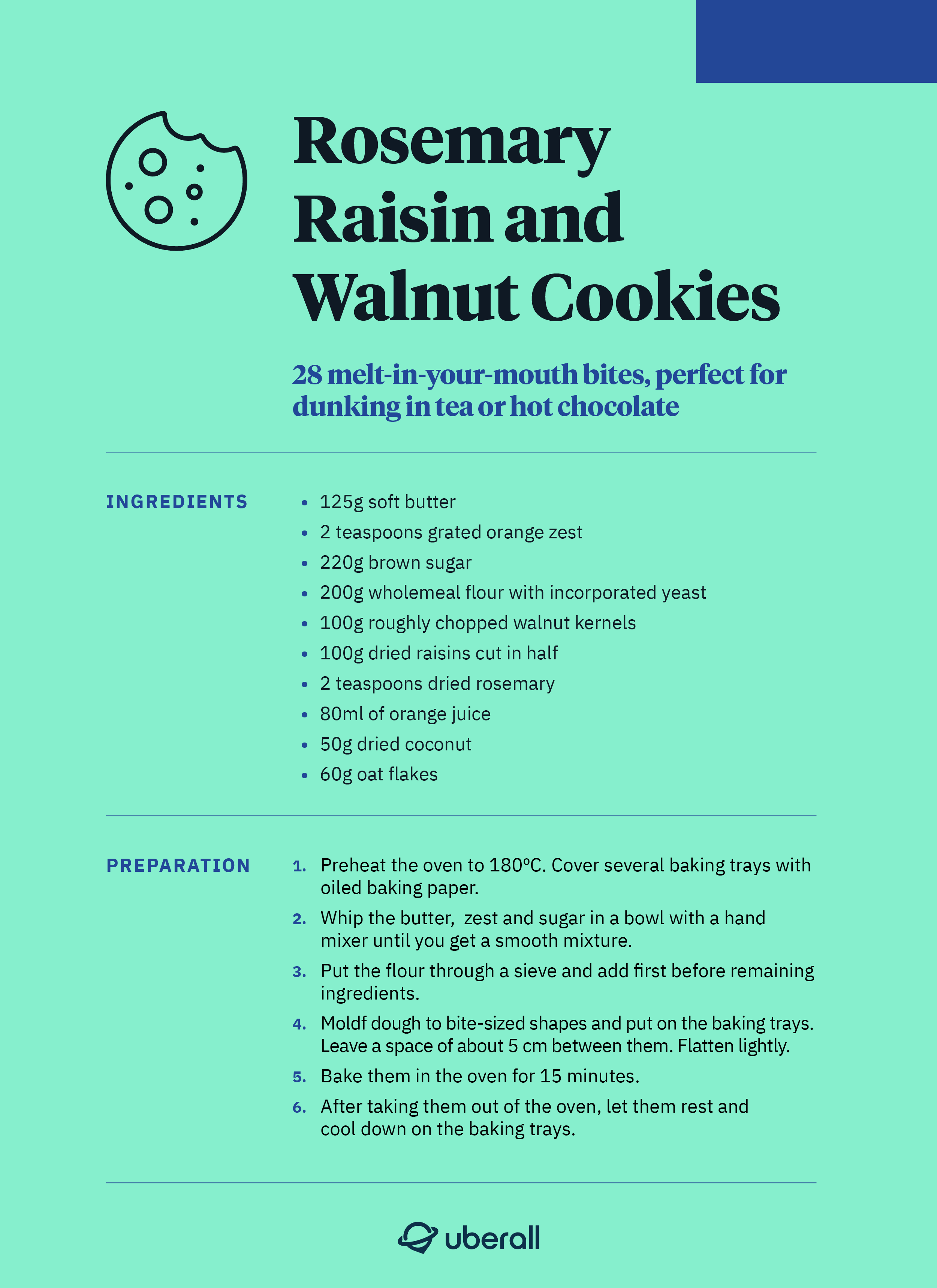 Cinnamon Cookies
Makes 28 not-too-sweet buttery bites with a hint of cinnamon
Ingredients:
250g soft butter
1 teaspoon vanilla extract
110g brown sugar + 1 teaspoon of brown sugar on the side
220g powder sugar
2 eggs
410g flour
1 teaspoon baking soda
Half teaspoon nutmeg powder
2 teaspoons cinnamon powder
1.Preheat the oven to 180 degrees Celsius. Cover several baking trays with oiled baking paper (you can whichever plant-based oil you have at home).
2. Whip the butter, vanilla extract, brown sugar and powdered sugar in a bowl with an electric mixer until you get a light, creamy consistency. Add the eggs, one at a time, continuing to mixing.
3. Add baking soda and nutmeg powder to the flour. Pour through a sieve twice.
4. Add the flour to the butter mix and blend. Cover the bowl and let it rest for 30 minutes in the fridge.
5. . In a separate bowl, mix the additional brown sugar with the cinnamon powder.
7. Form mini dough balls and roll them in the sugar-cinnamon mix. Place on a baking tray and leave about 7 cm space between them.
8. Flatten them lightly before putting them in the oven.
9. Bake for 12 minutes.
10. Cool on baking trays.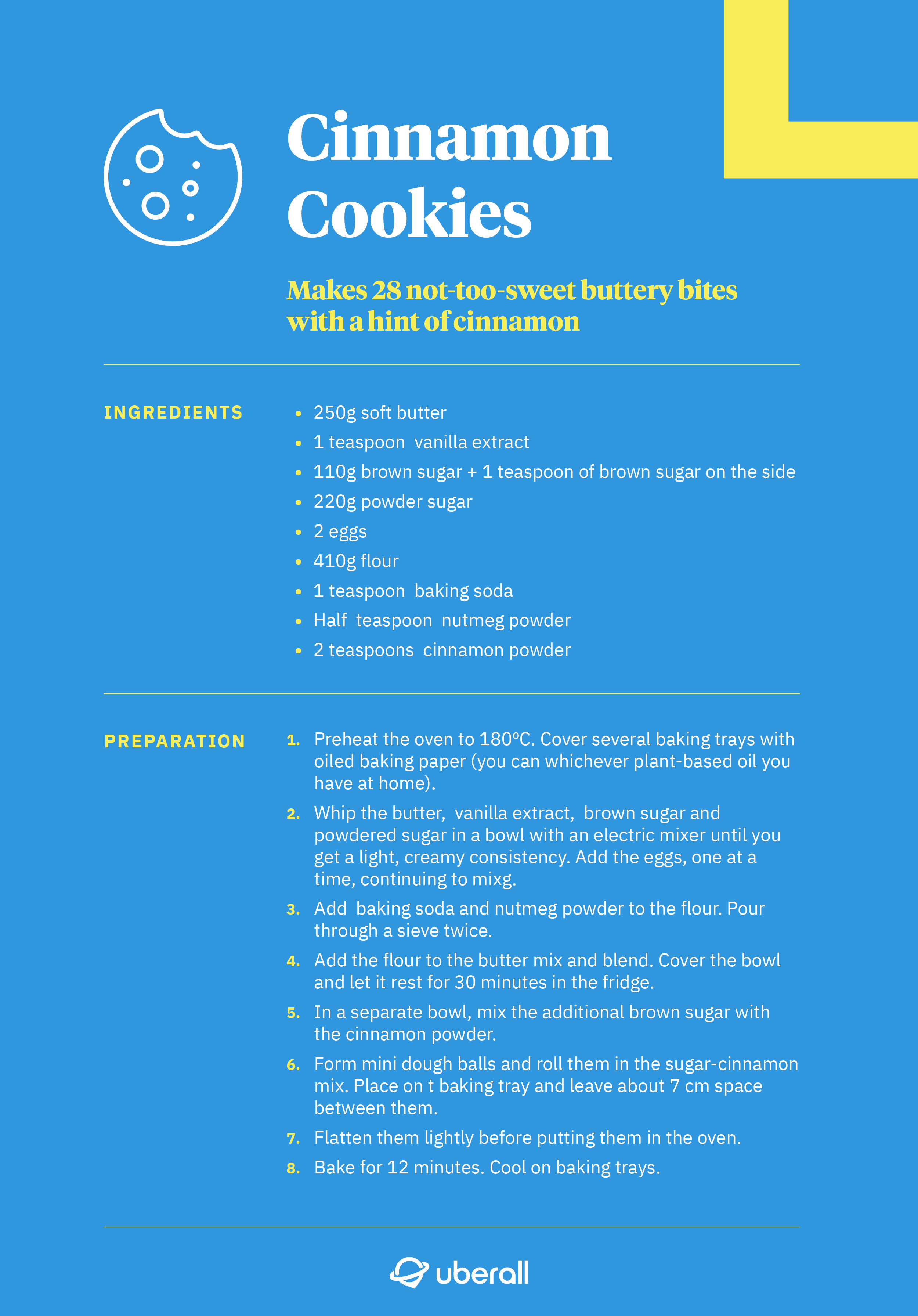 'Bredele' - Alsacienne Christmas Cookies
Ingredients:
250g flour
3 teaspoons baking powder
1 pack vanilla sugar
60g icing sugar
100g soft butter
1 egg yolk
3 tablespoons milk
1 pinch salt
1 organic yellow lemon
For the glaze:
150g icing sugar
2 teaspoons lemon juice
3 teaspoons hot water
1. Sift together the flour and the baking powder and dig a well. Pour in the salt, sugar, vanilla sugar, lemon zest and juice, egg yolk and milk. Work the dough, then gradually add the softened butter in patches.
2. Form a ball with the dough, wrap it in cling film and put it in the fridge for 1 hour.
3. Roll out the dough to a thickness of 5 mm, and then cut out stars with a cookie cutter. 4.Place the stars on a baking tray covered with baking paper and bake for 12 minutes at 180 degrees Celcius.
4. In the meantime, prepare the icing by diluting the water and lemon juice in the icing sugar and blend to a smooth consistency.
5. When the stars have cooled, glaze them and leave to dry for 1 hour before eating.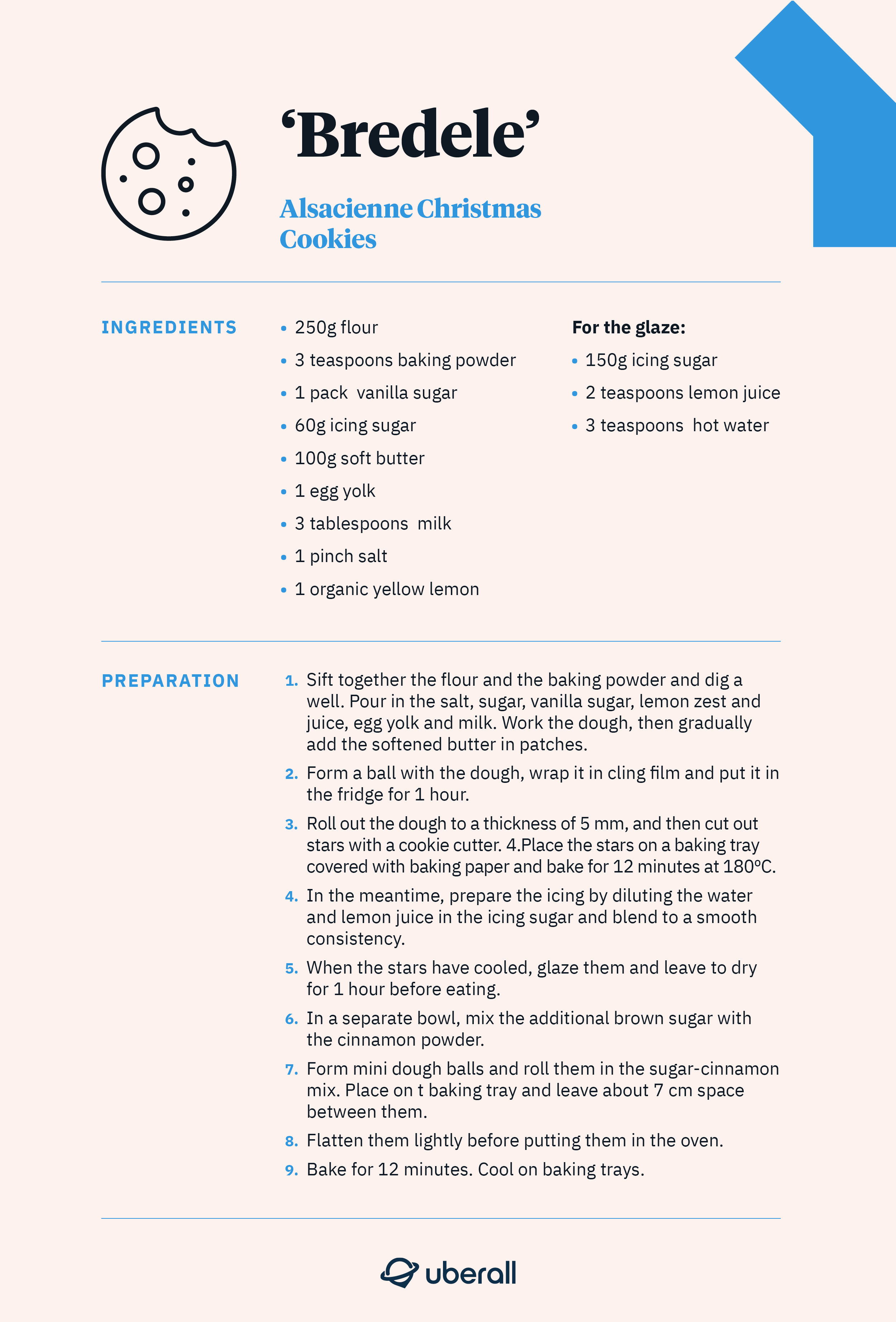 We hope these recipes got you excited to feast into the upcoming holidays. As promised, here's a last one that isn't a cookie recipe and that will even put the Grinch into a festive mood:
Grog
"The best beverage ever to prevent a cold during this holiday season and it's super delicious!" - Uberall Elf
Ingredients:
One shot glass of dark rum
1/2 lemon
2 teaspoons honey
250ml of water
1. Boil the water.
2.Squeeze the juice of 1/2 lemon and put aside.
3. In a mug put 2 teaspoons of honey, lemon juice, and a shot of rum.
4. When the water starts to boil, pour it into the mug.
5. Drink as soon as the temperature allows it :)