Directory Box: A New Position Zero for Local Publishers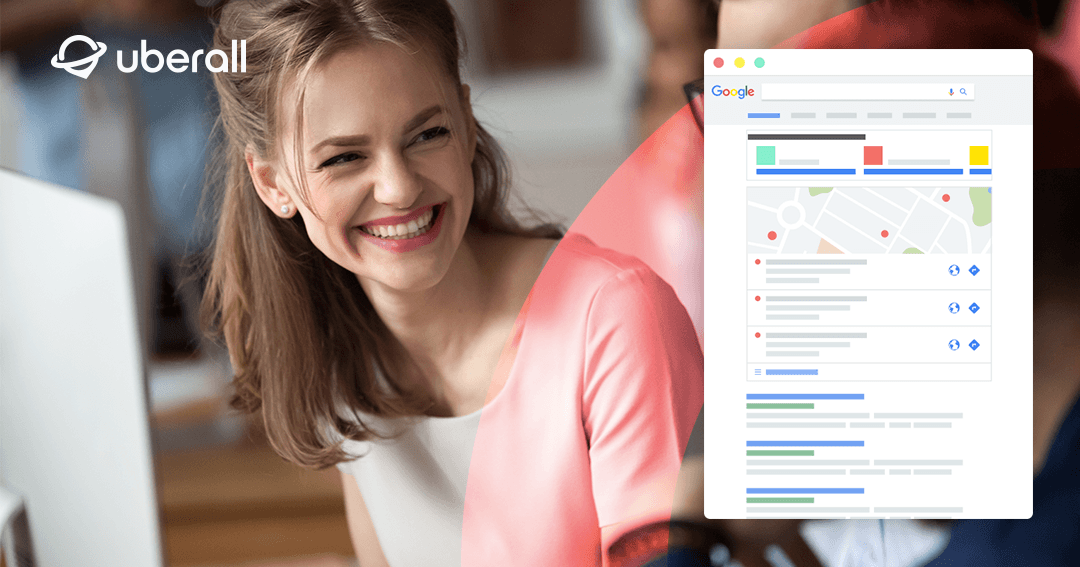 For most of the past year Google has been testing a new format for local search results in several countries in Europe. It features branded directory links above the local pack - a new "directory box".
Two links or a carousel
Depending on the query, sometimes there are two links and sometimes a carousel with up to five. The box doesn't always appear for local-intent queries. And there are a limited number of directories that seem to repeatedly show up, changing occasionally by vertical (e.g., restaurants vs. healthcare).
Showing above the Local Pack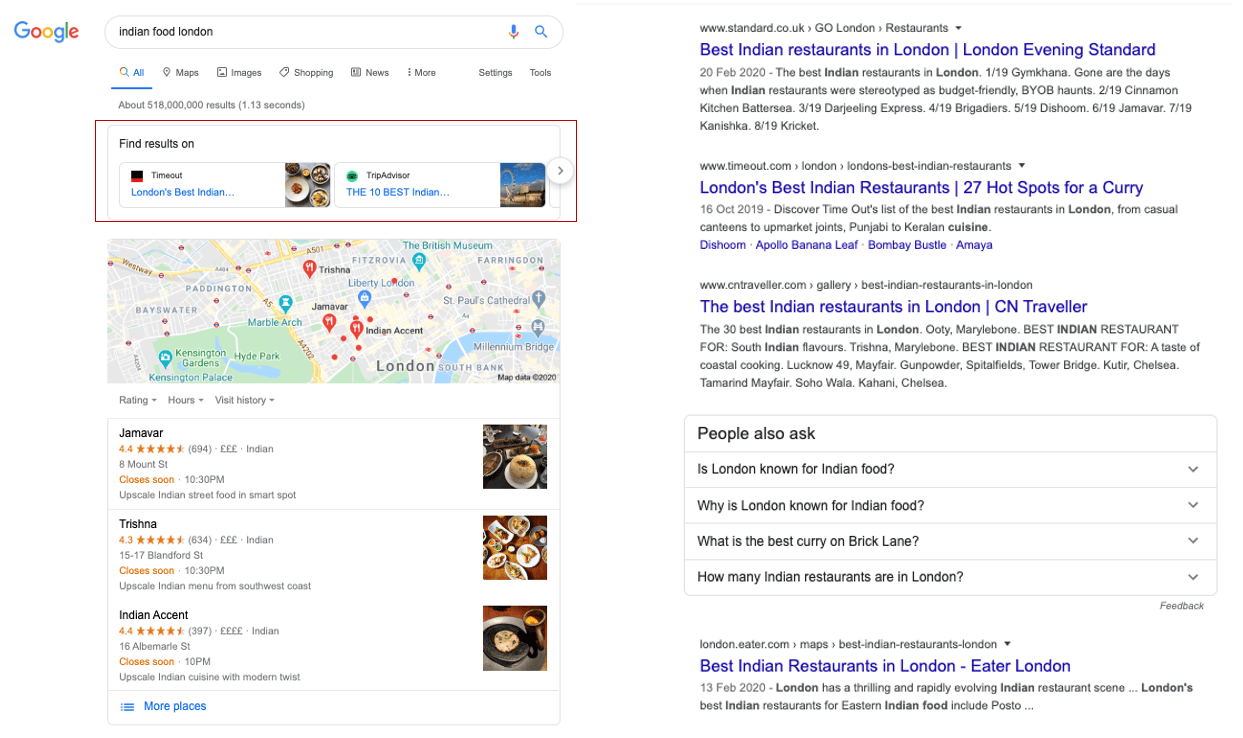 Seeking to preempt another antitrust case
The new search results page (SERP) is part of Google's effort to preempt another antitrust claim focused on local search. The approach is conceptually similar to what Google is doing with shopping search results in Europe, following a 2017 European Commission fine of € 2.42 billion for "abuse of market dominance" (Google is appealing the fine). In shopping search Google showcases third party comparison shopping engines in the carousel. While results in the shopping carousel are paid, the new directory links are algorithmically chosen.
Google has not revealed any eligibility criteria for inclusion in the directory box. Assuming this SERP persists, inclusion or ranking insight would obviously be of tremendous value for publishers.
Altering the query changes the results - significantly

Query variations produce very different results
In the first screenshot above, a SERP for "Indian food London '', shows four directory links above the local pack. The included sites are Timeout, TripAdvisor, Yelp and Gumtree. They showed up repeatedly in my informal tests across a range of local search queries. Yell, Groupon and Trustpilot also frequently appeared.
The screenshot immediately above shows SERPs for "home builders". On the left, "builders in London" triggers the directory box. However, that's not true of "home builders in London", which links to a single directory site as a featured snippet, or even "best home builders London", which features ads at the top of the page.
Entering "best" often triggers the directory box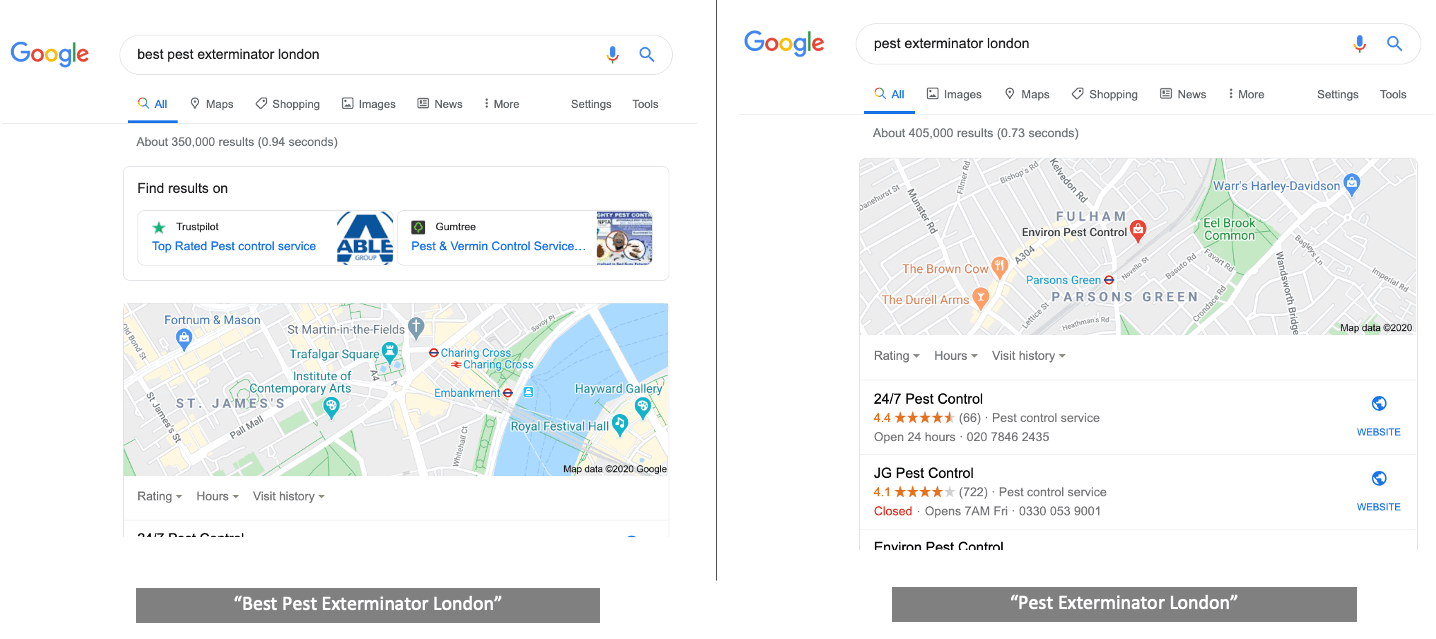 Despite the home-builders example, the modifier "best" frequently triggered a directory box in my tests. Above are SERPs for "best pest exterminator London" and "pest exterminator London". On the left, there are only two directory links to Trustpilot and Gumtree, although more directories could provide relevant content, especially Yell and Yelp.
Clicking on any of the directory links above the local pack takes users most often to a category page within the directory, as in the following example from Yell for "plumbers West London". However, the links can also lead to business profile pages within the directory, if the original Google query is for a specific business name.
Landing on category page within the directory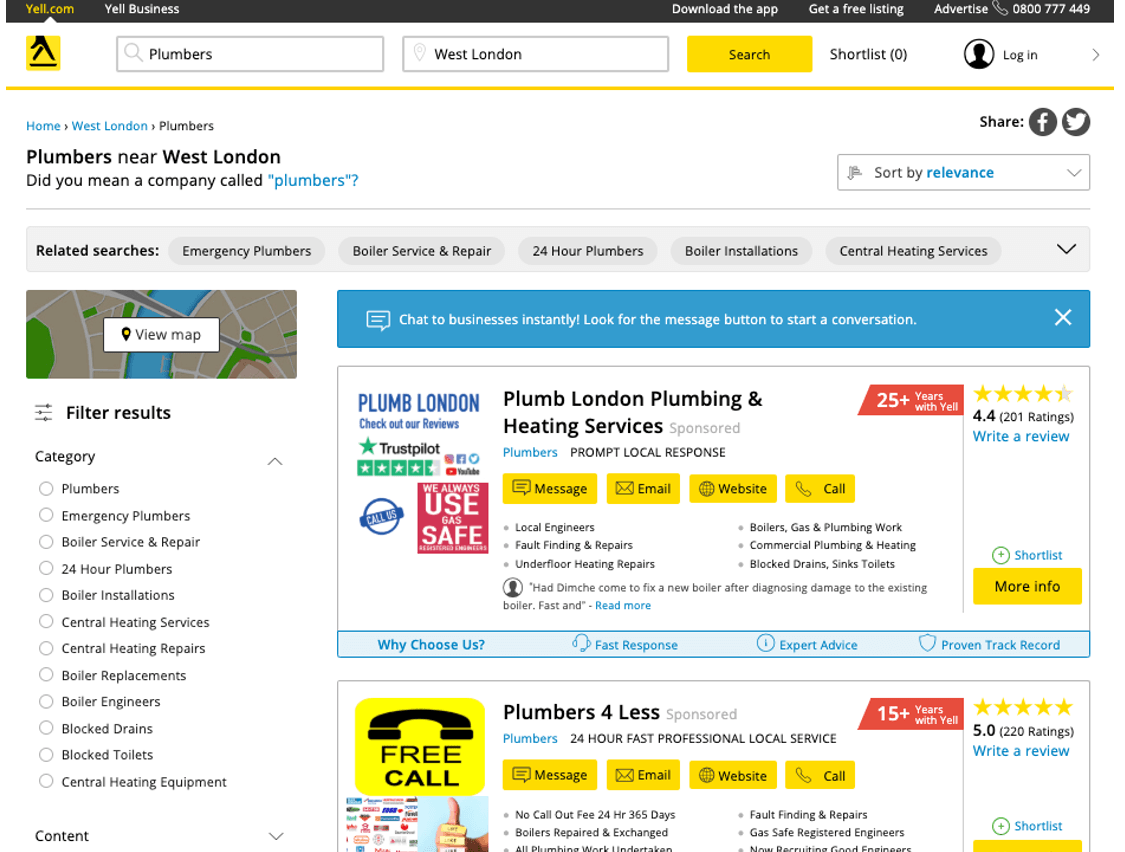 A new 'zero-position' for directories
A more systematic analysis is needed before any clear patterns can be identified or conclusions drawn about precisely when Google shows the directory box. As indicated, Google declined to show it for some local-intent queries (e.g., "mattress showroom", "Renault dealers"). However, the company is likely still testing it to determine how consumers respond and whether the approach drives real referral traffic.
If it fails to drive meaningful traffic, the approach will be discounted as purely symbolic. But if the traffic it generates is significant, the directory box becomes a new kind of "position zero" for local publishers to optimize against (if they can figure that out). It could also boost the brand visibility and, potentially, revenues of featured directories.