25 Top Business Directories UK Businesses Need to Be On Now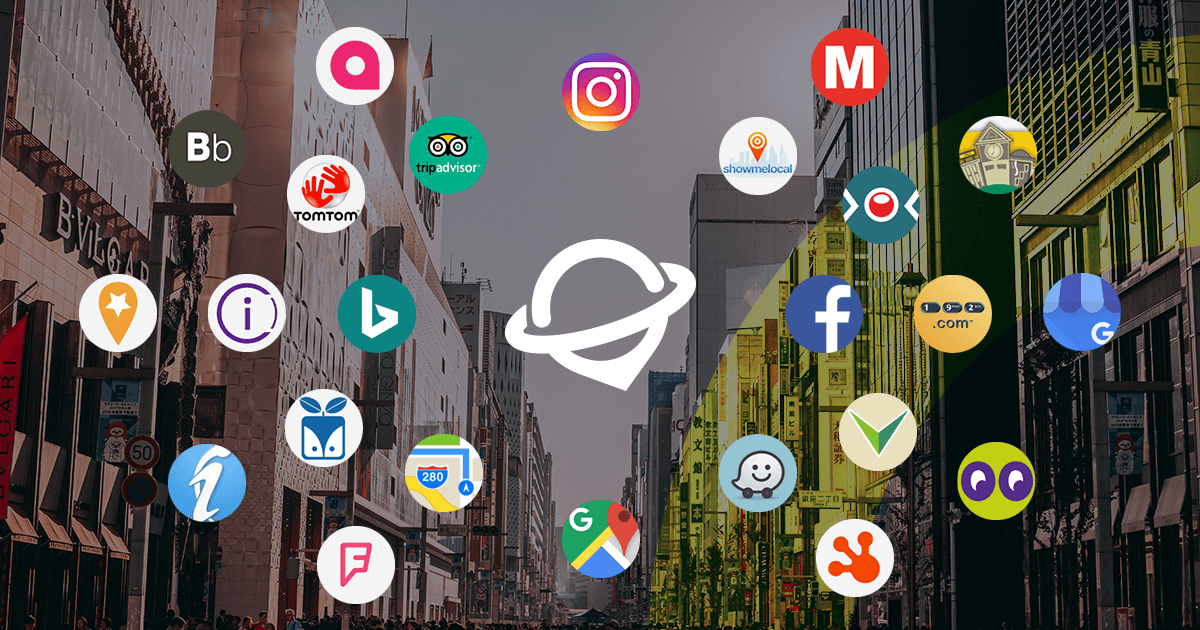 Based on our own extensive research, we have compiled a list of the top 25 UK Business Directories you should be on to maximise visibility and engagement.
Our recent 'Near Me' 360 study highlights why it is critical to make sure your listings are accurate, up-to-date and full of useful engaging content, but that your brand's locations are showing up on the platforms that matter most to your customers.
Consumers use Yelp UK, Google or TripAdvisor to checking in with Siri on where the best products and services are near them. And while heavy hitters such as Google My Business, Facebook, Bing, Apple Maps, should be the first places you list your UK business locations on, because each has a high number of UK users searching monthly for products and services near them, don't overlook all the other platforms and directories where your customers may be searching for you.
That's why we compiled a list of the top business directories UK businesses need to be on for search engine optimisation and to be where consumers are actually looking for products and services near them. The top directories are all listed below...


Why Are Online Business Directory Listings Important?
Having a business profile on all of the UK business directories below is important, but optimising for online search and engagements means also having accurate and complete listings. Why? Because this is a trust factor to both Google and consumers.
We have the data to back this up. We conducted a study of 15,000 locations recently and found that businesses that had accurate and complete listings, including the directories below, had a major impact on a location's likelihood to be in the local pack and increase visibility...
...The top 10% of locations had an extraordinary 18 times the online visibility than the worst performing locations. Accurate profiles on this UK business directory database really matters.

You can check if you have accurate and complete listings on all of the directories below with our business directory tool here, which analyses how well your business information is listed across the most important online directories in the UK.
The Top 25 UK Business Directories
Ask anyone who knows anything about listings, Google My Business is ground zero for your brand location's local citations. While getting listed is your first step, maintaining accurate, up-to-date listings and staying on top of customer reviews is the key to staying on top of your search ranking and ensure your business is found in local search.

Why Google My Business is an important UK business directory

39 million unique monthly visits in the UK alone
The most utilised platform consumers use to search for local products and services
Your business can be found on Google Maps
Accuracy can improve your search ranking
A good review score can improve your search ranking
Free analytics tools to monitor your activity



Facebook gives multi-location brands and businesses the opportunity to connect with consumers locally by offering them free business profiles.

Facebook is also recognized as the top platform for B2B and B2C businesses, making it one of the best places to not only present your business, but also to engage with current and prospective customers through events and promotions.

Why Facebook is an important UK business directory

15 million (unique) monthly UK visitors
The site's domain authority can help you boost your SEO
35% of consumers use Facebook reviews to inform their purchasing decisions
Users can share or interact with your updates meaning that you can potentially reach many customers through word of mouth
Facebook offers analytics for better consumer targeting



Many UK businesses don't register on Bing Places for Business, thinking that because Google has such a dominant market share (around 89%), it isn't required. That said, because many businesses ignore Bing is what makes it an ideal opportunity for your business to potentially rank higher.

Why Bing is an important UK directory

7.2 million (unique) monthly UK visitors
Bing's audience tends to be older (mostly 55-64) with more disposable income
Searches on Bing lead to a higher spend of around 25% more
Putting your business in front of an even larger local audience



Apple iOS is the most used mobile operating system in the UK. So with Apple Maps being its default map app, it's one of the most visited sites in the UK. Businesses that register on Apple Maps Connect can include their company's website URL as well as their Facebook, Twitter and Yelp profiles.

Why Apple Maps is an important UK business directory

9 million (unique) monthly UK visitors
The disposable income for Apple iOS users is typically higher than that of Android Users
Your business can reach iPhone, iPad and MacBooks users
Your business can optimise for Siri (voice search)
Apple Maps is more commonly used by consumers who are looking to purchase from a location right now



Every month, consumers post more than one million reviews on Trustpilot. This free platform is both user friendly and offers an easy way for businesses to engage with what their customers are saying about them. Consumers around the world look at the reviews on Trustpilot more than 3 billion times each month.

Why Trustpilot is an important UK business directory

More than 60 million reviews of over 300,000 domains
Users can easily compare companies in the UK by category
Platform is free and open to anyone



Yelp UK

With 1.2 million unique UK views per month, Yelp UK has a high domain authority and is one of the most utilised business review sites in the world, boasting over 100 million reviews. Yelp for Business Owners is free to sign up for and also has analytics tools which can help your business to see how many clicks, calls and page visits your Yelp pages are receiving.

Why Yelp is an important UK business directory

1.2 million (unique) monthly UK visitors
36% of consumers turn to Yelp for online reviews
Yelp has a high domain authority which will influence your SEO rankings
Users visit Yelp when they are looking to make a purchase
Yelp powers the voice search assistant Alexa and Bing



Created in 2000, TripAdvisor has become a reference for online searches. When people look for recommendations about hotels, travel activities or restaurants, they most likely end-up visiting TripAdvisor. The website is a business directory fueled by reviews and ranking. It is a key platform on which you should list your business if you are in the entertainment, travel, food and hospitality industries.

Why TripAdvisor is an important UK directory

More than three-quarters of UK consumers check reviews on TripAdvisor
In the UK TripAdvisor is 2.5 times more influential than Google
Go-to website in the UK for hotels, restaurants, entertainment and touristic activities
Online reviews for hotels and restaurants are more influential on TripAdvisor than a company's website



Waze is a GPS navigation software used in more than 200 countries and available in 40+ languages. For businesses, it is a powerful tool for local marketing — think advertising to drivers for local businesses as they drive nearby. The platform offers seamless ads, showing either as a pin in a user's map or as a sponsored search result.

Why Waze is an important UK directory

Over 2 million users in the UK, and half of them in London alone
Ads for big companies, as well as small local businesses (Waze Local)
Reach potential customers exactly at the moment they might be looking for you (sponsored searches) or at the moment they're near your store (impulse purchases)
Easy action for users: "drive there" below your listing/ad
Affordable pricing for small businesses or test runs, with no commitment or subscription



Scoot is one of the directories fed by Scoot Network, a leading business directory company in the UK. Around 2-million businesses are registered on Scoot.

Why Scoot is an important UK directory

More than just a name and address: galleries, testimonials and reviews, location on a map, special offers, social media profiles, and more
Scoot Network, the company behind Scoot, also provides business information for other leading directories — Touch Local, The Independent, The Sun, and The Mirror
A network of 600,000 members
Free registration



The first online telephone directory, way back in the internet dark ages of 1995, the business directory is today used by GPS manufacturers such as Garmin, as well as leading websites like Yahoo!, Bing, Yelp and Google Maps.

Why Infobel is an important UK directory

European company
Large database (100 million businesses) over 70 countries
Categorized listings, which helps for search engines to process the information
Includes operating hours, with holiday and exceptional hour options too



>192

A comprehensive directory for the UK with businesses and places. Local retailers can claim their business and create a profile on the directory for higher visibility in the UK.

Why 192 is an important UK directory

Comprehensive listings with information such as aerial photos, name, company, and director reports
Advanced search options for businesses
Free and simple registration



Central Index is a directory native from the UK, with over 2.5 million businesses already listed.

Why Central Index is an important UK directory

It is the directory that's behind many UK-based directories
The platform puts the emphasis on trust by giving business owners full control over their data
Free registration and categories for listings



The online version of the UK's second-largest daily newspaper (The Daily Mirror) boasts a readership of almost 1 million readers every day. Once your listings have been uploaded and verified, you can add images, your brand logo and hours of operation.

Why the Mirror is an important UK directory

All your business data is uploaded to the Central Index
Reaches more 15-34-year-olds than The Guardian
Free directory



The largest business directory in the UK. Touch Local also includes consumer reviews, a decisive component of purchasing decisions. Businesses listed on this platform can harness the power of reviews to attract new customers.

Why Touch Local is an important UK directory

Organizes businesses and information into business categories
Listings on TouchLocal are also listed on a network of over 400 websites, including Scoot and The Mirror
Free directory



What started as a social platform is now one of the leading business directories worldwide. Users across the world have mapped more than 105 million venues. Over 50 million users are active on the platform.

Why Foursquare is an important UK directory

More than 50 million users
Hyper-local user database and promotion opportunities
Highly engaged users
Mobile-first platform



This Australian directory focuses on small businesses and profiles over 69 million businesses, in 38 countries. The platform also allows users to rate businesses and leave reviews.

Why Hotfrog is an important UK directory

1.6 million users make more than 372,000 inquiries every month
More thann 66 million businesses are featured in 36 countries
Large user base
Free listing
Free promotional content
Small Business Hub: an educational platform for small business owners



Cylex is an online business directory with more than 1 million unique users and a network of over 35 online business directories.

Why Cylex is an important UK directory

Cylex offers a quote option where users can ask for a quote from several businesses
8 million companies listed in the UK
Includes consumer reviews which is a powerful tool for businesses to rank better and attract new customers



This is a local business directory for the US and the UK markets focused on small businesses. The platform offers a directory as well as customer reviews.

Why My Local Services an important UK directory

Free directory for UK businesses
Users can contact business and retailers directly from the directory
Business forum to discuss and ask questions as a business
The listing process is quick



A free business directory that works like a wiki, meaning that the content is generated by the community of users. A Global Business Listing Database, Brownbook boasts more than 35 million businesses listed in over 200 countries.

Why Brownbook is an important UK directory

Business information can be downloaded directly to the user's phone contacts
Easy editing of business information on the platform
Once listings are claimed you can enrich your content with photos and reviews



TomTom started as an in-car GPS system people used to get from point A to B, long before local SEO was a thing (it was created in 1991). Similarly to Waze, the amazing added value of TomTom today is its user database, millions of drivers who operate this navigation system, and who are most probably driving towards a shop to run some errands or to look for a product or service.

Why TomTom is an important UK directory

Add your listing to a worldwide, and UK-focused, huge database of users
Possibility to create your company profile if it is not already in the GPS database
Trillions of data points
Hundreds of millions of daily users



Yellbo is a local directory that is very easy to use. Users type in the name of the organization or business they're looking for, and the city in which they're looking. The results show on a map, which adds convenience to the users.

Why Yellbo is an important UK directory

Straightforward design for users
Very easy for users to read business information
Minimal design and information, which is helpful for customers who are looking for basic information about a business: contact information, location on the map and opening hours



Tupalo is a European company that offers a business directory used by more than 3 million monthly users. It is a business directory with customer reviews and ratings. After uploading their listing, businesses can then start receiving customer reviews, which will then help with their SEO ranking, and can be used as a great source of insight to improve their operations and better serve their customers.

Why Tupalo is an important UK directory

User-generated content (reviews and rankings)
Includes information about accepted payment methods
Free listing registration with basic information about your business: name, address, phone number, link to website and picture



An initially German company, Opendi is an international directory operating over 29 countries with more than 20 million business pages, and offering client reviews too.

Why Opendi is an important UK directory

Listings in the main cities in the UK — London, Birmingham, Glasgow, Manchester
More than 1.7 million businesses listed in the UK
Over 50 thousands reviews
Over 7 million searches every month in the UK



A global business directory where users can find local businesses, rate them and share them with their community. The directory covers over 12 categories including finance, food and drink, public services and automotive.

Why Yalwa is an important UK directory

Listings for businesses in over 50 UK cities and neighborhoods
Millions of business listings worldwide
Possibilities to boost your listing with premium features (ads, sponsored content, etc.)



Navmi is a free and voice-driven navigation tool powered by data generated by a community of 850,000 users. The company creates and updates maps, and works with prestigious clients such as Jaguar or Shell. Navmii has a business directory for local businesses throughout the world.

Why Navmii is an important UK directory

A navigation system, which means that users who look for your business in this directory will be very likely to be on their way to buy your products or services
Mobile-first
2.5 million downloads in 187 countries




Optimise Your Listings on UK Directories
If you are interested in understanding how to quickly check your listings are optimised, watch this video...
Getting your information on all 25 directories accurately and consistently is easier said than done — especially when you manage multiple business locations.
The first step of course is to analyse your locations to find out if they are listed correctly on these 25 directories. Once you sign-up for our free business citation checker, you can then analyse how well your business information is listed across the most important online directories in the UK.