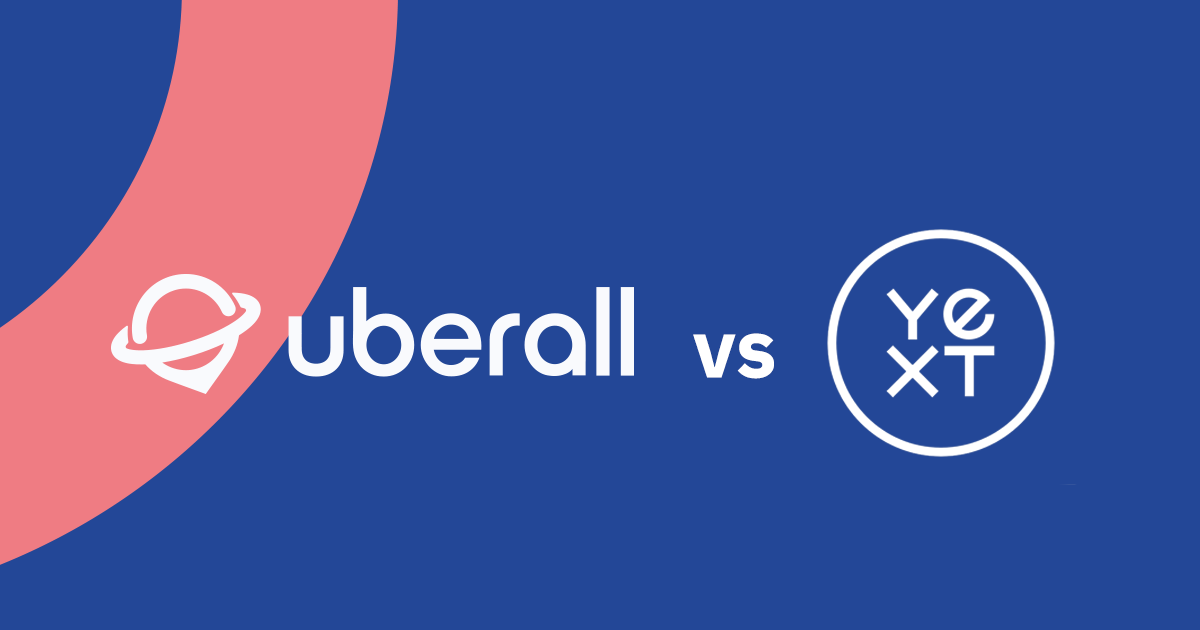 Yext vs Uberall


What Is Yext?
Yext is a Digital Knowledge Management and search experience platform. They organize and distribute data across online directories and search engines. By managing the accuracy and consistency of your data and spreading them to these directories, you can improve your business location visibility on search engines.
Yext doesn't only provide listings management services. Depending on what package you purchase you can include tools such as Yext Reviews (review monitoring), Yext Analytics (analytics dashboard) Yext Pages (web page creation), Yext Answers (website knowledge engine).
What Does Yext Do?
Yext operates like other listings management platforms. You fill out your NAP data (business name, address, phone number, opening hours etc…) and depending on what package you pay for, Yext will send this information to some or all the relevant directories.
Yext Powerlistings
The Yext PowerListing network contains over 150 possible directories (depending on your country). However not all listings are relevant and many are included in their packages that have very little value in terms of increasing visibility.
Yext Pricing - How Much Does Yext Cost?
For single location businesses
Yext costs between $200 and $1000 per location per year, however their basic package excludes all of the key directories that are important for local SEO.
Yext Emerging - $199/year - listings on 40 listings networks but has none of the major players like Google, Facebook, Bing, Apple and Yelp
Yext Essential - $449/year - the essential package includes 14 directories including the major players that were left out of Emerging.
Yext Complete - $499/year - the 'Complete' plan includes the full 'Emerging' and 'Essential' packages alongside PowerListings+ and Analytics.
Yext Premium - $999/year - the 'Premium' Yext plan contains everything from the other three packages, plus Review Monitoring and Yext Pages.
For multi-location enterprise brands
Yext doesn't offer specific pricing for their multi-location brands but they give a list of their features on their website for their packages. For brands with hundreds of locations, Yext pricing can quickly run into the $100,000+ category.
Yext Reviews
It is worth noting that review management does not come as standard with Yext packages. Most enterprise brands see reviews as foundational to their efforts to achieve more online visibility so it is worth noting that you can only get features like review response and sentiment analysis with their ultimate package (a feature that comes as standard with Uberall.
Single Location Businesses
For single locations, Yext Reviews also only comes with their most expensive package. This is worth noting because review management is one of the foundational elements of local search engine optimization so in order to get this feature, you need to opt for Yext's complete package.
For single locations, If you're looking for more than just listings - features that include reputation management, duplicate suppression and widgets will set you back at least $1000 a year per location.
Yext Answers
This is Yext's new product, which they have positioned as a 'powerful search engine' and allowed them to position themselves as: "The platform for Brand Verified Answers in search".
Essentially, the product is supposed to enable businesses to answer the questions consumers ask about them in search and put direct answers on your website to help consumers convert.
There is some confusion out there as to the value of this new product however. Yext Answers is quite complicated to set up and its unique value proposition is that it turns your website into a search engine. However, since 50% of all Google searches never click beyond the results pages, it is difficult to see the value in the 'search engine with a search engine' concept.
Pros of using Yext
Quick submission: You can get your business information up and running on listings within 72 hours of submitting to Yext.
Automatic distribution: Input your business info once, it gets distributed automatically and nothing further is required.
Review monitoring + Management: This requires you to be on the Yext Premium (single location) or Yext Ultimate (multi-locations) plan. This allows you to monitor and reply to reviews across the web, which is a key factor in local SEO and for increasing GMB profile engagement
Analytics: Yext analytics gives you the ability to monitor how your listings are appearing in search.
Cons of Yext
Listings revert when cancelled: One of the biggest arguments against Yext is that if you end your subscription, your listings will revert to their original state.
Complicated dashboard: Yes, you can do a lot with Yext's dashboard, but the user interface is also needlessly complicated. Yext is largely focused around single businesses, so if you have a business with multiple locations you may find navigation on the platform quite difficult.
Review monitoring: Although Yext does offer review monitoring as an option – it is very limited. The review network does not contain many sites so reviews are often missed or not shown.
No white-label support: If you are running an SEO or marketing agency, you'll most likely be wanting a partner that can white label their solution for you. Yext reports contain icons unique to them, meaning that they become competition to your own efforts to win clients and reduce churn because your customers may decide to just go direct to Yext.
Yext Pages: Yext Pages produces an expensive microsite that is on a subdomain of your platform, which provides limited SEO equity and needless expense.
Yext overwrites profiles: Existing business listings will be overwritten when you submit listings with Yext.
Their pricing model is designed to maximise profit: Yext packages are not designed with performance in mind, which is why Yext charges for multiple users and service credits for support.
Is Yext Worth it?
While Yext does have some advanced analytics tools, a great UX and a powerful analytics platform they do have some major deficiencies.
Yext has exhibited an inability to submit data correctly to the major platforms such as Facebook, Foursquare, Yelp and Bing, which has seen a negative impact on customer SEO.
Yelp has historically not been included in 80% of Yext's product packages (Yelp is important to local SEO and organic SEO), which results in rogue Yelp profiles, which feed data to Bing and Alexa.
Many Yext customers also appear to be missing their tier 1 citations on major platforms
Uberall vs Yext - What Is the Difference?


For Single Locations
For small business locations looking to optimise their presence online, the $199 package may seem enticing, however if you are looking to have all the features that include reputation management, duplicate suppression and widgets, you will need to pay for the most expensive $999 package and there are much better alternatives out there which we can recommend.
For Multi-Location Brands
Many of the features that Yext charges a premium for come as standard in the Uberall platform.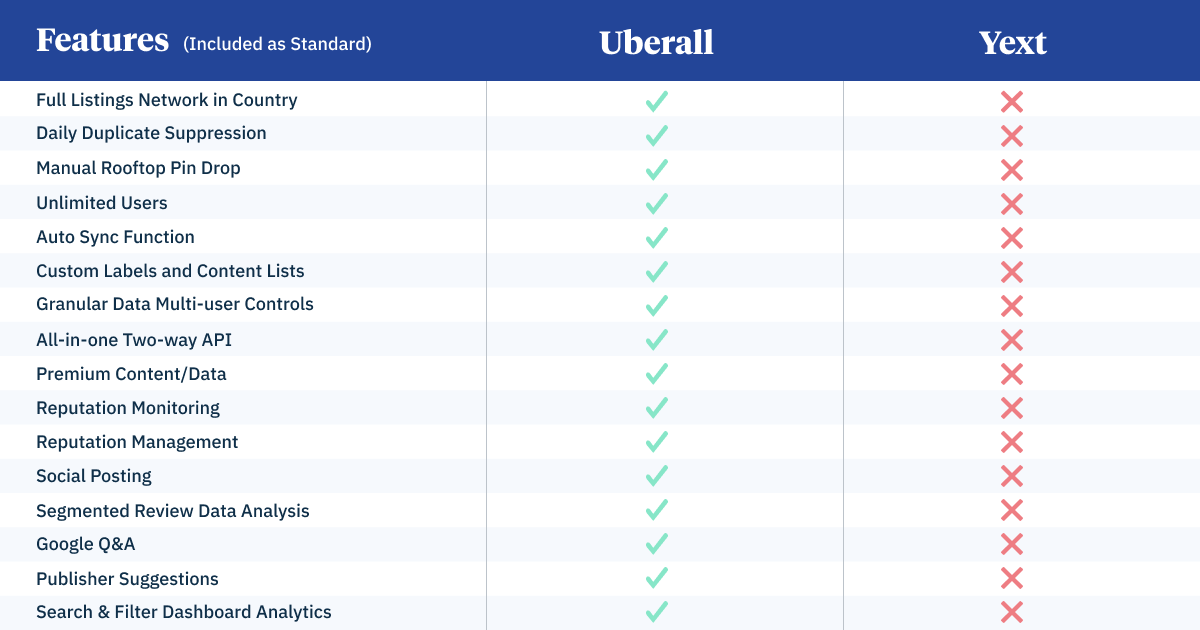 It is important for any business to have access to the location data features that will allow it to maximise local visibility and customer engagement.
API
Uberall and Yext utilise the same or similar Enterprise API connections to publishers and search engines - Uberall does not productise and charge you for these open access features.

Yext Competitors and Alternatives


What Is Uberall?
Uberall is Yext's most direct competitor in the location marketing space and is the European leader in location marketing – with over 1 million managed locations. Uberall manages more locations and has more European listings than any competitor. Their head office is in Berlin with other offices in London, Paris, San Francisco, Detroit, and Amsterdam.
Uberall Listings
Uberall delivers a comprehensive listings solution which optimizes and cleanses business location data through more than 125 listings platforms - with a direct integration with the leading search engines and directories. Uberall's listings management tool allows businesses to instantly update content and core data for any location in real-time with a leading data cleansing process that ensures a brand's digital presence is rigorously maintained, location profiles are claimed and protected, and automated checks are run multiple times a week to instantly suppress and delete duplicate listings.
Extra Listings Info
Within Uberall's listings tool, their customers can manage GMB and Google Maps in real-time and access Google Publisher Suggestions, Google Q&A and Posts. Uberall listings also allows its customers to add location and store locator pages on Facebook for each location which Uberall creates and claims for their customers to manage in the control centre.
Uberall Engage
Uberall's reputation management tool helps businesses consolidate, track and answer reviews in one place. With Uberall Engage, businesses can grant their employees certain rights to manage reviews and set approval workflows so admins can edit, approve or decline replies to customer reviews. Engage customers are able to schedule future posts, analyze feedback by location, time, platform, geography, type.
Uberall Locator + Pages
Uberall's store locator is an easy to integrate widget which is part of the core URL/website structure of the business, helping your customers easily navigate to individual stores on your website. It also has the added benefit of helping your SEO.
The Uberall Network
Uberall has a large network of 130 technology partners and directories in over 160 countries that come as standard.

You can also measure the online presence and overall health of your business right now by signing up to use our free presence check tool, which analyses how well your business information is listed across the most important online directories.
Security
Uberall customers have a personal contact person to help with troubleshooting and security while all customer data remains in full compliance with the European Data Protection General Regulation (GDPR).
Data Quality + Support
Unique 3-Step cleansing process(verify correct data, directly set accurate data point, publish data point) earns privileged treatment from major directories by creating exceptionally accurate proximity data for business locations and ongoing best-in-class technical support.
Reporting
Custom reporting and unique Labels and Custom Content Lists ensures your business is completely aligned.
Reviews
Listings get you visibility, reviews help you engage customers after they have made a purchase. This product also allows unlimited users with levels of access control so that you can maintain brand consistency.
Local Ads
Local Ads now allows businesses to create hyper targeted local ads across even more touchpoints where consumers are searching for the products and services that a business provides exactly when and where they are searching for it.
Advanced Analytics
Advanced Analytics can provide unique, detailed and granular insights on a business' locations and the ability to see and compare the highest performers/groups of locations against the poorest performers. This provides a data layer that highlights where the differences are and allows a business to make better decisions and take action to improve performance.
Uberall Pricing
Pricing is customizable and varies by the number of locations a business has, geography and which modules are purchased. Why do we do this? Every business is different so it makes sense that every package be customizable for the needs of each individual business. You may not want or need all 130+ directories and a business may want a local listings solution without a reputation management tool. This keeps costs down and won't saddle you with unnecessary bells and whistles.
Evaluate Uberall for Yourself
If you are already evaluating Yext seriously, it is worth ultimately evaluating whether Uberall might be a better fit your business. As we have already stated, many of the options in Yext's premium packages come as standard with Uberall. Not to mention that our strengths identified by our existing customers highlight the ease of setup, ease of use and the great customer support as key benefits of the Uberall software.
Get in touch with us today for more information or fill out this form to set up a free demo now.
Published: 03 March, 2020, 17:30