What Is SweetIQ?
The SweetIQ Analytics Corp. was founded in Montréal, Canada, in 2010. Positioning itself as an e-marketing solution, a location-based marketing analytics and automation company, SweetIQ Analytics Corp. offered a bespoke approach to local marketing, designing campaigns, search analysis, and other services.
The SweetIQ local marketing hub serves as a centralized platform for large enterprise brands and franchises to manage digital location marketing and online reputation. SweetIQ focuses on managing local directory listings, store locator pages, and reviews through software and data analytics.
Its technology integrates with all major online directories to help customers manage addresses, hours of operation for store locations, and other key data points, It also consolidates consumer reviews into a single platform through the SweetIQ dashboard.
SweetIQ specializes in the industries of retail, hospitality, healthcare, and home services, as well as serving a more general market. SweetIQ serves all of North America from their headquarters in Montreal, Canada.
The Gannett SweetIQ Acquisition
In 2017, after an acquisition by Gannett, SweetIQ became part of the USA Today and Gannett Network, enhancing its digital marketing suite for local businesses and national brands. Gannett Co. Inc. is the largest media publisher in the U.S., operating more than 250 local media brands, USA TODAY and Newsquest in the U.K., and digital marketing services companies serving clients around the world.
The Connection to ReachLocal
Gannett incorporated SweetIQ into ReachLocal, its digital marketing subsidiary organization. As part of ReachLocal, SweetIQ added local listings and reputation management to the company's suite of digital marketing solutions—making it more attractive to multi-location and national brands. ReachLocal is a subsidiary of Gannett headquartered in Woodland Hills, California that focuses on lead generation and conversion for enterprise companies. SweetIQ also enhanced ReachLocal's data analytics capabilities around location marketing. You can read about the 2017 acquisition in BusinessWire's archived ReachLocal SweetIQ press release.
The Smart Network: SweetIQ listings management
Focused primarily on domestic Canada and the U.S. markets, SweetIQ's Smart Network offers centralized management for business location listings across many sites and directories. SweetIQ has traditionally specialized in four core vertical category solutions: retail, hospitality, healthcare, and home services. The platform's healthcare publisher network is particularly robust.
SweetIQ also misses some key integrations— such as Yelp and Google, which must be managed manually rather than through a two-way API. It is also not as rich in the SEO and content capabilities, which will help propel listings higher in search.
Overall, SweetIQ offers deep and valuable data insights for those who are able to employ them. But the Smart Network of directories does require a somewhat sophisticated, manual approach.
Store locator & microsites software
Location pages and maps are a strength for SweetIQ, which focuses on dropping pins wherever they are needed. The solution offers a dynamic map with a display of location pins and some robust search and filtering options for store location. However, the solution is weaker when it comes to providing the kind of continuous content that will engage and re-engage customers as part of a 'Near Me' Brand Experience, such as posts and rich media.
Review management
SweetIQ gives users the ability to monitor and respond to reviews on Google, Facebook, Yelp, and Bing from a central location—sometimes requiring the help of a manual set-up from SweetIQ technicians. Unfortunately, by limiting itself to these few platforms, the software does somewhat hamper its visibility. Additionally, the platform lacks robust permissions and access governance or the ability to set up alerts that might be appreciated by larger enterprises, franchisers, or partners.
Social media management
SweetIQ offers users the basic ability to post to and respond in some social media channels.
What Is Uberall?
Uberall is a global leader in location marketing and a pioneer of the 'Near Me' Brand Experience. The leading-edge cloud platform serves over 1 million managed locations around the world — managing more European listings than any other competitor, and maintaining a strong presence across North America. Headquartered in Berlin, Uberall has offices in London, Paris, San Francisco, Detroit, and Amsterdam.
Uberall Listings
Uberall's Listings solution is the flagship of a comprehensive local digital brand ecosystem. Use it to establish, optimize, and organize business location data across more than 125 listing directories, maps, and apps. Instantly update your content and SEO-rich location data across your profiles in real-time from our centralized platform. Uberall's Listings platform automatically checks your data multiple times a week to ensure that your digital presence is rigorously maintained. All your location profiles are claimed and protected, and duplicate listings are instantly suppressed and deleted.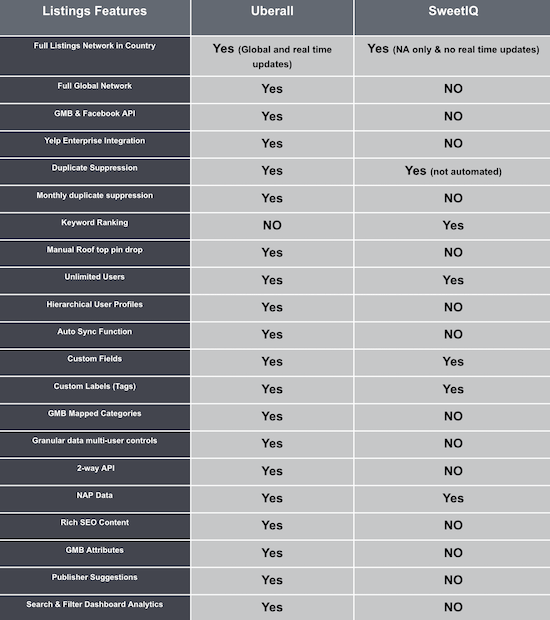 Uberall Engage
Great reputation management means more than simply checking ratings. Uberall's Engage platform recognizes the consumer's holistic brand journey often begins and ends with reviews — but that it also includes other brand touchpoints along the way. Engage offers templates and content management tools that help businesses connect directly with prospective and existing customers. Schedule future posts and analyze feedback by location, time, platform, geography, and type. Track and answer reviews and ratings across major review platforms from one single source of truth. Uberall Engage also gives you the analytics and governance you need to create a secure collaborative environment. Grant employees access to manage reviews or set approval workflows to edit, approve, or decline replies.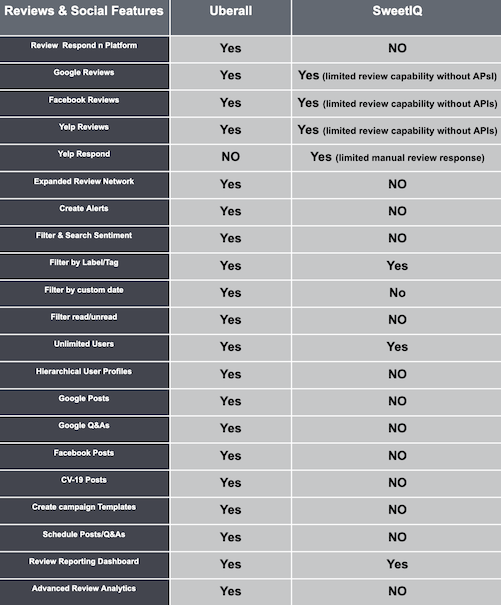 Uberall Store Locator
Integrate Uberall's Store Locator widget into your website to help customers find individual local store pages, get directions, or engage with locations before they buy. These SEO optimized pages increase visibility in Google search results, and structured data is easy to manage from our central location.
Uberall Local Ads
Use Uberall Local Ads to offer prospective customers directions, make it easier for them to immediately call you, or direct them to your local website. These hyper-targeted local ads offer new touchpoints exactly when consumers are searching for and ready to purchase the products and services you offer.
Advanced Analytics
Uberall offers an advanced customer Dashboard, featuring both an "at a glance' feature and a scrolling page that displays all of your data — whether aggregated or by single location. With a flexible search and filter feature, you can customize how that data is pulled and displayed. Uberall also offers an Advanced Analytics add on that can provide powerful, granular levels of insights on your locations. Compare individual locations or groups of locations to identify differences between high and low performers, and gain actionable insights that will help you improve performance across your brand.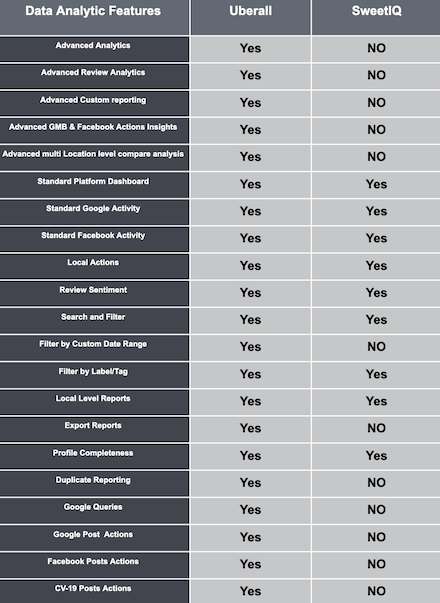 Security
Uberall places a premium on trust, and we put security first. Your customer data remains in full compliance with the European Data Protection General Regulation (GDPR), and we provide a dedicated resource to work with you to resolve any security concerns you may have.
Data Quality and Support
Uberall features a unique 3-Step cleansing process to verify data is correct, and then set and publish accurate data points. This best-in-class data quality management has earned us an official Google partnership and preferential trust in our data from all major directories.
The Network
Working with Uberall grants you access to our network of 130 technology partners and directories across 160 countries.
Pricing
Pricing of Uberall's solution varies by the number of locations a business has, geography, and which modules are purchased. That's because every business is different and we want to calibrate to ensure you are getting what you pay for, and what you need. This helps to control costs and maximize your return on investment. Connect with us to discuss what pricing would look like for your unique case.
Is Uberall worth it?
Your goal is to get your business in front of prospective customers and help them to find and buy from you. But your digital presence is also an essential way to engage with existing local clientele that will lead to brand loyalty and repeat business. You need a location management solution that recognizes the holistic nature of the way consumers buy now. Uberall is not only the most powerful technical solution on the market today — it is also a thought-leader that is helping to keep our clients on the leading edge of how customers buy. Our experts will work with you to ensure that you have both the tools and the knowledge you need to evolve with technology and consumer behavior. And you will see the results in clicks, visits, calls, leads, impressions, and sales.