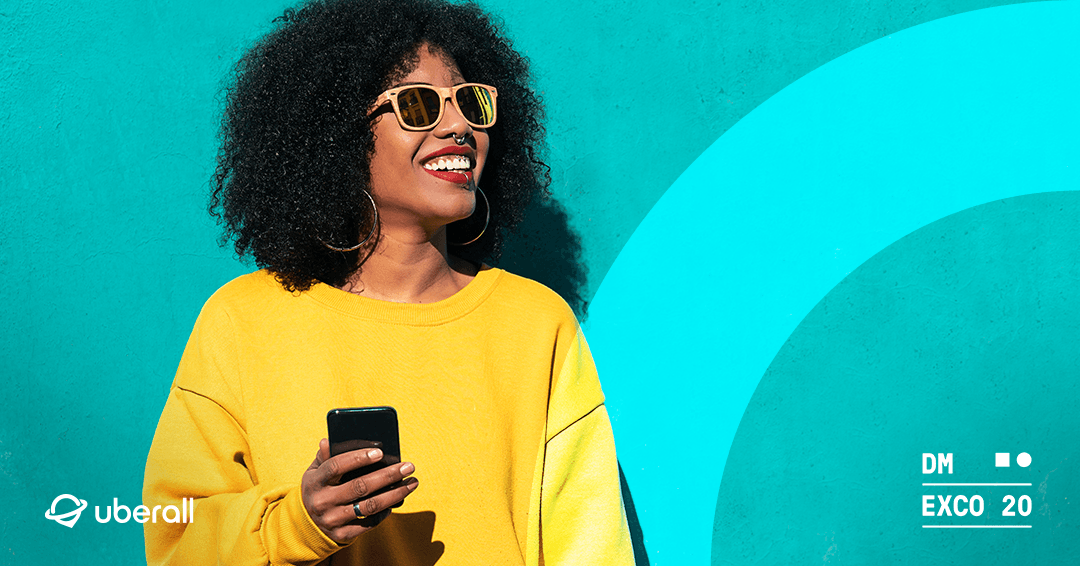 | | |
| --- | --- |
| | 23. - 24. September 2020 |
| | DMEXCO@Home - Virtual Event |


Uberall auf der DMEXCO@home 2020

This year's DMEXCO will take place on 23 and 24 September — all 100% online. We are looking forward to welcome you at our virtual booth. See below and discover what we have prepared for you this year. Stay tuned we give brand new insights in a new free tool & case studies. Sounds interesting? Get free access to Uberall content at DMEXCO with our promo code or schedule a meeting with us right away:


Uberall's Presentations at DMEXCO@home
Masterclass: 'Near Me' 360: A Game Changing New Benchmark Score to Help You Convert & Win New Customers I September 23, 14.55 CET
Speakers: Paul O'Donoghue, VP Solution Engineering, Uberall | Victor Landau, SVP Product, Uberall
Details: A lot of marketers and SaaS providers talk about 'game changer' tools but in the location marketing space, there really is nothing else like 'Near Me 360' that benchmarks your locations against competitors in so many dimensions to maximise impressions and conversions.
With 'Near Me' 360:
- You measure the accuracy, consistency and completeness of your business listings
- You check your location visibility, (review) engagement and whether you are doing enough to maximise your own 360 degree customer experience
- You benchmark yourself against competitors in your industry
Deep Dive: Turning 'Near Me' Searches into Sales for Multi-Location Brands I September 24, 14.40 CET
S

peakers: Greg Sterling, VP Market Insights, Uberall | Rasmus Himmelstrup, Head of Resolution, Resolution Media
Details: The vast majority of searches are "unbranded": consumers don't have a specific business in mind. Becoming more visible in these results can have a dramatic impact on brand awareness and sales. Uberall and Resolution Media will present new data on current consumer search behavior and a powerful case study from optical retailer Specsavers, on local optimisation and its impact on.
Takeaways:
- How cleaning up and enhancing local listings increased performance across KPIs.
- Which local optimisations had the biggest impact on engagement and conversions.
- What Specsavers discovered about the relationship between online and in-store sales
Panel Discussion: The 5-Star Effect: How the Age of Social Validation Has Forever Changed the Customer - Business Relationship I September 24, 16.20 CET
Panelists: Florian Hübner, CEO & Founder, Uberall | Sophie Chester, CMO, Medallia | Glenn Manoff, CCO, Trustpilot | Kuider Akani, CDO, Yves Rocher
Details: The way consumers interact with businesses has changed since the rise of social validation. Consumers use reviews to choose which brands and local operators they will engage with every day. Yet while reviews are powerful, they are also often the most neglected tool in the businesses conversion toolkit.
Reviews have the power to:
- Make your business visible for highly specific consumer queries
- Assign trust to a business location and brand
- Create a positive or negative impression based on whether a brand replies to reviews at the local level
- Our panel of experts will discuss how they have utilised reviews to transform their organisations, convert new customers and improve the customer experience
Get your free ticket and join us at DMEXCO@home
We have a free ticket, just for you to attend our talks and masterclasses. Your tickets also gets you into the virtual showroom and exhibition area, so you can speak to our 'Near Me' marketing experts in real time.
And it's that easy to get your free guest ticket: Go to the DMEXCO ticket shop. Log in to the DMEXCO platform from 14.09.2020 and make an appointment with us. Secure your free guest ticket now and reserve the 23rd and 24th of September for our meeting at DMEXCO@home. We will inform you about our sessions and spaces at the beginning of September at the latest - stay tuned!
P.S. This ticket only gives you access to Uberall content. You can also have a look around on the platform and upgrade your free ticket to a full ticket at any time.
Do you want to meet us?