Uberall Survey Finds Despite Amazon Boom, 63% of UK Consumers Favour Shopping Locally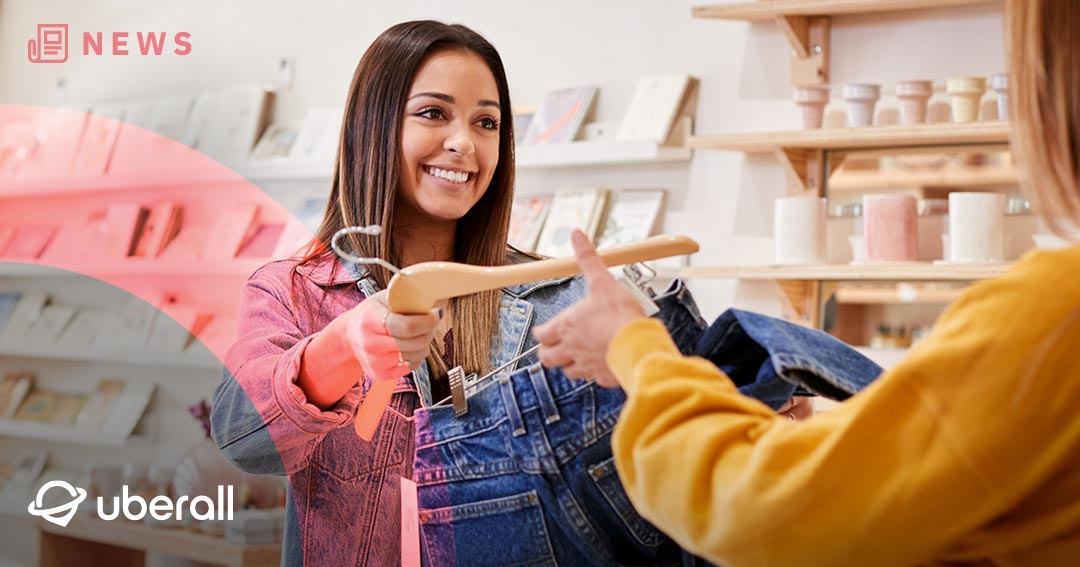 Survey also found more than a third of UK consumers said most of their shopping will be in stores after Covid
London, UK, 27 May 2021 – Uberall, leading provider of 'Near Me' Brand Experience marketing solutions, today announced the findings of its survey analysing the shopping habits of over 1000 UK consumers.
Online retail has seen considerable growth over the past year, with Amazon announcing a 44 percent increase in sales revenue. However, Uberall research has revealed some surprising results when it comes to today's consumer-shopping trends.
What shoppers like about Amazon
Out of necessity, many UK consumers shifted to online shopping when Covid-19 hit, and Amazon has unsurprisingly become a pandemic mainstay. When asked why they shop online with Amazon.co.uk, lower prices were actually less significant a reason than the large product selection and fast/free shipping, with half of respondents choosing these factors as their motivation.
Trust and recommendations were also key factors for consumers to shop Amazon.co.uk, with 39 percent influenced by the trustworthiness of Amazon and 38 percent persuaded by its product reviews.
Consumers want to shop locally
Yet, despite the growth in online shopping, when consumers were asked what best describes their shopping behaviour, the top answer was, "I shop locally even when it's more expensive or less convenient" –with 63 percent reporting they strongly favour local shopping.
Consumers also aren't limiting their definition of shopping locally to small businesses, with nearly 3 out of 4 considering national brands, such as Tesco and Sainsbury's, "local businesses." Despite being nationwide, consumers may still view these big brands as local businesses because their stores have a familiar neighbourhood presence, and have historically operated predominantly on the high street, versus online.
Even with the substantial increase in online shopping over the past year, only 15 percent said they shop online because it's easier. The remainder favoured local shopping (63 percent) or were equally willing to buy online or off (22 percent).
How consumers are shopping now
When it comes to buying locally, price holds the most sway, with 72 percent of consumers influenced by it. The proximity of the business to the consumer comes in at a distant second, with 42 percent of respondents influenced by nearness.
Similar to consumer motivations with Amazon shopping, ratings or reviews factor in as well, with 36 percent of consumers persuaded by reviews when it comes to buying locally.
As for how consumers are thinking about shopping after Covid, only 14 percent said most of their shopping would be online. The remainder either favoured stores (34 percent) or were omnichannel shoppers and willing to shop online or in-store based on variables such as price, convenience and product availability. Interestingly, the desire of UK consumers to shop in stores is on par with their US counterparts, but less than both Germany (38 percent) and France (55 percent). The notable difference between the UK and its continental neighbour could be attributed to the well-known image of the French buying local, artisan goods, toting a freshly baked baguette from the corner boulangerie.
Consumers are blending online and in-store shopping
For consumers, the number one preferred way to shop is to research online and buy in a store. Given that smartphone usage is higher than ever, and more than half of Google searches are 'near me' – meaning location-based – queries, it's no wonder this is the case. Interestingly, only 20 percent of respondents reported they prefer to research an item online and buy it online, compared to the 38 percent that research online, but buy in store.
Consumers are also combining online and in store purchases through click and collect, with 20 percent expressing a preference for this mode of shopping. On the other hand, only 16 percent prefer to see an item in store then buy online.
Consumers are truly omnichannel shoppers now, shopping both online and offline, and valuing the ability to access and return things in stores. Having a physical store to support the online shopping experience is vital to consumers, with 79 percent agreeing that being able to return an online purchase to a local store is important. In fact, the ability to return online purchases in store directly impacts on sales conversion, with 2 out of 3 shoppers reporting they are more likely to buy something online if it can be returned to a store.
"Clearly e-commerce accelerated last year, out of necessity, but shoppers show few signs of abandoning local businesses," said Greg Sterling, VP Market Insights at Uberall. "The data reveal that the post-COVID consumer is a true omnichannel buyer, who appreciates the immediacy of stores and the convenience of online. Those retailers that can offer a compelling hybrid experience will be the winners in this next phase of retail's evolution."
Survey methodology:
Total sample size was 1,006 adults. Fieldwork was undertaken 23-27 April 2021. The survey was carried out online. The figures have been weighted and are representative of all UK adults (aged 18+). Male and female respondents were split evenly.
About Uberall
Uberall empowers some of the world's biggest brands to deliver a memorable 'Near Me' Brand Experience — from online interactions to offline sales. The 'Near Me' Brand Experience consists of all the online touchpoints that a consumer has with the local outlets of a brand, from finding, persuading, buying and recommending, to returning as a regular customer.
Uberall's solutions enable multi-location brands to easily manage search and discovery, engagement and conversion in real-time on all online platforms — mobile, voice and desktop — across websites, mobile apps, store locators, search engines, maps, social platforms and advertising networks.
Uberall is headquartered in Berlin, with additional offices in Amsterdam, Berlin, Detroit, London, Montreal, Paris, and San Francisco. Its clients include Fortune 500 companies and industry leaders from all over the world.
Learn more at uberall.com
Press contacts:
Michelle Edge / Eleri Boyesen
Eleven Hundred Agency
E: Michelle.Edge@elevenhundredagency.com/Eleri.Boyesen@elevenhundredagency.com
T: +44 (0) 20 7688 5202