14 May, 2019 - Uberall, the location management solution for businesses competing to attract and win local bricks-and-mortar customers, recently released its "Uberall Voice Search Readiness Report 2019," analysing 73,000 business locations across SMB, mid-market and enterprise. As part of the study, Uberall also surveyed 1,000 consumers in the UK to find out if and how they were adopting voice search to find local business information.
Key findings from the 1,000-person survey include:
15% are using voice search at least once a week
The results show that 15% of respondents were using voice search frequently -- defined as at least once per week -- whereas almost two-thirds (66%) of respondents have never used voice search. The remaining 19% had dabbled with voice search, using it on an irregular or infrequent basis.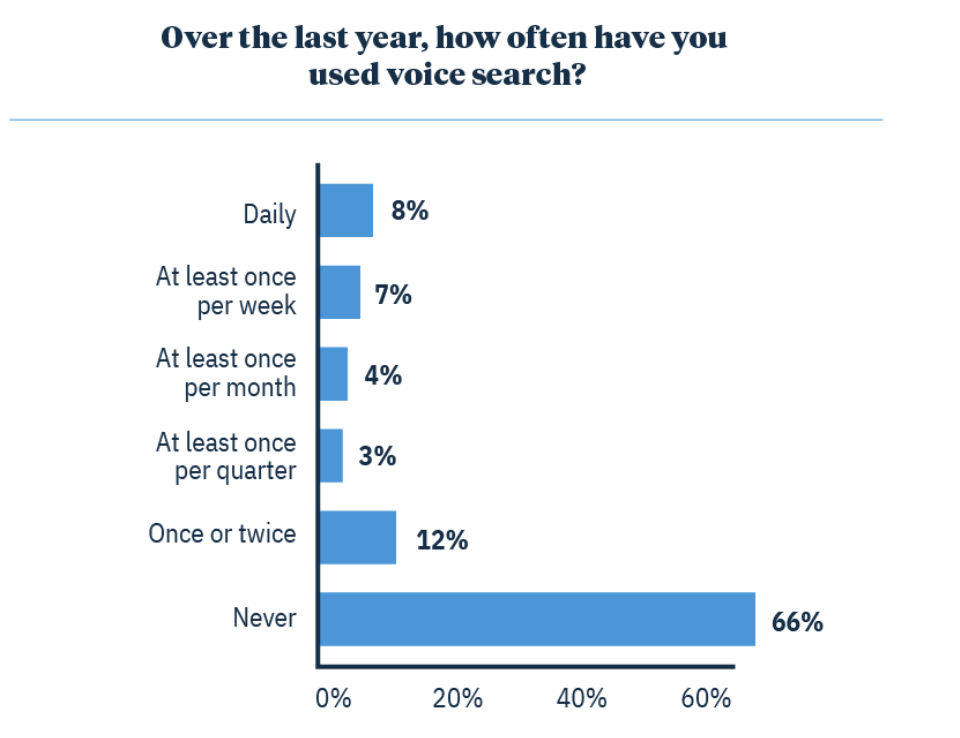 Some 55% of respondents felt that voice search will be important in the future, with the remaining 45% stating it will not be important.
"Our research shows that as consumers get used to voice products in their everyday lives, it is more likely that it will have a broader adoption rate," said Norman Rohr, SVP of Marketing at Uberall. "This has already been proven through the rise in smart speaker sales and in-car technology in 2018."
When asking frequent -- defined as daily or weekly -- users where they were most often using voice search, most were using it in their own home (52%) or in the car where using their hands was not an option (15%). Other responses included whilst they were walking to a destination, at work, in a restaurant/shop/cafe, and on public transport.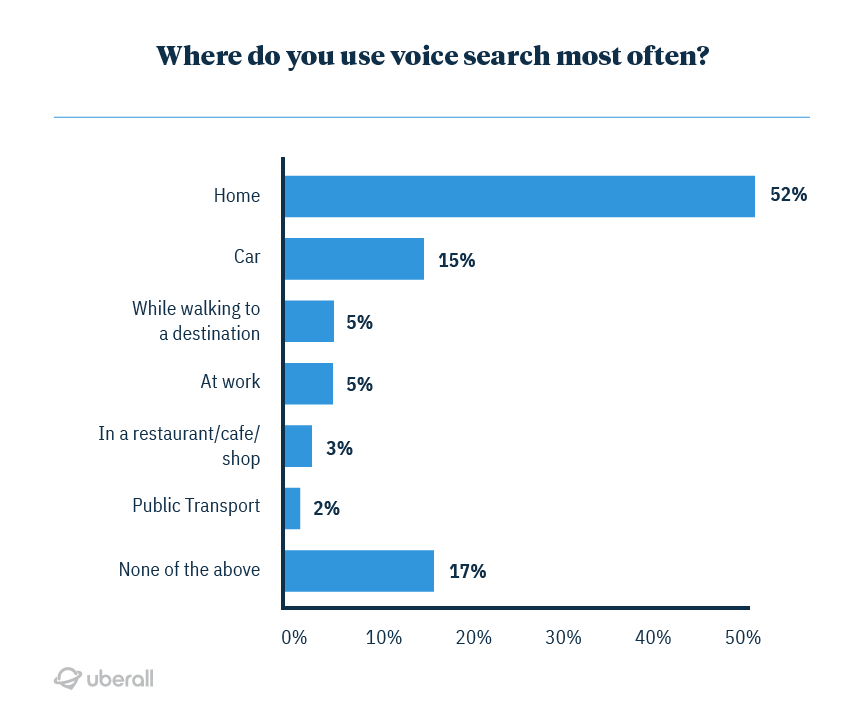 The report also analysed the top reasons British people are not adopting voice search more frequently. Either they are not used to it (27%), they do not feel that it is the most efficient means of search (19%), or they do not feel that it is accurate enough (18%). Some 11% of UK-based respondents stated they did not use voice search as they felt uncomfortable talking to AI-based technology. The same number -- 11% -- said they were embarrassed about using voice recognition technology in front of other people.
"Voice search technology has to become more user friendly before it wins the hearts and minds of the general public," said Rohr. "From this data, businesses can start asking questions such as 'is a consumer likely to search for my business while out driving and walking to a destination or at home?'"
Consumers searching for businesses via voice search
Uberall found that a third (33%) of UK respondents were using voice search as a means to locate business information at least some of the time.
The number one reason users gave for their lack of voice adoption to search for business information was the lack of natural dialogue (18%), followed closely by the lack of results provided for the search query (14%). The limits of voice search technology seems to be the biggest hurdle stopping it from gaining universal adoption, while the biggest opportunity for businesses to get ahead of their competition seems to be in offering consumers deals, sales or promotions that are tied to voice search (9%).
"VSR is an evolving opportunity for businesses to reach more customers easily and improve their online presence," said Rohr. "As voice technology is constantly improving and finding its way into our homes, workplaces and transport, adoption is only likely to increase and, although 15% may not seem like a lot of regular users, that's a significant proportion of people that businesses aren't reaching every day when they decide to neglect voice search readiness."
For Uberall's Voice Search Readiness Report 2019, visit: https://m.uberall.com/uberall-report-voice-search-readiness-us-2019.
About Uberall, Inc.
Uberall is a global leader in location management technology. Its flagship Location Marketing Cloud platform solution empowers the world's biggest brands to connect with their customers and turn online interactions into offline sales. Uberall gives businesses central control of their digital presence and online reputation, enabling them to easily manage brand interactions in real-time on all digital platforms—mobile, voice and desktop—across websites, mobile apps, store locators, search engines, maps, social platforms, and advertising networks. The Location Marketing Cloud provides a consistent, accurate digital brand footprint that helps businesses capture new customers and maximise revenue for every location.
Uberall is headquartered in Berlin, with additional offices in San Francisco, London, Paris, Amsterdam, and Cape Town. Its clients include Fortune 500 companies and industry leaders from all over the world.
Learn more at https://uberall.com.